This is topic Adjusting the FRAME in Moviedeck 465 in forum 8mm Forum at 8mm Forum.


To visit this topic, use this URL:
https://8mmforum.film-tech.com/cgi-bin/ubb/ultimatebb.cgi?ubb=get_topic;f=1;t=011799

---
Posted by Steve Varadi (Member # 6106) on October 13, 2017, 09:51 PM:

I refurbished a 40 years old Moviedeck 465 projector. Shutter Gear and lamp changed, cleaned, lubricating. Everything is working well except one thing. I can not adjust the frame. Now the picture upper 15% is showing the bottom 15%. If somebody already successfully adjust the frame in this Moviedeck please let me know. I read the Service Manual, but no mention about the Frame adjustment.
Other projectors usually has a level with, you can adjust the Frame from outside of the House.
Thanks:
Steve

---
Posted by Steve Klare (Member # 12) on October 13, 2017, 10:29 PM:

I remember the R8/S8 selector lever also being the framer. You just don't move it as far.

---
Posted by Steve Varadi (Member # 6106) on October 14, 2017, 12:19 AM:

CORRECT! You are right. I was blind
It is clearly stated FRAME. See pict: https://www.dropbox.com/s/95gb7sfipdx00y8/IMG_2010.jpg?dl=0
I just did not pay attention to the lever. I saw it is changing the FORMAT (i.e. normal 8 and super 8) but never thought this is also the Frame adjuster.
Thanks again:
Steve

---
Posted by Janice Glesser (Member # 2758) on October 14, 2017, 12:31 AM:

Looks like Steve answered your question. I'll post these pics anyway for future reference.

Here's the framer lever... This can be set for Reg. 8mm and Super 8mm and adjustments in between.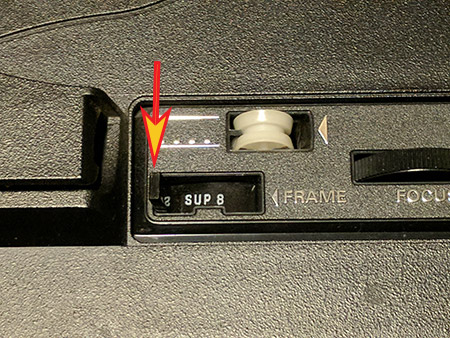 Here's the lever linkage that moves the gate frame mask up and down.

---
Visit www.film-tech.com for free equipment manual downloads. Copyright 2003-2019 Film-Tech Cinema Systems LLC




UBB.classicTM 6.3.1.2