This is topic Goldfinger LPP in forum 8mm Forum at 8mm Forum.


To visit this topic, use this URL:
https://8mmforum.film-tech.com/cgi-bin/ubb/ultimatebb.cgi?ubb=get_topic;f=1;t=012098

---
Posted by Mark Todd (Member # 96) on February 18, 2018, 05:41 PM:

Just saw this on ebay.com

Thought it might tickle someones fancy.

Best Mark.

https://www.ebay.co.uk/itm/James-bond-GOLDFINGER-1964-Super-8-Sound-Feature-LPP-Red-Fox-Film/122972356448?hash=item1ca1b93f60:g:4kQAAOSwFUlaiHq~

---
Posted by Jason Smith (Member # 5055) on February 18, 2018, 06:55 PM:

It looks like the owner made their own custom box art.

Ged told me they ran out of the first label and when Derann reprinted it, they redesigned the whole thing. I have a label on the box for each of my four spools. Later on, Derann cut that down to just part one to save on costs.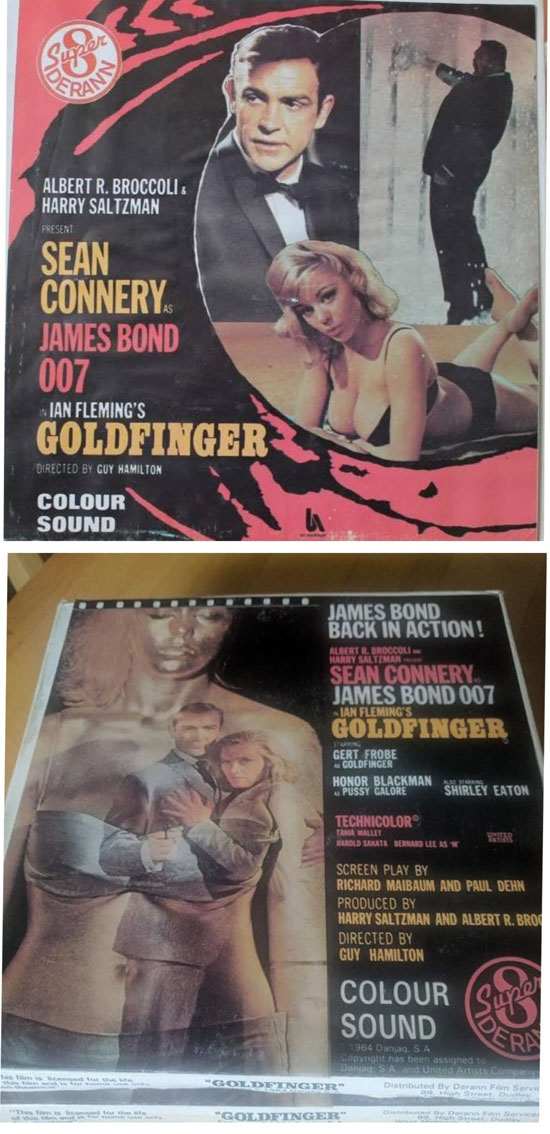 The picture on the top is the redesigned art and the the box art on the bottom is from the original box art that they issued with each 600ft spool.

Goldfinger is a release that wore out the first negative completely.

---
Posted by Burton Sundquist (Member # 5813) on February 18, 2018, 07:17 PM:

Does anyone with years of collecting experience know if Red Fox ever released a print of Goldfinger as this eBay seller claims?

---
Posted by Brian Fretwell (Member # 4302) on February 19, 2018, 02:44 AM:

I believe the original negative was quite worn before Derann started printing from it,. That lead to the original review by Keith Wilton urging people to buy early with the suggestion "Give up your holiday this year and buy it now."

---
Posted by David Hardy (Member # 4628) on February 19, 2018, 06:14 AM:

My print has the art work that is on the bottom. Adapted from the original cinema poster artwork.

The Derann original early prints of this release was made up of the best that could be found from existing 16mm negatives at the time. In fact it was a combination of the best of two negatives.

Even then these negatives still needed a fair bit of repair work done to them before they could be used for striking off prints.

However they fell apart after I think only 25 copies were struck. Although I am not sure that is the correct amount.

Thereafter if my memory is right I think Derann had to use a 35mm release print they sourced in France for all the later releases of Goldfinger on Super 8mm.

It is claimed that the first batch struck from the 16mm negative is still the best quality ones.

Maybe Ged could confirm the above.

I cant recall Red Fox releasing this on Super 8mm .

---
Posted by Burton Sundquist (Member # 5813) on February 19, 2018, 11:43 PM:

Hi David, I have a print of Goldfinger I acquired last year. Is there a way of identifying whether the print I have is from the earlier 16mm Negatives or the later 35mm source? I have only screened it once and found no fault with it, but would like to know for sure if possible. In Regards to the Red Fox question, the auction description has been corrected.

---
Posted by David Hardy (Member # 4628) on February 21, 2018, 02:39 PM:

Burton I am sorry I don't know if there is any way of identifying which print is which. Perhaps someone else on the forum can answer your question.

Maybe the box packing artwork may be a guide.

---
Posted by Burton Sundquist (Member # 5813) on February 21, 2018, 11:53 PM:

Thanks, David. Steve Osborne informed me that the later prints ( I assume the 35mm version ) "were a little softer and slightly muted colors". I was looking for information that could be found on the print itself, i.e. the heads and tails. So if there is a Derann Goldfinger expert out there I'd be interested in finding out...My print did not come with original boxes/artwork. Mounted on 2 X 1200' Fuji spools...

---
Posted by Jason Smith (Member # 5055) on February 22, 2018, 12:37 AM:

Burton, there is a lot of good info in this thread about Goldfinger.

http://8mmforum.film-tech.com/cgi-bin/ubb/ultimatebb.cgi?ubb=get_topic;f=1;t=011490#000000

In the thread above, I posted some pictures of my print and mentioned the stock its on Kodak LPP 1988. My print is dark in some night time scenes.

Mike Newell in the thread above mentioned that there were thirty prints in the first batch. He mentioned that in they were slightly dark in some places but acceptable. I believe my print is from initial batch since it has the first version of the cover art and is dark in some places.

What stock is your print on Burton? If it's on Kodak, what is the date code? Would you describe the nighttime scenes as being a little too dark?

---
Posted by Burton Sundquist (Member # 5813) on March 12, 2018, 12:33 AM:

Sorry Jason for the late reply, but I finally got around to checking out my print. It is Eastman LPP Safety film, edge code symbols a square followed by 2 triangles: My reference chart makes this to be 1987 stock. I viewed the night scenes again,
with Bond in the woods and they are dark, but acceptable, no doubt due to the Hi-Pro lens I use thanks to you. You lay to rest my uncertainties. I believe I have one of the early Derann prints. these were shots taken before I upgraded to a better camera ( on my screening I remarked the dirt under Q's fingernails in the close-up ).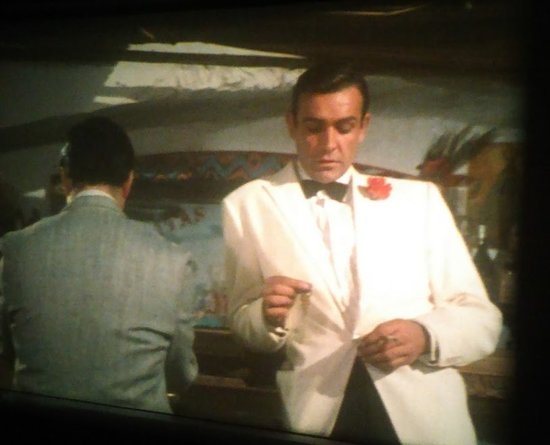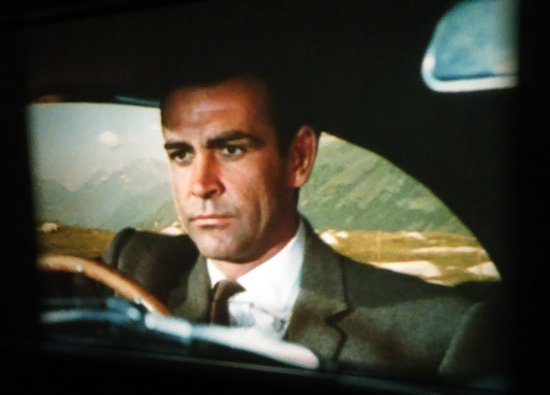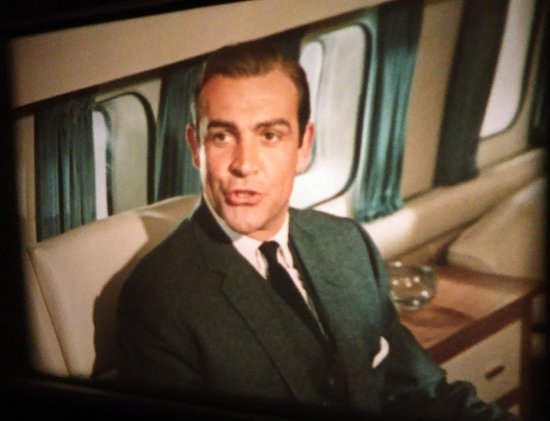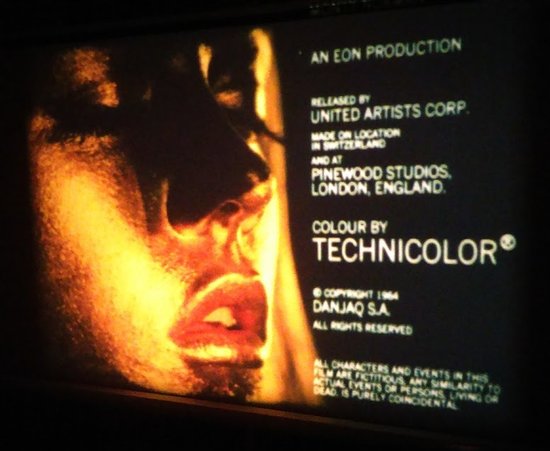 ---
Posted by Rodney Bourke (Member # 1646) on May 28, 2019, 01:28 AM:

I was at the CATHS Cine Fair in Melbourne at 9am last week and a dealer had 007 Goldfinger 4 X 600' for only $250, a bargain it did sell, only just before the Auction.

---
Posted by Lee Mannering (Member # 728) on May 28, 2019, 04:00 AM:

Also be aware that some of the old Optical sound features were later paste striped which unfortunately wore thin very quickly. I must have had at least 2 turn up here over the years.

---
Visit www.film-tech.com for free equipment manual downloads. Copyright 2003-2019 Film-Tech Cinema Systems LLC




UBB.classicTM 6.3.1.2