This is topic GREASE 40th Anniversary in forum 8mm Forum at 8mm Forum.


To visit this topic, use this URL:
https://8mmforum.film-tech.com/cgi-bin/ubb/ultimatebb.cgi?ubb=get_topic;f=1;t=012351

---
Posted by Paul Adsett (Member # 25) on June 15, 2018, 10:49 AM:

Well it's the 40th anniversary of the motion picture Grease, and people are flocking to the cinemas to see it again. And there are some nice magazines in the book stores crammed with nostalgia about this enduring film.
How great it is to have the stunning quality Derann CinemaScope feature print on super 8mm, and in stereo too! The Derann print of Grease is surely the pinnacle of super 8mm print quality, with incredible shapness, deep saturated color, and deep black contrast. Just amazing!
---
Posted by Chip Gelmini (Member # 44) on June 15, 2018, 11:02 AM:

😀❤️

---
Posted by Paul Adsett (Member # 25) on June 15, 2018, 11:10 AM:

Here is an article from the current Hollywood Reporter celebrating today's 40th anniversary of Grease:

https://www.hollywoodreporter.com/lists/grease-cast-now-mo vie-turns-40-1084136/item/john-travolta-danny-zuko-1084126

Definitely will have to watch this film on the GS1200 tonight!

---
Posted by Chip Gelmini (Member # 44) on June 16, 2018, 08:29 PM:

Saturday June 16, 2018

This morning I was really hoping that I would have the energy to run my print this evening. However, that is not going to happen. I spent several hours at a nearby grocery store pulling stock from pallets out to the floor. I suppose I could say I was "lugging boxes at Moron City" although there is no Thunder Road around here.

I am dissapointed I do not have the energy to do it. Now the next big event is 10 years away as it will be 50 by then.

So as I close the day in appreciation for this grand movie musical, I will post this collage that I found long ago on the internet.

And Grease plays a special place in my heart.

As a rookie projectionist still in training, it was opening night that I ran the movie without the projectionist in the booth overseeing my work. It's like learning to drive a car. For a long time you have someone shotgun with you. But then there's the magical moment of driving the car on the public roads for the very first time all by yourself.

And due to that, when Jeff Aikman handed me a sheet of super 8 feature titles listed on it, I would naturally choose the Marketing print of Grease as my very first full length super 8 feature of all time.

Grease is just a movie like any other. Either you fall in love with it, or you can't stand it.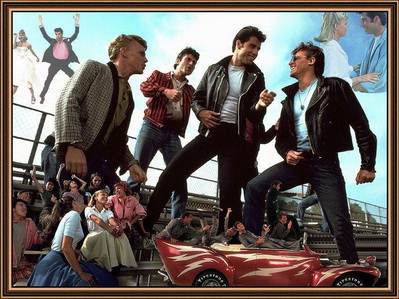 Chip Gelmini

---
Posted by Chip Gelmini (Member # 44) on June 18, 2018, 09:04 PM:

I finally had a chance to screen this awesome print although the sound was mono for me it was still a fantastic evening and Iím glad I did this absolutely no regrets

---
Posted by Michael De Angelis (Member # 91) on June 19, 2018, 12:48 AM:

Alternate Ending

---
Posted by Rob Young. (Member # 131) on June 19, 2018, 04:42 AM:

This is interesting too;

https://www.youtube.com/watch?v=cuXu4e-tozs

---
Posted by Chip Gelmini (Member # 44) on June 19, 2018, 12:37 PM:

One of those video links certainly answered a lot of questions I had about my scope copy from Derann.

After I got it, I have always felt the Marketing print from the early 80's had better sound, even though it too was mono.

I think I will buy the newest DVD of the 40th anniversary, and find someone who can re-dub my copy at a reasonable price.

One thing I do know is the scope copy has the charcoal grey laminate stripe not the standard light brown stripe. So how does the grey stripe handle re-dubbing?

Anybody know?

---
Posted by Brian Fretwell (Member # 4302) on June 20, 2018, 05:06 PM:

I only have the Derann opening sequence and the Marketing 2 reel version (I suspect also the DVD) but mainly watch off film.

---
Posted by Paul Adsett (Member # 25) on June 20, 2018, 10:51 PM:

Chip, I obviously cannot speak for the quality of the stripe on your particular Derann print of Grease, but I can tell you that the stereo re-record that I did on my print is the best quality that I have ever done, absolutely stunning stereo!

---
Posted by Michael De Angelis (Member # 91) on June 21, 2018, 10:26 PM:

I was not aware of the changes made between the 1998 and the 40th Anniversary releases, and I'm now interested in watching the first video Grease copy to make comparisons to the '98 remix and the 40th.

I do not believe that it's always necessary to tinker to "improve" a film. I do not like the picture or stereo sound separation on the 40th-anniversary video. The sound separation is distracting, and the color picture quality appears brightly stark and digitally harsh.

I'm also disappointed how MGM tinkered with the sound on West Side Story and The Wizard of Oz. And Universal's clean-up on Dracula is dreadful to me which then makes the film boring.

---
Visit www.film-tech.com for free equipment manual downloads. Copyright 2003-2019 Film-Tech Cinema Systems LLC




UBB.classicTM 6.3.1.2