This is topic Eumig England? in forum 8mm Forum at 8mm Forum.


To visit this topic, use this URL:
https://8mmforum.film-tech.com/cgi-bin/ubb/ultimatebb.cgi?ubb=get_topic;f=1;t=012853

---
Posted by Stuart Hilliker (Member # 737) on March 17, 2019, 06:31 PM:

I recently purchased another Eumig RS 15 speaker and was rather surprised to see the label on the box. Does anyone know who made these speakers in the UK? Was it Craven Electronics?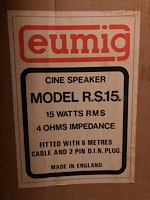 ---
Posted by Lee Mannering (Member # 728) on March 18, 2019, 06:58 AM:

It certainly was Ollie...sorry Stuart. They used to go round in the 70's giving demos of the equipment made and interesting nights they were as well. Canterbury Cine Club was the last they did back then on a sort of national tour shall we say. Good memories..

---
Visit www.film-tech.com for free equipment manual downloads. Copyright 2003-2019 Film-Tech Cinema Systems LLC




UBB.classicTM 6.3.1.2