This is topic Beaulieu Projectors in forum 8mm Forum at 8mm Forum.


To visit this topic, use this URL:
https://8mmforum.film-tech.com/cgi-bin/ubb/ultimatebb.cgi?ubb=get_topic;f=1;t=012949

---
Posted by Clive Casey (Member # 6202) on May 18, 2019, 02:25 PM:

Could I please ask forum members about their views on Beaulieu projectors, mainly the 705EL and the 708EL.
Many thanks, Clive

---
Posted by Phil Murat (Member # 5148) on May 18, 2019, 02:50 PM:

Hello Clive,
what do you want to know exactly ?

---
Posted by Maurice Leakey (Member # 916) on May 18, 2019, 03:08 PM:

Clive

I've never hear of a 705 EL.

I do have two Beaulieu 708 EL, the Mono Capstan Drive and the Stereo.

They are great projectors except for one design fault. Their spool spindles. As they use large spools the spindles have been purposely made for a tight fit for spools, this is to minimise any wobble which could occur with a spool having over 2000ft of film.

Only certain spools will fit. However, both of mine when bought had damaged spindle catches because previous owners had forced a spool on and broken one more or more of the three sprung plastic catches.

Obviously Beaulieu were aware of this problem and when later models were introduced they had turn over catches for spool retention. For some years Wittner sold the later spindles but they eventually ran out of stock.

So, if you are thinking of buying one see it first to examine whether the three catches are still intact on each spindle.

Van Eck can supply replacement spindles.

https://shop.van-eck.net/PP-0235.html

---
Posted by Clive Casey (Member # 6202) on May 18, 2019, 03:37 PM:

Hi Phil and Maurice, Thanks for your reply, my main question is, is it worth spending the best part of £800 on a Beaulieu projector. CHC has a 705EL for sale, but I can't find anything out about the machine. When I asked Phil about it, he said it is identical to the 708, the only difference is, the 708 is stereo, where the 705 is a twin track track machine.
Clive

---
Posted by Phil Murat (Member # 5148) on May 19, 2019, 12:54 AM:

Hi Clive,

So far I can remember, the 705 is a very simplified 708 only made to play movies, without any recording device and no external speed adjustment. The second track is (normaly) deactivated.
A 708 EL "Mono" do not sell out for 800 euros from our side even if brand new.
Even 708 El "Stereo" take a long time to leave for 500 Euros, this what l have observed at this time.

As Maurice wrote , plastic spindles are very fragile. I suggest you to modify them or to get a pair in advance on left.
Anyway , this is the most easiest machine to maintain in the Super 8 world.
To be note I have never damaged a film , never scratch , and even no evidence of friction to report on film sides , many running cycles later. This machine is100% Safe.

---
Posted by Maurice Leakey (Member # 916) on May 19, 2019, 01:57 AM:

Classic are wrong with their comment.
Here's a nice Buy It Now 708 EL for £895, or make an offer. It's the mono version.
https://www.ebay.co.uk/itm/BEAULIEU-708EL-super-8mm-sound-projector-Unmarked-condition-Please-look/283461538045?hash=item41ff9fd0fd:g:9N4AAOSwstxcwBt~

---
Posted by Clive Casey (Member # 6202) on May 19, 2019, 04:29 AM:

Thank you Phil and Maurice. Phil, do many projectors crop up for sale in France and do bog standard super 8 spools fit the arms or do you need Beauiieu spools.
Clive

---
Posted by Graham Sinden (Member # 431) on May 19, 2019, 04:42 AM:

There are many people who love Beaulieu projectors over the GS1200 and claim them to be so much better. One thing Ive never understood is, if these are so much better, then why is the GS1200 always used for public show in favour of a souped up Beaulieu for example. The BFCC, Blackpool, Big Screen Time, Derann all seem to use the GS1200. An HID converted GS1200 was used at the recent BST, and there is no reason why a Beaulieu couldn't have had the same upgrade as the lamp is small enough to fit any projector.

My only conclusion is the the Beaulieu is a nice projector but the GS1200 is better. Your thoughts anyone?

Graham S

---
Posted by Brian Fretwell (Member # 4302) on May 19, 2019, 04:58 AM:

I saw this on Ian's stand at the Big Screen Scene last week, I don't know if it sold.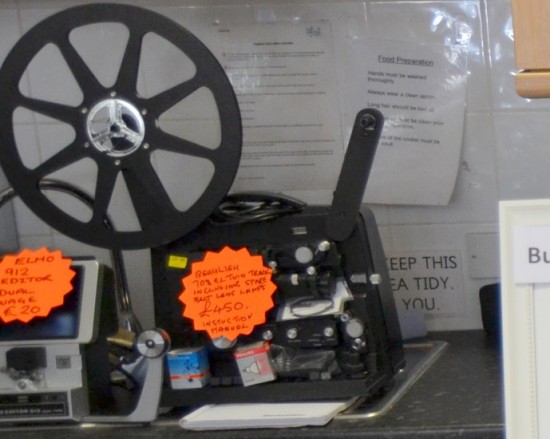 ---
Posted by Thomas Edwards (Member # 6161) on May 19, 2019, 05:01 AM:

Ian of Perry's had a Beaulieu twin track for sale last Sunday at Croxley Green convention for £450 including beaulieu large reel spare lamps and spare drive belt sold for less than the asking price £850 for Beaulieu twin track is way to high b.

---
Posted by Lee Mannering (Member # 728) on May 19, 2019, 05:41 AM:

I have nothing against the 708 machines other than the ludicrous pricing of the spares since day one. Have had a couple of these old girls both needing parts replacing and most common will be the very poor quality spool retainers. I ordered 2 new ones from the French agent and the total cost for two pieces of plastic was alarming to say the least.

Clive. If you do go for one of these be aware of the price of spare parts, as my late father used to tell me it will keep you poor. One genuine reel hub a few years ago was 100 Euro and I bet by now they will be edging 200 Euro by the time we get to shipping.

I have seen a Stereo model sell for £240 upwards within my region.

---
Posted by Clive Casey (Member # 6202) on May 19, 2019, 05:54 AM:

Thanks Lee and all the other forum members that have taken the trouble to reply. The more I read the more I am going off the idea.
Clive

---
Posted by Ian O'Reilly (Member # 76) on May 19, 2019, 07:03 AM:

Yes the Beaulieu sold on the day £350

---
Posted by Lee Mannering (Member # 728) on May 19, 2019, 07:28 AM:

Clive. Todays price for one genuine reel hub only 169 Euro and one capstan pinch roller will set you back 238 Euro.

Away from the top end projectors I've always had a little soft spot for the Yelco Electro 720. A very automatic machine but you can still manually unthread a film. Mines upgraded to 2 blade shutter and also converted it to Digital Sound output. It's a good little light weight machine and ideal for checking films on even switching itself off at reel end.

The Stereo Eumigs are good and of course its best pal the Elmo GS1200 if you want to use larger reels.

---
Posted by Paul Browning (Member # 2715) on May 19, 2019, 07:51 AM:

A good price for a beaulieu if all working correctly. They are very good for long play use if you don't have an external long play unit. The spool retainers are a poor design on these models, but the latter upgrade is the same as the elmo and the heurtier, simple and it works. They have an over complicated capstan drive mechanism in my opinion, plus a complicated clutch arrangement for takeup, springs ratchets cork drive plates, if this goes out of kilter your need the patience of the pope to put it right. The fumeo 9119 is a better and simpler machine if the sound is working, and the take up is kept an eye on. Beaulieu spares, well what scandal and rip off that is. They all have there problems Clive, what would be its main function ?.

---
Posted by Clive Casey (Member # 6202) on May 19, 2019, 09:25 AM:

Hi Paul, The main use of the projector is self indulgence. I have loved projectors since I was about 12, and I'm now 68. I worked in cinemas for many years and enjoyed it until digital came in. I retired almost 5 years ago and got back into 8mm which I enjoy along with digital photography. My wife thinks I'm mad wanting to spend lots of money on something that makes a lot of noise and rattles, maybe she is right, about me being mad. But I can't help it, I just love projectors.
Clive

---
Posted by Maurice Leakey (Member # 916) on May 19, 2019, 10:07 AM:

I also have a Fumeo, its badged 9119, but as it can also record I assume it's a 9120. Personally, I wouldn't recommend it. It's actually a 16mm projector in Super 8 guise. Its manual threading is very awkward and difficult to get the lower loop the correct size. The two tension devices in each spool arm are very difficult to adjust correctly, the instruction book is not at all clear on this point.

Going back to the Beaulieu. Mine have had new spindles fitted and I have some 800ft spools which have been slightly opened up with a fine file. I love these projectors and they give excellent sound and a bright light.

And yes. I do have some Elmo GS-1200 but to me they are far too full of possible troublesome electronics.

---
Posted by Dominique De Bast (Member # 3798) on May 19, 2019, 10:19 AM:

Maurice, my Fumeo is also a 9119 and, as yours it has recording facilities. I was told that since those projectors were made on demand their features vary from one piece to another. I have never had any trouble making the lower loop correctly but the adjustment of the taking arm tension is a nightmare. I recently noticed something on my projector that could explain the tension thing but I have to make a test to confirm.
To come back to Beaulieu, good machine but you have to find a more recent machine or a "repaired" one as it seems all the first projectors had a trouble (I don't recall what it was) and were sent back to Beaulieu who eventually corrected what was wrong on later manufactured projectors. Beaulieu is certainly regarded as one of the best super 8 machines.

---
Posted by Rob Young. (Member # 131) on May 19, 2019, 10:55 AM:

I've owned GS1200, ST1200HD and Beaulieu 708EL.

All have their merits and foibles.

The ST is work horse with booming stereo sound when connected properly.

Of them all, my least favourite was the GS1200 due to reliability.

The spindles on the 708 can indeed be a problem. The major advantage of the 708 over any Elmo is that they simply do not "wow". The electronic capstan drive ensures that no soundtrack suffers from it.

Every Elmo I've had can suffer "wow" from one degree to another. Most prints are fine, but some poly prints (even new Derann) could be a nightmare, and always totally random.

One thing to note is that a twin-track Beaulieu cannot reproduce stereo via the external output, unlike the Elmos. It only gives a mix of both tracks in mono.

Pros and cons, but if I were looking for another Beaulieu right now, personally I'd look for a later stereo model at a sensible price.

But £350 - £450 for a decent 708 twin-track seems about right to me.

Oh and a last thought. Although I really love my Beaulieu, it is quite a bit noisier when running that the ST1200HD. Certainly the GS1200 is the quietest.

---
Posted by Maurice Leakey (Member # 916) on May 19, 2019, 10:56 AM:


quote:

---

One of the best features of the Fumeo company is that all their range were built individually, like a masterpiece.

---
Following on from Dominique's comment, the above is a quote by Ignacio Benedeti Corzo in the October 2007 issue of International Movie Making.

---
Posted by Phil Murat (Member # 5148) on May 19, 2019, 01:16 PM:

Hi Clive,

I agree with Rob for 350 To 450 should be a descent price for a 708 "mono".
As I am writing from a tablet , it is not confortable to detail and compare all diferences beteween a 708 and a GS1200 for exemple.
I bought my first B708 Stereo in 85 and it is still there with 3 others now.
I only replace heads on first one because it had accumulated more than 300 hrs from former owner. I modified spindles in 90 era.
Heads are sold "gold plated" price , this is scandalous. I bought some spare in the 90´s in a Parisian shop specialised in mag heads for any kind of audio machines, and the projector is providing an excellent sound with these heads and even if they look different.

Now , I have added 2 GS 1200 in mint condition , as new, because these machine are perfect for sound transfer. But , to tel you the truth, I don,t like to use them for playing feature due to well known scratching problems , as I have not applied the modifications necessary yet.

---
Posted by Rob Young. (Member # 131) on May 19, 2019, 01:49 PM:

I think that the Beaulieu is maybe best described as the most tolerant of projectors.

In other words, whatever print you run on it, it will do it's best to provide bright, stable images with clean sound.

With good maintenance it will rarely, if ever, damage film. Although you do need to study the operation manual carefully and trim the film for the Beaulieu auto-load, or it WILL be unforgiving.

Of course, like any other older projectors it will require a lot of TLC.

In projector heaven, I see a super 8 machine beautifully finished like the Elmo GS1200, with quiet multi-motor touch switch operation, the Beaulieu electronic capstan drive fitted for smooth sound, heavy duty take-up arms with proper spool holders, a really good pre-amp output for stereo sound, real metal non-wearing guides like a Fumeo, and all modern electronics...

Per chance to dream...

---
Posted by Leon Norris (Member # 3151) on May 21, 2019, 10:59 AM:

The thing is always keep your machine clean! Clean it before you use it and after your done with it! That way the film path parts will last a lot longer! And you will have no scratches on the film! So always clean your machine!

---
Posted by Paul Adsett (Member # 25) on May 22, 2019, 09:52 AM:

I don't know about anyone else, but I clean my projectors way more often than my cars!
---
Posted by Leon Norris (Member # 3151) on May 22, 2019, 11:56 AM:

Keep up the good work! Paul!

---
Posted by Rob Young. (Member # 131) on May 23, 2019, 04:29 AM:

I try to keep my car spotless, Paul.

And yet, yes, I probably still clean my projectors more...
---
Visit www.film-tech.com for free equipment manual downloads. Copyright 2003-2019 Film-Tech Cinema Systems LLC




UBB.classicTM 6.3.1.2