This is topic Emdeko EM-9000 in forum 8mm Forum at 8mm Forum.


To visit this topic, use this URL:
https://8mmforum.film-tech.com/cgi-bin/ubb/ultimatebb.cgi?ubb=get_topic;f=1;t=013053

---
Posted by Billy Morris (Member # 7058) on August 13, 2019, 10:30 AM:

I have inherited a family heirloom in the form of an Emdeko EM-9000 with a multitude of family home videos. I only have one grand parent remaining alive, which I would like to show these films to her, before she passes away.

My question is this...

Could someone please provide me with instructions, on how to convert the original bulb to the low cost halogen lamp setup, as I have previously seen in an Emdeko EM-9000 which was converted by Mrs. Glesser.

I have recently purchased new belts, rubbers and springs for my Emdeko EM-9000, while I'm in the process of installing these, I figured, I might as well convert the lamp setup, for future and efficient usage. I'm at a complete loss for what specific parts would be required, especially the type of lamp holder setup utilized.

Respectfully,
Billy Morris

billy.c.morris84@gmail.com
---
Posted by Janice Glesser (Member # 2758) on August 13, 2019, 12:54 PM:

Hi Billy... I used a QLV-1 socket to accomplish the conversion. This is a common socket that is available from a variety of sources. Just do a Google search for "QLV-1 Socket."

https://www.google.com/sear ch?q=qlv-1+socket&rlz=1C1CHBF_enUS821US821&oq=qlv&aqs=chrome.2.69i57j0j35i39j0j69i65l2.7717j0j7&sourceid=chrome&ie=UTF-8

I have another thread located in the Technical Topics Section showing the same conversion on a GAF projector. The Emdeko was made by GAF and just rebranded.

http://8mmforum.film-tech.com/cgi-bin/ubb/ultimatebb.cgi?ubb=get_topic;f=1;t=007410

You will have to remove the old lamp holder and then mount the QLV-1 socket. You will need to create a riser to mount the socket on. I ended up using a small " ABS Project Box" that raised the socket to the proper height. There are photos and a discription in the thread above. You might be able to come up with another solution.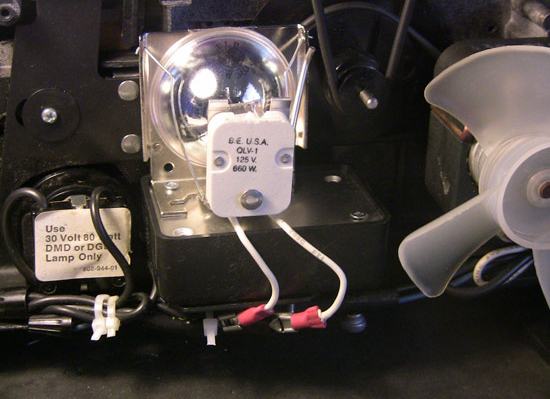 I don't have any step-by-step instructions. But if you are handy with this kind of stuff you should be able to figure it out.

Good luck and let us know how it turned out.


---
Posted by Billy Morris (Member # 7058) on August 13, 2019, 02:27 PM:

Mrs. Janice,

Thank you so much! I will definitely keep, you posted on the progress.

- Billy Morris
---
Posted by Janice Glesser (Member # 2758) on August 13, 2019, 07:32 PM:

Hi Billy... I received your PM... but I feel it more helpful to others if I continue posting your question and response in this thread.

You asked what bulb to use for your Emdeko EM9000. You should always replace using the same voltage and wattage bulb as the original. The original bulb was 120V 150W DJA or DFP bulb. You should replace it with an ESD MR16 bulb which also is 150W - 120V.

I have a YouTube video I made when I sold my Emdeko. I had forgotten...but I did come up with another solution for mounting the QLV-1 holder. I cut and bent a piece of sheet metal to create a new base. I posted a screen capture from the video...but I'll see if I can locate the original pics I took.

https://www.youtube.com/watch?v=mJDkJsQQWAw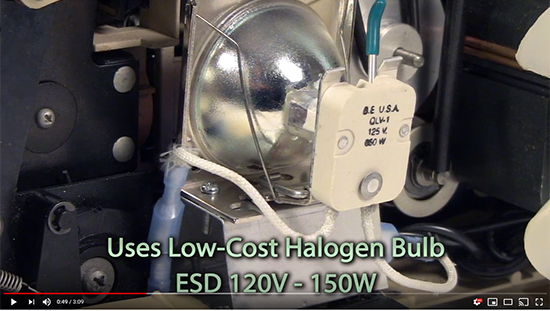 [ August 13, 2019, 11:44 PM: Message edited by: Janice Glesser ]

---
Posted by Janice Glesser (Member # 2758) on August 14, 2019, 11:36 AM:

Here are a couple of the original photos I took of the bulb conversion. These pics might also help you with replacing the belts.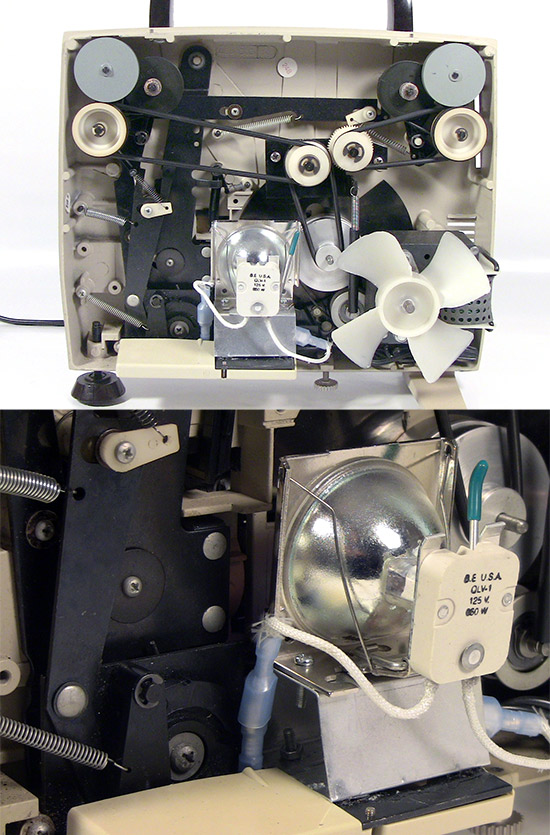 ---
Visit www.film-tech.com for free equipment manual downloads. Copyright 2003-2019 Film-Tech Cinema Systems LLC




UBB.classicTM 6.3.1.2