This is topic Predator (1987) in forum 8mm Print Reviews at 8mm Forum.


To visit this topic, use this URL:
https://8mmforum.film-tech.com/cgi-bin/ubb/ultimatebb.cgi?ubb=get_topic;f=4;t=000199

---
Posted by Graham Sinden (Member # 431) on April 15, 2007, 06:03 PM: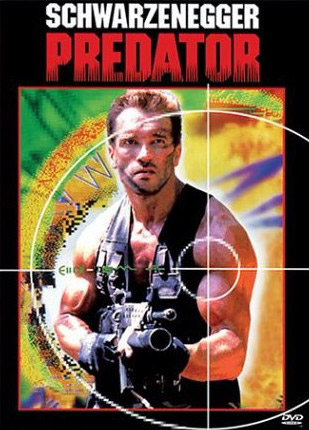 I thought it's about time that somebody did a review on the Arnold Schwarzenegger classic Predator. This is available from Derann and comes supplied on 4x600 ft reels. The print is flat (non scope) and with a stereo soundtrack.

This film is basically another shoot em up staged in the jungle. I first saw this many years ago when it was projected at a nearby film club from a ST1200 with an F1 lens. I was gob smacked at the picture quality as it was better than some 16mm films I had seen. I knew then that I had to buy a copy. It was certainly the best super 8 i've ever seen.

Arnie plays a character called Dutch, The leader of an elite Special Forces team heading into the jungle of Mexico to get rid of guerrilla's there and rescue any remaining hostages. However Dutch and his team soon change their plan when they find themselves hunted by a highly intelligent alien killer who has chameleon like properties who can blend in with the background and become invisible to the team. Slowly, each member is killed off one by one as the predator has an armoury of sophisticated weapons at his disposal. Thankfully Arnie is one of the last to go but it ends up with him being left the task to destroy the predator. Eventually the killer shows himself for real and we get a chance to see one of the best monsters in movie history when he takes off his helmet. Finally Arnie runs away as the predator tries to blow himself up (not sure if he is dead or still alive)

At various points throughout the movie you get a chance to see through the predators eyes. This looks like the images you get from 'heat' cameras.
This film very quickly becomes a grabber. The tension throughout is excellent and you will find it hard to stop the projector once running. It gets very scary towards the end of the film when Arnie scurries under a bush hoping not to be seen and the predator scans the ground with his special vision trying to pick out any living thing that moves. Just like Commando, there are also lots of goofs here. One of the most obvious ones is when Mac (Bill Duke) picks up a scorpion on the end of his knife. He places it down on a piece of wood with its head pointing to the left. He then crushes it with his boot and the scorpions head then clearly points to the right.

A list of mistakes can be found here
http://www.imdb.com/title/tt0093773/goofs

I also like the ending with a kind of like 'You have been watching' cast list. Reminds me of Jeremy Lloyd and David Croft brit sitcoms like Dads Army, Are you being served.

Picture quality is just superb with pin sharp focus throughout and excellent colours although with a very slight blue tint, but that is to be expected with most Derann features nowadays. Sound quality is top notch with an excellent stereo soundtrack which (with my ears) I can't fault so I won't be re-recording it. I was once told by a certain Mr Keith Wilton that he thought that 'Predator' was the best 'Flat' release he had seen. This was at a time when he was showing Gladiator in scope at the BFCC.
On the downside there are some negative marks, particularly near the start of the film and a couple of messy negative joins but overall this is an excellent print.

I would rate this film picture 9.9/10 and sound 10/10.

If you only ever buy one Schwarzenegger feature, make it this one as it will have your audience on the edge of its seats and on the large screen makes you feel you are also in the jungle with them.

---
Posted by Osi Osgood (Member # 424) on April 15, 2007, 06:40 PM:

I wouldn't mind having this one myself, though I'm kind of sad to hear it's not in scope, or flat but letterboxed.

But then, with some 35MM masters, if the film was never shot in amorphramic lenses, the 35MM negative is masked for release, and when released to TV or video, the letterbox is taken away and you get the original flat image that it was shot in.

Another plus of this movie, is that it's one of Carl Weather's
(Rocky series : Apollo Creed) only other good film roles, at least, in my opinion.

---
Posted by Douglas Meltzer (Member # 28) on April 15, 2007, 08:33 PM:

Graham,

Thanks for the review. I saw a reel of "Predator" at John Clancy's while visiting a few BFCCs ago and it looked fabulous. John remarked that it was one of the best release prints ever. I like the film, especially Jesse Ventura's (former pro wrestler, former Governor of Minnesota) line "I ain't got time to bleed!".

Osi

What about Carl in "Force 10 from Navarone"?


Doug

---
Posted by Osi Osgood (Member # 424) on April 15, 2007, 09:13 PM:

By God, Doug, your right!

He was in "Force 10 From Navarone". He had a decent role in that, (especially when he fought "Jaws" from the 007 films, who constantly referred to him as "Blackie")

I should have remembered that. I have both the scope 400ft. edition of it, (terrible editing on that one), and the optical sound super 8 feature of it. FUN!!

---
Posted by Lee Mannering (Member # 728) on April 16, 2007, 09:05 AM:

Well done Graham. I knew you would get round to writing it eventually. Ah you can't beat a good old Arnold flick. It would be good to see Predator 2 on 8mm even though Arnolds not in it. Its one I regularly have on the TV on the now obsolete DVD disc system. Remember DVD ?

---
Posted by Rob Young. (Member # 131) on April 16, 2007, 09:36 AM:

Great review, Graham.

I owned a print a few years back and agree it was one of the sharpest prints ever produced with an absolutely belting sound track. A real highlight in the history of super 8 releasing!

I saw "Predator" when it was first released at my local flea-pit in the '80's. I was 17 and remember having to charm the cashier into letting me in as in the UK it was and "18" rated movie and legally, I was too young to see it! As a real "Alien" fan, I just loved all the similarities with that movie.

Particularly, I liked Alan Silvestri's musically score which really keeps things moving along and remember being really impressed with the surround sound, with all the jungle noises coming from behind, etc.

I couldn't believe it many years later when I ran my 8mm print through a Dolby Surround processor and found that Derann's fabulous recording actually managed to reproduce some of that amazing surround effect.

Osi, hear what you say in that this super 8 version is basically a full frame print of the original negative, without the appropriate top and bottom masking that would have been present in a theatrical presentation (even if this were introduced by the projector gate) to give 1.85:1 ratio.

I have found that good screen masking overcomes this. I use black velvet tabs and bring them in top and bottom on some prints to give an image closer to 1.85:1. "Gremlins" is another super 8 title which springs to mind as being printed "open mask", as it were, and benefits from this.

I don't recall anything creeping into the top and bottom of frame on "Predator" that you really shouldn't see (like microphones, etc.), although I do remember that on the heat camera effect "Predator Vision" shots, you ocasionally see words like so-and-so VIDEO, etc. in the extreme bottom of frame!!!

Clearly the audience isn't meant to see this but it does take a sharp eye and, as I say, a bit of good screen masking does away with it...

---
Posted by Lee Mannering (Member # 728) on April 16, 2007, 10:16 AM:

Best bit for me is Blain with that powerless gun. To use it requires power and no cable is connected. BUT, in one fairly long shot you can see a cable run from gun to power unit. Still, its all part of the fun of a great action movie that has my other hero in it Arnold Schwarzenegger.

---
Posted by Graham Sinden (Member # 431) on April 16, 2007, 04:42 PM:

Another interesting point I found is that one time when viewing through the predators eyes, it looks like an optical sound track on the left .

---
Posted by Burton Sundquist (Member # 5813) on November 26, 2017, 10:23 AM:

...I recently screened this Arnold classic and have to admit I agree it is up there with the sharpest of super 8 print releases I have seen, accompanied with a dynamic stereo recording to enhance the viewing experience. The non-stop action and roller coaster suspense come to a grand finale all too soon and left me with the same impression and impact as it did in the actual cinema back in 1987!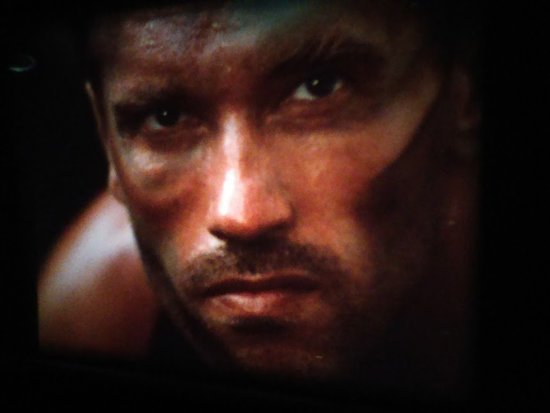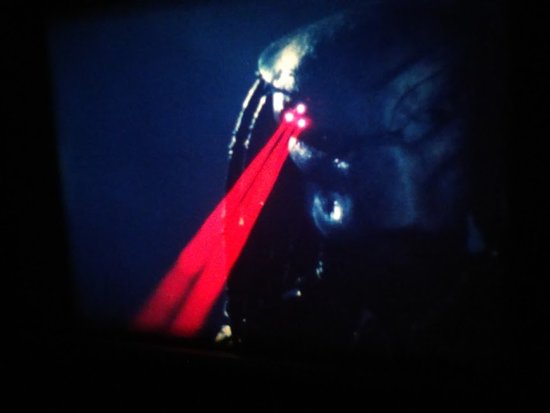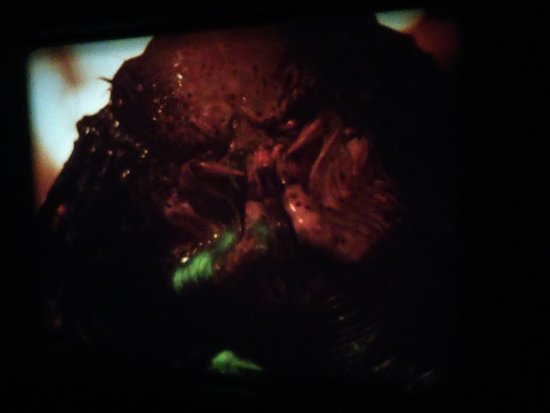 Excellent review Graham!

[ November 26, 2017, 01:16 PM: Message edited by: Burton Sundquist ]

---
Posted by Tom Photiou (Member # 130) on November 26, 2017, 12:25 PM:

Great review Graham, i would love a copy of this and as already said, it is one of the very sharpest prints produced by Derann as stated in the original reviews upon its release.

---
Posted by Rob Young. (Member # 131) on November 26, 2017, 01:48 PM:

Wow...10 years on since last comments on this print...

Burton, I agree, one of the finest prints ever produced by Derann and largely due to a very fine master provided by 20th Century Fox, together with outstanding work by Buck labs back in the day of the first print run.

Interesting point though, the super 8 prints were printed "open mask"; ie. same as the 35mm negative to 35mm print and were projected in theatres with a 1.85 to 1 mask in the projector gate.

As a result, as your 7th screen grab shows, information top and bottom of frame regarding the company who produced the thermal effects is often clearly visible!!

Obviously, The Predator did not speak English. Ooops!

Hope that info doesn't spoil this print for anyone as it really is superb.

If it does, simply build a screen with adjustable 1.85:1 black felt masking and zoom out to give the original theatrical aspect!!!

(Much like Derann's superb "Gremlins" print...)


---
Visit www.film-tech.com for free equipment manual downloads. Copyright 2003-2019 Film-Tech Cinema Systems LLC




UBB.classicTM 6.3.1.2