This is topic The Sorcerer's Apprentice in forum 8mm Print Reviews at 8mm Forum.


To visit this topic, use this URL:
https://8mmforum.film-tech.com/cgi-bin/ubb/ultimatebb.cgi?ubb=get_topic;f=4;t=000225

---
Posted by Steve Klare (Member # 12) on July 23, 2007, 05:53 PM:




"The Sorcerer's Apprentice" (1x200', Walt Disney Home Movies, Extract from "Fantasia")

"Fantasia" has always been kind of special for me. Dad was a big fan of Classical Music, and when I was a little kid, he took my sister and me to see it at the local theater. I suppose he was trying to plant a seed in our minds that really good music could exist even without blaring electric guitars and lyrics bemoaning teenage horniness (…or "could only exist without", if you'd asked him.). Today I enjoy Classical Music along with many other kinds, so just maybe it worked.

In the late 1930s, Walt Disney decided to take animated motion pictures out of the domain of strictly "kids stuff" and more into the realm of "legitimate art". The idea he came up with was to use animation as the visual backdrop for what was basically an orchestral concert. Several pieces were chosen and the animators came up with sequences that showed where their imaginations went when they listened. The Philadelphia Orchestra conducted by Leopold Stokowski provided the music, and Deems Taylor provided the narration. The initial idea was that there would be periodic revisions of the film to replace entire sections, so that it would be an evolving program which would re-appear every few years, but unfortunately in Walt Disney's lifetime that never panned out.

Like many a bold step, "Fantasia" was controversial. Some people couldn't process almost two hours of classical music. Orthodox classical music fans objected to changes in the original scores, or the visuals the animators chose or the idea of "serious" music being shown during a "cartoon" in the first place. "Fantasia" briefly caught on a few decades later when hallucinogenic drugs were big…., but that's another story altogether. At the time of its release it was pretty much a box office flop, and it was not approached again by Disney until "Fantasia 2000" almost 60 years later. To this day it tends to be a film that many people either love or hate, much more often than any other animated feature I can think of.

Part of Fantasia's troubles when it was first released were technological. The fact that it was the first stereo sound track ever released meant it got very limited engagements since few theaters were equipped for it, and didn't get broad release for years afterwards.

I guess in ways both technical and artistic, the world just wasn't ready for this one yet. These days visuals over music are of course called music videos, and are pumped into many households 24/7. (-although music videos still aren't typically classical.)

Among the various segments of "Fantasia", "The Sorcerer's Apprentice" is kind of a cornerstone. It was the first part, created as a short. The rest of the feature was eventually created using this initial concept. It is the only segment to re-appear in "Fantasia 2000". If you say "Fantasia" and any image pops into people's brains at all, it will probably be Mickey Mouse in a wizard's hat and robe with an army of brooms carrying buckets. The fact that the music involved is easily the most obscure of all the pieces in the film never enters the equation at all.

The central idea that you shouldn't mess around with things you don't really understand is a really good one. We'd probably all be much happier if everyone took it to heart (…although spectacular scientific and technological discoveries are often made through uninformed goofs, you probably don't want to be living next door at that "Eureka!" moment.). When I watch it with my son, I sometimes try to make that point as well, yet I'm sure my dad was thinking the exact same thing.

Disney's 200 footer of this is quite a treat. Since it was originally meant to be an independent short, it doesn't feel like an extract. There is a beginning and an end, and there is nothing missing in the middle. It is visually stunning, colorful, and action filled: there is something about Mickey riding that book through a whirlpool that really works on a big screen. The soundtrack is monaural, yet very, very good.

Mine arrived on a very full 200 foot reel: so full that if I don't stay on top of it I may achieve a spectacular rewind spillover (…for about half a second it looks a little like the whirlpool mentioned above, but it's made of film!). Normally I'd grab a Gepe 300 footer and put the problem to bed, but the box art on this one is too nice to set aside. This comes in a printed box featuring scenes from the film, which slips inside a nice plastic sleeve. I'm not usually a big fan of box art, but this is a little special.

"The Sorcerer's Apprentice" pops up on the used lists quite often, usually accompanied by the dreaded "Slight Colour Fade" disclaimer. If you look at the head of my print it's kind of a deep burgundy where I'd expect to see black film, but the projected colors are still beautiful and vibrant, and haven't changed noticeably in the five years I've had my print. If this title intrigues you, don't let this warning stop you from buying one.

A long time ago, my Dad took me to "Fantasia". Because of Super-8, I was eventually able to bring it back to him while there was still time to share it.

---
Posted by Osi Osgood (Member # 424) on July 23, 2007, 07:20 PM:

Nice little review Steve, just the right balance of nolstalgia and info.

I always thought that this was the best box Disney released for it's releases back in the early 80's, as well as cute little titles at the beginning and end. My copy also doesn't have perfect blacks, but the colour is still very good on this print!

---
Posted by Graham Ritchie (Member # 559) on July 24, 2007, 05:02 AM:

Steve
Excellent review, of all the Super8 films during the 70s this is the one that many collectors were eagerly waiting for Disney to release onto Super8. I cant remember the actual date when it came out but the wait was well worth it, my own copy is showing slight fade but doesen't appear to have got worse over the years. I was thinking that if any collector was looking at getting a copy of "The Sorcerers Apprentice" they might consider buying reel three of the feature "which is available from Derann" of Fantasia 2000 which includes "The Sorcerers Apprentice" reels can be bought separately.

Graham.
---
Posted by Winbert Hutahaean (Member # 58) on July 24, 2007, 06:25 AM:

What I knew that the same ttile from Germany has a perfect colour. And this come and go quite often too at ebay.de

cheers,

---
Posted by Andrew Wilson (Member # 538) on July 24, 2007, 09:27 AM:

Graham.It was 1981 that disney finally released this extract.Andy.

---
Posted by Kevin Faulkner (Member # 6) on July 24, 2007, 11:08 AM:

Winbert, How do you tell a German release? is the box different?

Kev.

---
Posted by Joerg Polzfusz (Member # 602) on July 24, 2007, 11:46 AM:

Hi Kevin,

German releases are from globus, piccolo or revue (=different logos) and do have German texts all over the box: E.g. it's "Micky Maus" in German.
And in most cases the artwork differs, too.
Nevertheless I can't remember seeing the "Zauberlehrling" as a German extract on Super8?! And the other German extracts of "Fantasia" that have been released as "Fantasia" only show other scenes AFAIK.

Jörg

---
Posted by Winbert Hutahaean (Member # 58) on July 25, 2007, 03:25 AM:

And in some cases they released 300 feet instead of 200 for some Disney titles. I don't know if that include the Fantasias'

cheers,

---
Posted by Graham Ritchie (Member # 559) on July 25, 2007, 03:40 AM:

Thanks Andy
1981, would that be close to the time Disney stopped there general releases due to video, or was that later?
the 1980s were a bit of a blank period for me regarding collecting Super8.

Graham
---
Posted by Panayotis A. Carayannis (Member # 1220) on December 12, 2008, 03:18 PM:

When it was originally released,THE SORCERER'S APPRENTICE, beside the super luxury box,it offered,if you asked,a 20 page booklet of the film,which was actually,the 1977 theatrical rerelease souvenir program which, as I found out recently,was a scaled down version of the original 1940 souvenir program !

---
Posted by Osi Osgood (Member # 424) on December 12, 2008, 05:34 PM:

Wow! That would be an awesome find! My copy, while it has that excellent box, (one of the best that the classic Disney studio released) does not have the booklet. Most cool!

---
Posted by Panayotis A. Carayannis (Member # 1220) on December 13, 2008, 04:22 PM:

The booklet,the souvenir booklet for the 1977 rerelease of FANTASIA, did not come with the film,and most probably it was being offered for a limited time in the States.I don't remember the
exact details but,anyway, I got it !!!
I have also found a b&w std8 sound copy of THE SORCERER'S APPRENTICE, taken from a Disney television show from the fifties.

---
Posted by Kevin Faulkner (Member # 6) on December 13, 2008, 05:27 PM:

I also have that black and white print on 16mm.

Kev.

---
Posted by Gian Luca Mario Loncrini (Member # 1417) on March 24, 2009, 01:54 PM:

I have the official Italian print (Walt Disney Cinecasa) and color is absolutely stunning! A perfect copy (the image on the box is the same posted above).

---
Posted by David Erskine (Member # 1244) on March 24, 2009, 03:21 PM:

Fantasia used to be shown every year at a little cinema near Oxford Circus - and I went every year I could. It took me ages to realise that the strange smell in the cinema wasn't ordinary cigarettes! It seems that local hippies found it a super film if they had a monster spliff to hand - me, I stuck to birds & booze! Hapoy days. Cheers, David E

---
Posted by Gian Luca Mario Loncrini (Member # 1417) on March 24, 2009, 07:17 PM:

David, cannot believe. This is absolutely great! Cannot remember when was the very last time I went to the cinema for a FANTASIA show. But what you write seems to be a sort of ROCKY HORROR PICTURE SHOW - Audience participation. This must be great (and I'm totally serious!).

---
Posted by Paul Adsett (Member # 25) on December 28, 2017, 07:24 PM:

Just received this super 8mm print of The Sorcerer's Apprentice from Barry Atwood at Independent 8. The print is only slightly faded, still nice and sharp with great colors. And it came in that beautiful Disney collectors box with the plastic slip cover as shown in Steve's post above. Since it came from the UK I am wondering if it was printed by Bucks Labs.
I have been looking for this one for some time as it is my favourate segment from Fantasis , so I am very happy with my purchase- thanks so much Barry!

Now to re-record it in stereo!

---
Posted by Steve Klare (Member # 12) on December 28, 2017, 10:14 PM:

It's a small world in Super-8, Paul! (Disney pun unintentional...at least at first!)

I happened to reach into a stash of my films tonight and "'Apprentice" was what I grabbed. (I'm on vacation: going all out on screen this week!)

I bought this one off the Derann used list roughly 14 years ago and it was listed with the standard "slight colour fade" warning. The blacks were a little deep, deep red but the colors were brilliant. What's nice is all these later it's basically identical to how I first received it.

To this day if I'm looking for something early in a show to grab people's attention, this is one of the ones I often go to. These many years later I doubt very many people I'm close to haven't seen it at least once.

---
Posted by Paul Adsett (Member # 25) on December 29, 2017, 11:50 AM:

Yes Steve this is truly an iconic piece of film, the apex of Disney magic. It is a great joy to me to now have a wonderful super 8mm print in my collection, and in a beautiful collectors box too! And you are right - a great show opener to showcase the magic of film projection.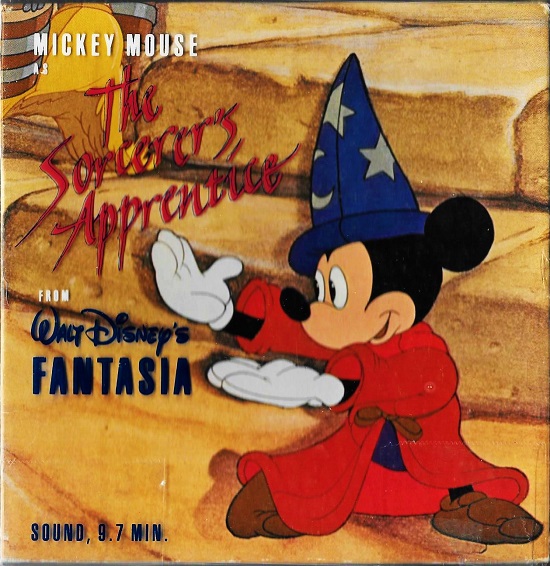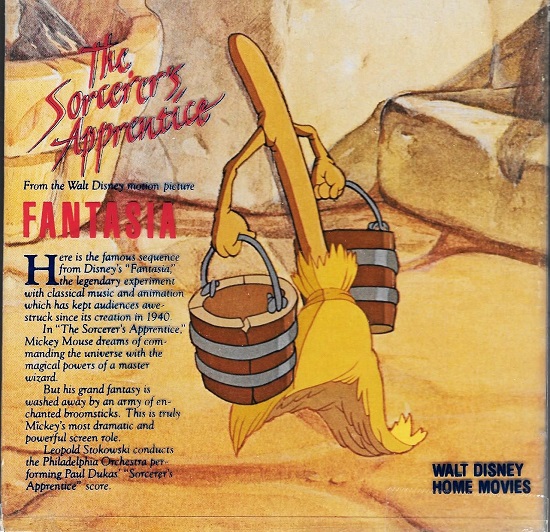 ---
Posted by Osi Osgood (Member # 424) on December 29, 2017, 12:24 PM:

The only thing that was annoying about this WDHM release, was that the negative source (from Disney itself!), was slightly imperfect. I have a pretty darned good print of this, but it's Kodak SP and once you get past those two title cards, fade out and then fade in to the actual animated film, you can clearly see that the source material did not have perfect blacks.

There ARE low fade print that were struck of this in the UK and i have been looking for years to track one down!

---
Posted by Joe Caruso (Member # 11) on December 29, 2017, 05:32 PM:

box-art notwithstanding - Shorty

---
Posted by Paul Adsett (Member # 25) on December 31, 2017, 02:02 PM:

Now re-recorded in beautiful stereo! And well worth the effort to get the best possible reproduction of this classic work.

---
Posted by William Olson (Member # 2083) on January 03, 2018, 09:41 AM:

For me, FANTASIA is the only film that can be called unique. It's unfortunate that the original Fantasound tracks no longer exist. They were transferred to another medium via telephone lines in the 1950s before they deteriorated. Any subsequent restoration of the tracks were sourced from this transfer. To date, I feel that the home video release on Laserdisc in the 1990s is the best version overall. The soundtrack in this release is probably closer to the original Fantasound than the restoration done several years later. Missing footage was restored in the early 2000s but this fully restored version does not have Deems Taylor's voice. Because his audio for the restored footage is lost, his voice was dubbed for the entire film by a voice-over artist to achieve uniformity in the sound of the voice. Knowing the film as I do, I found this annoying.

---
Posted by Osi Osgood (Member # 424) on January 03, 2018, 11:56 AM:

I will not bother to buy any Fantasia bluray until they truly restore the original first release of Fantasia with the "black Centarette" footage back, which has been discussed and screen-shots shown here and there. It always burns me when Disney states that it is the complete edition of this film which it will never be until that footage is restored.


Well done on the stereo re-record, Paul! This would no doubt have to be one of the easiest record into stereos possible, as there is no dialogue to deal with.

there is only thing that could have made this WDHM release a tad bit better, if they had included that short 20 or so seconds of Mickey and Stokowski at the end of the segment.

---
Posted by William Olson (Member # 2083) on May 24, 2018, 07:47 AM:

Fantasia has always been very special to me. Excised black centaurettes aside, I dislike what they keep doing to this film for each 'restoration'. The most recent one has rendered the images and colors so that the overall look of the original film is all but gone. The sound no longer has any characteristics inherent in the original Fantasound. Completely replacing Deems Taylor's voice continues to bother me. I'll stick with my laserdisc copy even if it isn't HD.

---
Posted by Osi Osgood (Member # 424) on May 24, 2018, 11:45 AM:

I haven't been associated with the most recent re-release of this on bluray, but I'm skocked that Deems taylor has been taken out of it, (just to put some other modern person in?)

The re-writing of history? That really is a shame.

Although I would certainly love to see the grain on these classic pieces of animation, I'm sure that Disney himself, if he had survived to this day, would no doubt say that he would love for each and every beautiful nuance and color and line of the cels, was reproduced completely in the finished work and in some regards, that has happened, (with, for instance, the bluray of "Snow White") ...

as a wanna be animator myself, (well, only one little pencil animated short ... still have all the original artwork), I can understand wanting it to be seen as great and pure as possible.

... but with the grain gone, in some ways, the history is gone. That element that places it within it's own time period.

---
Posted by Oliver F. R. Feld (Member # 1911) on May 25, 2018, 04:31 PM:

I re-recorded all available segments of FANTASIA from Derann and WDHM with a booming stereo sound from the DVD. BALD MOUNTAIN is more spectacular now...
I only can't find a stereo recording used for CLAIRE LUNE: does someone of You know where I could get this version to enhance my Derann jewel?

---
Posted by Bill Brandenstein (Member # 892) on May 25, 2018, 06:30 PM:

Oscar, I'd suspect that Clair de Lune was never re-recorded as were the other segments, since it was deleted from Fantasia early on and would then have been treated as standard-issue mono. So presumably a stereo version wouldn't exist.

---
Posted by Terry Sills (Member # 3309) on May 26, 2018, 04:38 AM:

I have the Walt Disney Sorcerers Apprentice on Super 8, still in the original box and with the plastic sleeve, but I also have a 9.5mm sound film titled The Wizards Apprentice T9307, not Disney's version and B/W, but the same theme.
Couldn't find it listed on the Pathescope catalogue 1955 first edition, so must be a later release.

---
Posted by Panayotis A. Carayannis (Member # 1220) on May 26, 2018, 12:57 PM:

This one is from 1930,made by William Cameron Menzies.

---
Posted by Terry Sills (Member # 3309) on May 26, 2018, 02:00 PM:

Yes that's correct and it apparently was the inspiration for the Disney release of 'The Sorcerers Apprentice' and 'The Wizards Apprentice ' was the first film and was released in 1930.

---
Posted by William Olson (Member # 2083) on May 28, 2018, 10:34 PM:

The music for Claire de Lune may be on a Disney vinyl LP issued during the 50s or 60s. Disney may have done this even though the segment wasn't used in Fantasia. The LP may have no reference to Fantasia. Some research is required. If such an LP exists, it may be hard to find. I'll do some research on my own. If I find any info, I'll let you know.

UPDATE!!!
The Fantasia Anthology DVD box set has Clair de Lune in its entirety on disc 3. A Fantasound restoration was done for this.

---
Posted by Osi Osgood (Member # 424) on May 29, 2018, 11:17 AM:

That's cool to hear! I have that super 8 reel. I think it runs about 4 or 5 minutes. A very dream-like piece and thankfully, on low fade film stock. The source material wasn't pristine but hey, who's complaining? Not me!
---
Posted by Oliver F. R. Feld (Member # 1911) on May 30, 2018, 04:34 AM:

William
Thank You very much!
I will look for it and keep You posted

---
Posted by Bill Brandenstein (Member # 892) on May 30, 2018, 07:43 PM:

Oh derp! Double derp!

< red faced >

I have this.

So. Anyone who wants this, send me a PM with your email address and I'll send you a file of the stereo Clair de Lune soundtrack from this DVD. You'll just need to specify if you want it at the DVD sample rate (48KHz) or converted to CD sample rate (44.1Khz).

---
Posted by Osi Osgood (Member # 424) on June 26, 2018, 11:47 AM:

I would have to say that I think that this was the best "box" for any of the WDHM original releases! Very nice!

---
Visit www.film-tech.com for free equipment manual downloads. Copyright 2003-2019 Film-Tech Cinema Systems LLC




UBB.classicTM 6.3.1.2