This is topic ELF NT1 My breakdown in forum 16mm Forum at 8mm Forum.


To visit this topic, use this URL:
https://8mmforum.film-tech.com/cgi-bin/ubb/ultimatebb.cgi?ubb=get_topic;f=5;t=001543

---
Posted by Tom Photiou (Member # 130) on January 08, 2017, 01:15 PM:

I posted on the other channel about a little mishap which happened on Thursday night while finishing a film show with my NT1.
A quick phone call to Mr Parsons put my mind at rest and i know which way to go, Mr Dave Guest has kindly offered me a working NT1 which i can continue to use, A massive thank you to both of these Gents.
What i would like to do is just explain to you all what happened so hopefully i can obtain the necessary part to sort out my old faithful. What i intend to do now i have another working machine on the way is take the opportunity to take my oldy apart and give it a darn good once over to best of my ability. Should i cock it all up i at least have spares but hopefully all will turn out good.
The motor capacitor decided to blow, it leaked all over the place but i have to confess i switched the machine on to put the last 20/30 ft of film through so that was a stupid move on my behalf.This is what happened,



And this is the part i would like to get please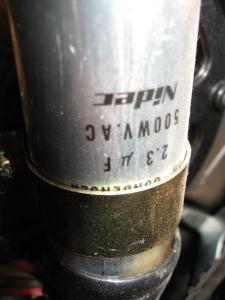 ---
Posted by Kevin Clark (Member # 211) on January 08, 2017, 05:51 PM:

Hello Tom

I'm not suggesting for one moment this is exactly the one you need but AC motor start up capacitors all do more or less the same thing so this should suit:

http://www.ebay.co.uk/itm/Universal-Start-and-Run-Motor-Capacitor-4-7-8-12-5-16-20-25-UF-Pre-Wired-Cables-/231948530518?var=&hash=item360135b356:m:mOW2pyIYRDBRQYSxlcVNMlw

Let Bill know and I'm sure he will point you in the right direction for one or confirm this is OK. The physical measurements are important to match up too so it will fit in the original clamp. I changed one on my Fumeo a while back and it was an easy job to do.

I'm surprised you felt the need to buy another projector though as you have years of technical knowledge so I am sure you can get this projector working again.

Kevin

---
Posted by Tom Photiou (Member # 130) on January 09, 2017, 06:30 AM:

Thanks Kevin, i will do that, the one thats coming is a good working NT1 so one or the other will be a bit of a hobby in dismantling and restoring. Always fancied having a go at this. Also been looking out for a 1200HD to do the same. The other NT1 coming is very low priced.

I am also a bit worried that by keeping it going for a few minutes i may not have done the motor itself any good.

---
Visit www.film-tech.com for free equipment manual downloads. Copyright 2003-2019 Film-Tech Cinema Systems LLC




UBB.classicTM 6.3.1.2