This is topic Elmo CL running too fast in forum 16mm Forum at 8mm Forum.


To visit this topic, use this URL:
https://8mmforum.film-tech.com/cgi-bin/ubb/ultimatebb.cgi?ubb=get_topic;f=5;t=001545

---
Posted by Alee Peoples (Member # 4225) on January 09, 2017, 01:00 AM:

The Elmo CL (Xenon) I am borrowing is running around 28 fps. I've seen previous posts and the Elmo manual explaining that an incorrect running speed can be changed by moving the belt to the different set of pulleys, changing between 50 & 60 Hz. However this model I'm working with only has one set of pulleys. Maybe this is a newer model? On the serial number plate it does say both 50 & 60Hz.

There is room on the teethed pulleys for the belt to move to the left but I swear it is the same tension. No significant difference. Not sure what else to do. Appreciate any suggestions.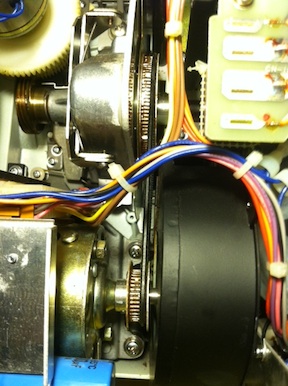 ---
Posted by David Fouracre (Member # 3883) on January 16, 2017, 05:23 AM:

Hi,
I am not familiar with this machine, but from your picture it would appear that you have a set of ribbed pulleys with a ROUND belt running on them. Is this right?
The belt would run on the max diameter of the two pulleys and could cause the speed increase. Check to see if the belt should be a flat or ribbed timing type belt.
Hope this helps.
David

---
Posted by Kevin Clark (Member # 211) on January 23, 2017, 05:09 AM:

Hello Alee

Your 16CL Xenon looks as though it has some sort of custom motor pulley wheel fitted, perhaps to make it run faster for flicker-free Telecine transfers?

Please see below a picture of my 16CL Xenon where you can see there are two slightly different diameter grooves for the belt to run in for 50hz and 60hz use.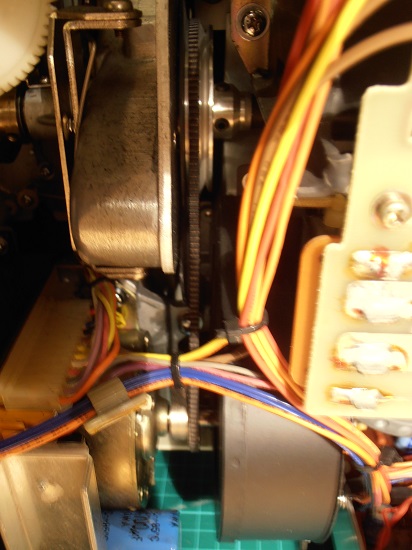 Kevin

---
Visit www.film-tech.com for free equipment manual downloads. Copyright 2003-2019 Film-Tech Cinema Systems LLC




UBB.classicTM 6.3.1.2