This is topic My NT1 Experiment. in forum 16mm Forum at 8mm Forum.


To visit this topic, use this URL:
https://8mmforum.film-tech.com/cgi-bin/ubb/ultimatebb.cgi?ubb=get_topic;f=5;t=001592

---
Posted by Tom Photiou (Member # 130) on April 15, 2017, 12:49 PM:

Having recently got back into 16mm, (& thouroughly enjoying it), you may recall mine had a problem with the motor condenser. With help on here and elsewhere i purchased another condenser but also another NT1 which thanks to the great Parcel Force cocking everything up it not only ended up miles away but arrived with a smashed from and rear case the front rewind lever broken & other bits loose & hanging off.
Anyway, the upshot of it all was a price was agreed and i ended up using the motor from the latest purchase being simply switched over so i could use my original. I did have to take out the cam tank to lubricate. I was well nervous but again with expert help i got it all up and running.

Anyway, i thought as i am still waiting on my scope bracket i would have an easy day and begin to strip down,(as much as i can), the damaged NT1 and begin a sort of restoration job trying to follow the service manual. NOT pretending to be any kind of expert i just fancied having a go as these appear to be relatively easy to work on especially compared to the tiny Super 8 stuff. I have to say it doesn't half make me appreciate the skills of the professional engineers on Projectors.

If you dont mind i thought i would share what i have done so far. And if anyone wants to give me any advice i will be forever grateful as i am so far with the help i have had from many people.

All the easy bits first, removed all the belts, the Lamp holder, the motor,the transformer, the cam tank assembly, the threading key as it wouldn't return without help & the amplifier. I hate oil and grease anywhere except where it is suppose to be so first job today was to clean everything up and get old hard crusty grease & oil off and out of the teeth of the white gears that it shouldn't be in. Three hours of cleaning later i then sorted the thread key shaft with a good re-oil and refitted, i also did the same with the lower loop setting shaft/gear and also the sound drum shaft. All oiled lightly using my Red Elmo projector oil. I also refitted the amplifier and flywheel & also very lightly oiled the links where they all join together. Nothing spectacular but at least everything is moving freely and its all looking nice and clean.

I will continue the thread as i do more.
Here are some boring images so far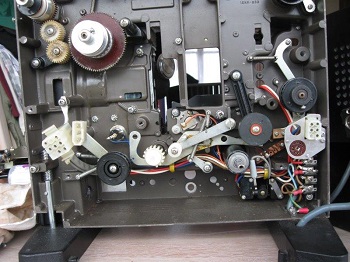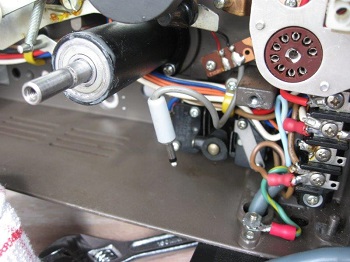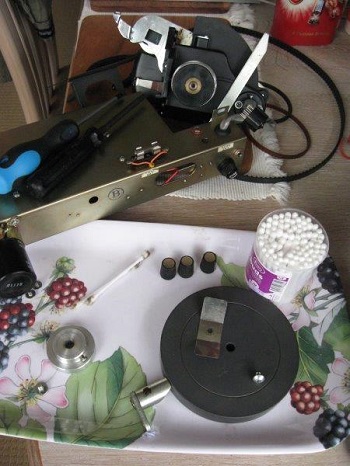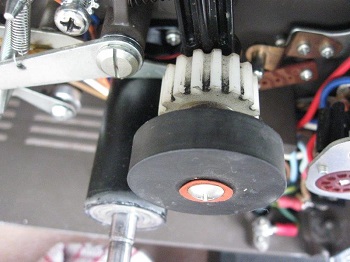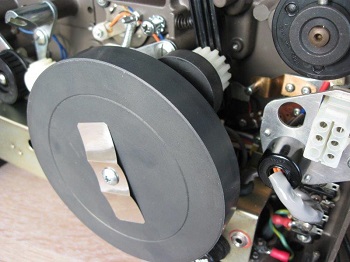 ---
Posted by Maurice Leakey (Member # 916) on April 15, 2017, 02:54 PM:

Tom

Congratulations on a job well done so far.

It's a pity that safe transit for projectors is now a problem. I've always found Parcel Force to be reliable, unlike some of the new cheap firms, but perhaps they are now trying to emulate these carriers for speed, and then probably losing customers in the process.

I hope you managed to get adequate compensation, although money can't always replace our beloved projectors.

---
Posted by Tom Photiou (Member # 130) on April 15, 2017, 02:57 PM:

Thanks Maurice, regretfully it was the sender who had to claim. I must admit after all this i will never use Parcel Force to send ever again apart from small packets etc.
Will keep you all posted on my progress. (I'm doing the easy bit, its getting it working correctly with the necessary fine adjustments that will be the test)
---
Posted by Tom Photiou (Member # 130) on April 19, 2017, 02:40 PM:

Back again, Well, i feel a bit scilly now.
Working back on my main original NT1 i cleaned up a film to put through after getting it all back together.
The picture was quite unsteady and got a little worse as it hotted up.
After all the work i did i was getting a little bit tired of it all and thought sod it, lets just get another machine thats 100% functional.
I e-mailed Mr Parsons to ask the question one last time on this one, & the reply i got made me think, why the hell did i not simply try the obvious which out the the explanations Bill sent me as possibilities was to check the side rail pressure in the film gate. I popped the same film through to try this, it jumped, i simply put a little pressure toward the film edge and hey ho, it stopped jumping.
I took it upstairs, removed the lens, swung open the lens holder and undid the two Philips head screws that hold the whole thing in place. Put it onto the table and noted that the spring loaded side plate at the top half was just not moving at all. I used my spare one to see how it should be.
I undid the two shouldered screws that hold it in place and jeepers you should have seen the muck underneath it all, (shown in one of these images),Using cotton buds and 100% cotton soft hanky i cleaned every millimetre of this part inside and out. Replaced it all back together, everything was moving fine, i popped the same film back on and hey presto, all good. (So far).

I would very much like to thank, yet again, Bill Parsons for his advice. I must be doing his head in sometimes. But i will say the reason i have a working NT1 right now is because of the advice he has kindly given to me. I am forever grateful for Bills help as i know many others are on here.
Thank you Bill.
Also thank yo to Mr R.C. Patchett who also contacted me on here.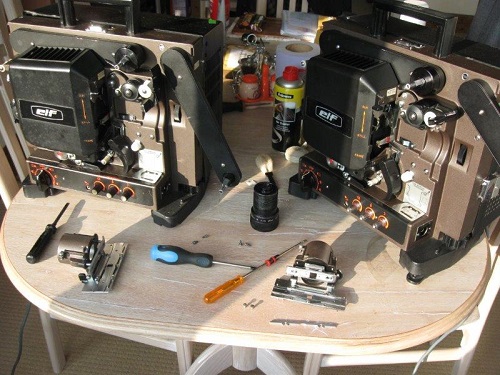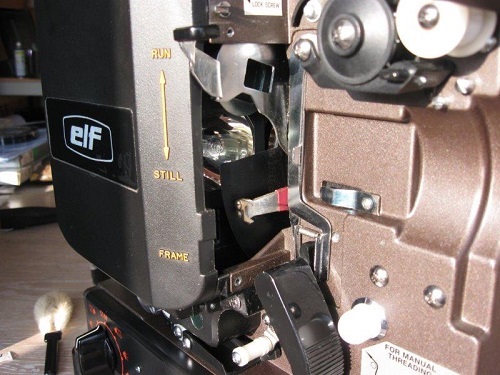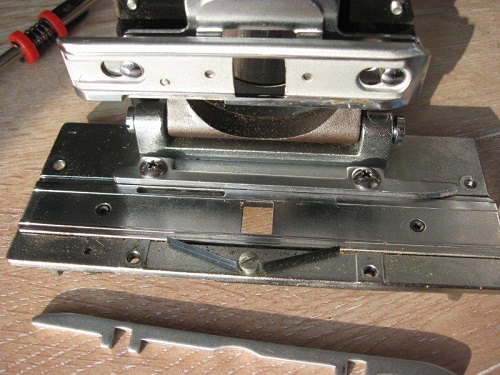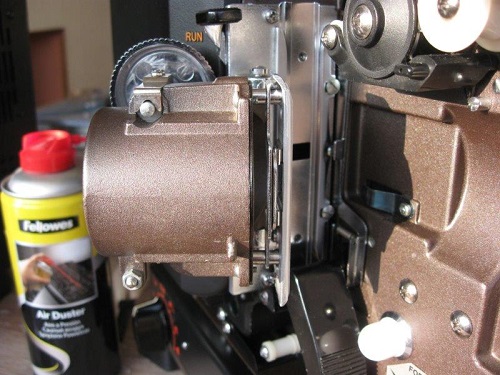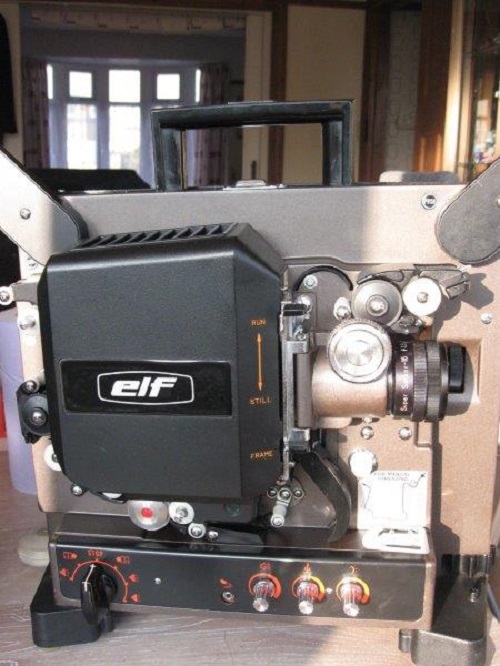 ---
Posted by Andrew Woodcock (Member # 3260) on April 19, 2017, 03:21 PM:

Well done Tom!..and of course Mr Parsons & Mr Patchett.
Great team work all around to obtain a highly satisfying end result for one great guy here!
---
Visit www.film-tech.com for free equipment manual downloads. Copyright 2003-2019 Film-Tech Cinema Systems LLC




UBB.classicTM 6.3.1.2