This is topic Bolex 521 in forum 16mm Forum at 8mm Forum.


To visit this topic, use this URL:
https://8mmforum.film-tech.com/cgi-bin/ubb/ultimatebb.cgi?ubb=get_topic;f=5;t=001650

---
Posted by Maurice Leakey (Member # 916) on August 02, 2017, 02:56 AM:


quote:

---

Bolex 221, 421, 521 are projectors we see for repair every year. Similar to Bell & Howell, ALL Bolex 421 and 521 suffer from multiple cracks in worm gear! Nowadays, they often have electronic defects. They are difficult to repair.

---
So said Josef Grassman on this Forum on September 19 2015.

Josef went on to say that Bolex in Switzerland could no longer supply new worm gears, but his firm could carry out repairs to stabilise the worm gear. The split gaps becoming smaller but still remaining. The projector would now run much quieter and their customers would be able to use their Bolex for more years to come.

I would like to ask Josef to explain more about the worm gear. I assume it is nylon or some form of plastic. Are they on an aluminium former like a Bell and Howell? Could they be replaced with a solid brass or similar metal one if such an item could be made by a manufacturing company?

Perhaps Josef could also show a picture of the worm as originally supplied.

---
Posted by Edwin van Eck (Member # 4690) on May 23, 2018, 09:24 AM:

Hi Maurice, et al!

I have good news!
The worm gear is ready and for sale: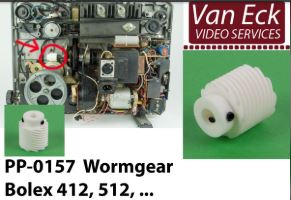 See: https://shop.van-eck.net/PP-0157.html?_globalsearch=pp-0157

For our spare part finder I want to add this projector and lack some information. Can someone help me?
Looking for:
- list of (similar) projectors where this part also fits
- user/service guides for Bolex 412/521
- some nice pictures of these projectors

If someone needs other parts for these machines, please let me know! I have a Bolex 421 here in our warehouse we can use to test these parts on.

---
Posted by Stefan Voglsinger (Member # 6537) on July 28, 2018, 05:45 AM:

hey, i have a bolex 421 and need to change my wormgear. i unscrewed the old one but it doesn't go off that easily since it's stuck to the metal part in the front when i try to peel it off. my question, has anybody done that exchange and can tell me which parts i have to remove or loosen to get the old wormgear off?

https://setzkastenwien.files.wordpress.com/2018/07/zahnrad.jpg

---
Visit www.film-tech.com for free equipment manual downloads. Copyright 2003-2019 Film-Tech Cinema Systems LLC




UBB.classicTM 6.3.1.2