This is topic A huge thank you to Kevin Clark in forum 16mm Forum at 8mm Forum.


To visit this topic, use this URL:
https://8mmforum.film-tech.com/cgi-bin/ubb/ultimatebb.cgi?ubb=get_topic;f=5;t=001783

---
Posted by Tom Photiou (Member # 130) on March 21, 2018, 03:25 PM:

Here is something you donít get every day.
I made an enquiry to fellow member Kevin Clark, this was regarding a Sankor 25mm lens I purchased around a year ago elsewhere to get a large image for our 16mm from a short throw.
I tried it and at the time, (being a bit green behind the ears as far as 16mm is concerned), and I thought the image was a tad darker but put it down to having the image made bigger/losing some light and/or quality. The image was also quite grainy, A few films later I was not at all impressed by this lens that many people raved about. I opted for a 38mm primed lens and a zoom converter purchased from Clyde on this forum. Halfway there now, the image still only 2/3rds filled the screen but it produces an excellent image and is perfect for the scope films.
Two weeks ago I looked again at the 25mm lens which was just sat on a shelf and i put a torch through the back and took a better look. It just didnít look right, it looked like an icy surface, I was worried it was either filthy or had some fungus.
A conversation to Kevin resulted in me sending it to him to take a look, it was very bad news, not only was it fungus, but part of the lens was a bit loose resulting in a rattle if you shook it, worse still, Kevin explained that the glass appeared to have been cleaned as it wasnít actually dirty, just badly damaged by the fungus and this was not something that could be fixed.

This was part of Kevinís Findings,

ďSadly there is nothing that can be done about the fungus damaged element - this comprises of two small lenses in a black plastic mount - they are glued into these during manufacture - the side we need to get to is on the sealed inside hence no fix possible. However - in my opinion the fungus has 'bitten' so hard into the glass even it were possible to open it the glass would not respond to cleaning or treatment.
I've attached two photos - one that shows the combined fungus damaged element stripped out of the lens so you can clearly see the fungus grazes in the glass and one that shows that element next to another from the lens, on a white piece of card, so you can see the difference in clarity between the two, same camera, same lighting, same angle, two very different looking pieces of glassĒ.

However, Kevin also explained that he had a lens which is made up of a fitting that should fit the Elf we have, the lens itself being from a super 8 Silma projector, a Schneider F1.2 15.5mm to 28mm zoom lens, which in theory shouldn't work with 16mm due to vignetting, but in practice it works perfectly, all through the zoom range. It gives a huge picture at the 15.5mm end, and just about the same size as my 1" lens at the 28mm end of the range.
With all of this in mind my lens being sent to Mr Clark, and Kevinís findings and returning of my lens plus the made up item was all done within four days, including the weekend. What an absolute star, this is a huge thank you to Kevin; we need a medal icon on here. Thanks to Kevin I can, at last, project a huge sharp, bright image with my Eiki. This is where forums and the internet do come into there own. What an absolute star.
Here is the problem Lens from the Sankor 25mm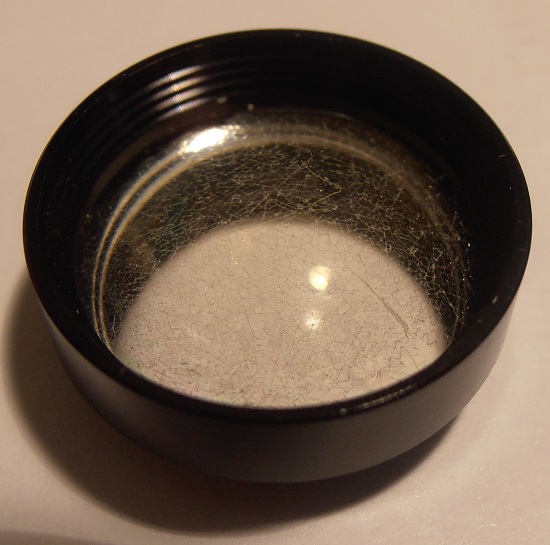 Here is the lens that Kevin put together and is now in my Eiki,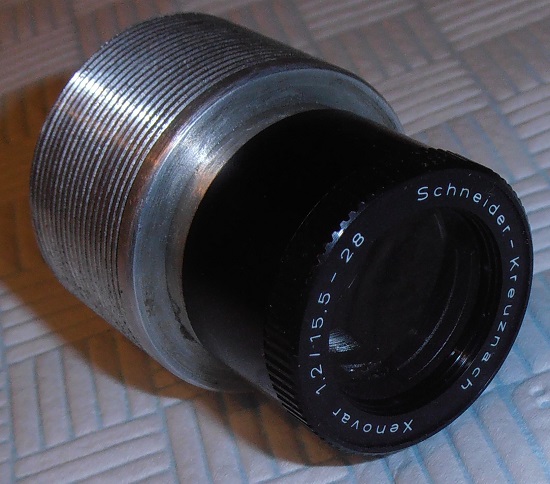 As you see it looks a little lost but this is a small guy that packs a huge punch onto a big screen from just 11 feet away.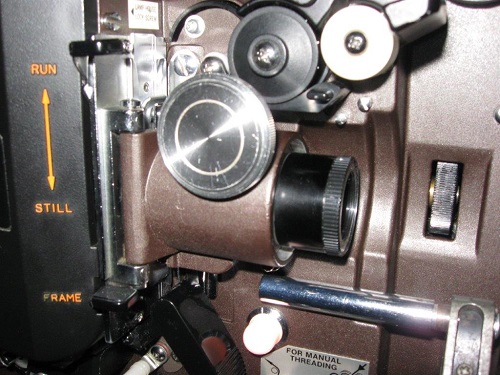 Cheers Kevin


Here is a couple of screenshots taken tonight, do not be fooled for what you see on the screen is pin sharp and very bright.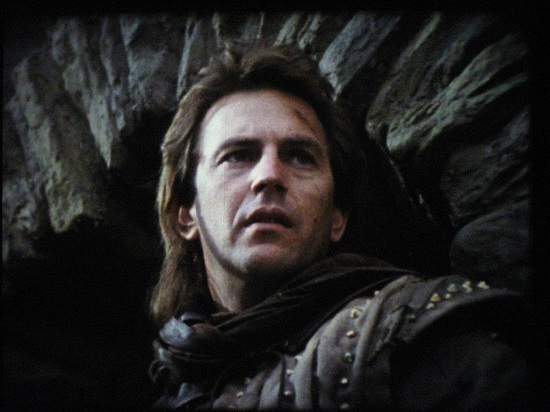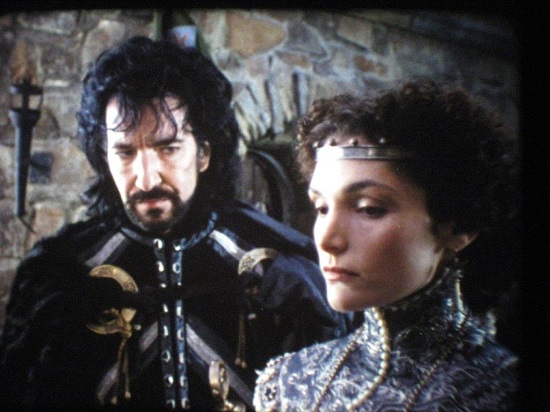 [ June 07, 2019, 03:28 PM: Message edited by: Tom Photiou ]

---
Posted by Mark Mander (Member # 340) on March 21, 2018, 03:44 PM:

Looks a good job by Kevin,pictures of the film look very nice,that's the thing with 16mm as it's the lenses that make the difference,I have a 25mm lens and it gives a very nice picture,cost more than the machine but worth it,I also have a 38mm for scope and again gives a very nice picture too,with a bit of ingenuity as Kevin has done it shows superb results can be had so well done to you both,Mark

---
Posted by Tom Photiou (Member # 130) on March 21, 2018, 04:01 PM:

Thanks Mark, i have been trying hard to get a picture as big as the super 8s we use ever since getting back into 16mm, with the Sankor i lost a lot of faith and assumed i would have to put up with the smaller image, Kevin did say he enjoys dabbling in the different optics and Lens's and with this item i believe he has made a perfect match. I must admit i would never in a million years believed that a small barrelled lens like this would work on a 16mm projector but it does, and superbly. It shouldn't but it does.
---
Posted by Adrian Winchester (Member # 248) on March 22, 2018, 12:23 AM:

This is an interesting, if surprising, success story, and I'm impressed by the edge to edge sharpness, which is very much in contrast to a lens in a sleeve I tried in my early days of using 16mm. I've never heard of a short throw zoom lens for 16mm, except for the custom one that you're clearly benefiting from! I suppose another benefit is that you could use this lens with a scope lens in front of it, using a normal scope lens holder, which wouldn't normally be possible. Eiki extension bars exist for positioning a scope lens in front of a conventional zoom lens, but I know from experience that buying the right one for a particular projector can take many years (as they are so scarce) and can cost a frighteningly large amount!

---
Posted by Tom Photiou (Member # 130) on March 22, 2018, 01:45 AM:

Adrian, my elf does have the eiki scope bracket holder but it is for the larger sankor 16c scope lens. Although i havnt tried scope with the new lens i have an idea it may be better to use the primed 38mm lens which does also produce an excellent image.

---
Posted by Kevin Clark (Member # 211) on March 22, 2018, 06:21 PM:

This is great to hear you are happy Tom and thank you to others for your kind comments too - I have come to the conclusion the longer barrel Schneider Super 8 lenses usually found in Bauer, Braun Visacuatics and Silma projectors (in this case a S233) are the best ones to use. The rear end of their optics have a wider area of vision than other lenses, so the whole 16mm frame can be seen without edge distortion, but even allowing for this I expected at least some vignetting at the largest picture size setting on the zoom range but there was none at all. Also it is nice and bright, sharp and contrasty, all I need to do now is find a box full of them somewhere for future upgrades!

This one came from a beyond repair transit damaged Silma - the heads and gate went to a Bauer enthusiast friend, I kept the lens which is now with Tom, and some of the rollers are in the 'come in handy' box, so it was nearly all put to good use.

Just a shame the Elf / Eiki 25mm lens was so bad the fungus had bitten into the inaccessible inner two lens element as shown - thankfully this experience has not turned Tom off 16mm but it would have been understandable if it did as he paid a lot of money for a poor quality lens on this occasion.

Kevin

---
Posted by Rob Koeling (Member # 35) on March 23, 2018, 04:57 AM:

That's remarkable! Excellent work Kevin!
I've always stayed clear of sleeved lenses because of the intolerable vignetting. But this might be true most of the time, this shows you need to be careful with generalising.

I have a spare Xenovaron 1.2, and would love to try this. What did you use for the sleeve?

- Rob

---
Posted by Mark Norton (Member # 165) on April 15, 2018, 06:16 AM: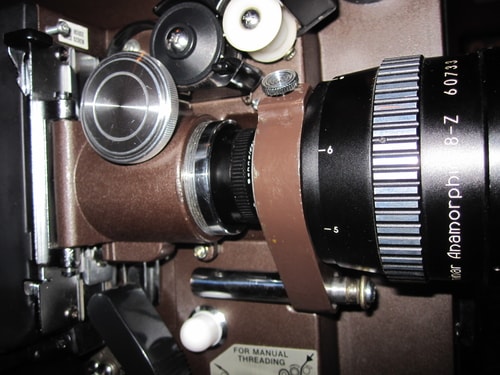 Thanks Tom & Kevin for sharing this. Here is one i've just made, I also have modified the scope lens holder rail to get the scope lens in as close a possible. Biggest scope image I have had without vignetting.

---
Posted by Tom Photiou (Member # 130) on April 15, 2018, 06:47 AM:

Thats great stuff there Mark. I am loving this lens Kevin did for me. Fantastic quality and an extra huge image. The good thing for me is now having to zoom down so you get the bright contrast as well as the big image.

[ April 15, 2018, 10:32 AM: Message edited by: Tom Photiou ]

---
Posted by David Guest (Member # 2791) on April 15, 2018, 08:52 AM:

hi mark we will use your scope lens for the Friday night film show at blackpool will look good on the 12ft screen

---
Posted by Mark Norton (Member # 165) on April 15, 2018, 10:49 AM:

Oh yes David, looking forward to the best Holiday of the year in the Hilton Blackpool.

---
Posted by Kevin Clark (Member # 211) on April 15, 2018, 11:42 AM:

That's and excellent job you've done there Mark - combining the Kowa 8z with the little Schneider is now giving your 16mm films the same treat these lenses have provided to Super 8 films since first imported by Tony Shapps back in the 1980s.

I use an Elmoscope now with similar excellent results, and also an Isco 'scope lens designed for 35mm use which allows for even bigger pictures without vignetting.

I sold my last Kowa 8z on Ebay in March for £700 it is amazing the price they go for - it went to a DSLR filmaker who is delighted with it.

Whilst it is great to hear the positives from this thread it is still sad to think Tom was totally ripped off when sold his foggy 25mm Sankor lens for £125 - how the seller can sleep soundly at night knowing they sold him a lens that belonged in the rubbish bin is beyond me.

It was a pleasure to be able to help Tom out and great to hear more collectors are trying the mighty Schneider F1.2 zoom in their Eikis as well.

Kevin

---
Visit www.film-tech.com for free equipment manual downloads. Copyright 2003-2019 Film-Tech Cinema Systems LLC




UBB.classicTM 6.3.1.2