This is topic Battleship Potemkin 16mm sound print SOLD in forum 16mm films for sale/trade/wanted at 8mm Forum.


To visit this topic, use this URL:
https://8mmforum.film-tech.com/cgi-bin/ubb/ultimatebb.cgi?ubb=get_topic;f=6;t=002270

---
Posted by Chris Bird (Member # 3839) on July 29, 2018, 05:30 AM:

I am selling my 16mm print of the classic 1925 silent film Battleship Potemkin, by Sergei Eisenstein.

This is the 1950 Soviet reissue, with a fine score by Nikolai Kryukov. There is some light wear and splices, as it's a very old print, but in decent overall condition. There is a splice that clips the opening narration that was added to the front of the film.

It is 2 x 1000', mounted ON CORES, not spools. It's in a 1000' 35mm metal can.

£75 plus shipping, or if you are able to meet in central London I can just hand it over.

---
Posted by Chris Bird (Member # 3839) on August 22, 2018, 01:49 PM:

Price reduced to £60 plus shipping.

---
Posted by Chris Bird (Member # 3839) on December 23, 2018, 05:39 AM:

Here are some screenshots. There is very light scratching a lot of the time, and please note there is a brief heavier scratch, as visible in the final image, but it doesn't last long. The shots are just on my iPhone, zoomed in, so it looks a little better for real, but these give an idea.

£60 plus UK shipping, with the 1950 reissue soundtrack, mounted on cores.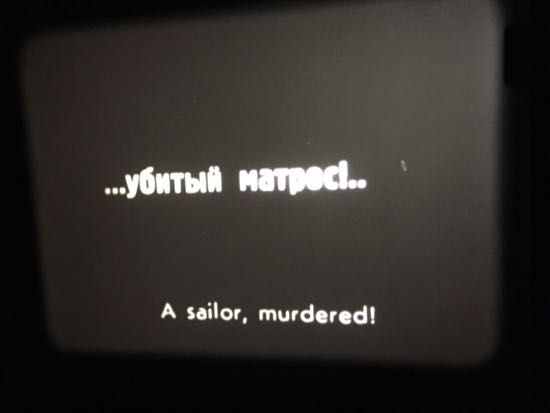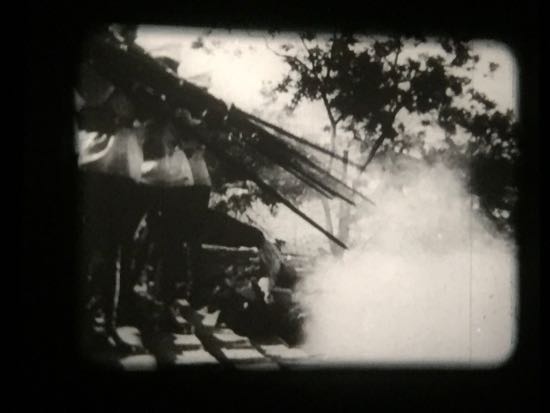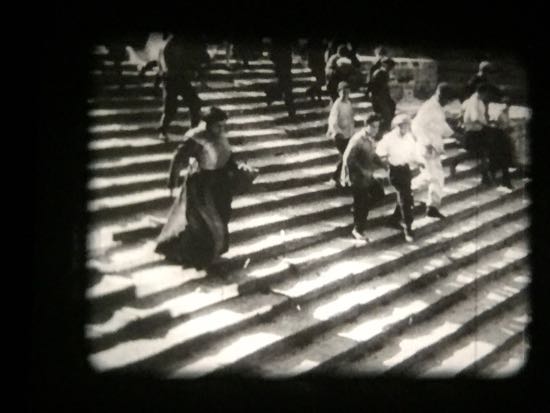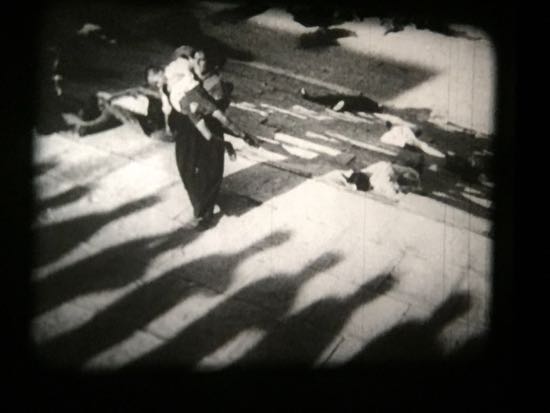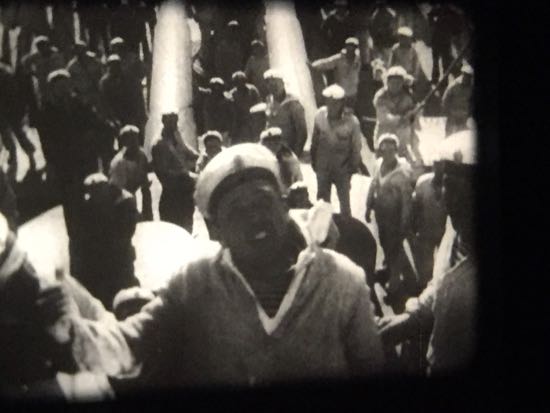 ---
Posted by Maurice Leakey (Member # 916) on December 24, 2018, 03:30 AM:

Chris
You say the film is 2 x 1000ft which gives a running time at sound speed of 55 minutes, far shorter than the accepted time of 75 minutes for most prints.
Is it perhaps a censored/edited print designed to fit an hour slot on television?

---
Posted by Chris Bird (Member # 3839) on December 24, 2018, 04:32 AM:

Hi Maurice, itís probably more like 2 x 1100í. This is not a TV version but the official Soviet 25th anniversary release from 1950. They made a few trims at the time, but not much.

Of course with silent films different projection speeds give different running times; there is nothing like 20 minutes of extra footage in the restored version, more like 3-5 minutes.

It was distributed over here on 35mm by Contemporary Films.

Best Christmas wishes,

Chris

---
Posted by Chris Bird (Member # 3839) on January 07, 2019, 03:20 AM:

Now SOLD (ebay)

---
Visit www.film-tech.com for free equipment manual downloads. Copyright 2003-2019 Film-Tech Cinema Systems LLC




UBB.classicTM 6.3.1.2