This is topic 3:10 To Yuma in forum General Yak at 8mm Forum.


To visit this topic, use this URL:
https://8mmforum.film-tech.com/cgi-bin/ubb/ultimatebb.cgi?ubb=get_topic;f=8;t=000665

---
Posted by Paul Adsett (Member # 25) on October 02, 2007, 10:52 AM:

To all the Western fans out there, who love movies like Shane or High Noon , I would like to highly recommend the new remake of 3:10 To Yuma . This is a movie that grabs you from the first frame and never let's up. Russel Crowe is superb as the outlaw Ben Wade, and his sidekick is so evil he makes Jack Palance look like a wimp! Worth seeing for the awesome cinematography alone. This one ranks up there with 'Shane' as one of the best ever Westerns.
And it will make a superb S8 cutdown for Derann!
---
Posted by John Clancy (Member # 49) on October 03, 2007, 03:31 AM:

You've sparked my interest Paul. What a shame there aren't any cinemas around here for about 30 miles!

---
Posted by Osi Osgood (Member # 424) on October 03, 2007, 10:49 AM:

I've heard very good press and reviews about this re-make and they have all been highly positive. They say that it's far better than the Brad Pitt remake of the Jesse James saga.

The original was a also a superior western, starring Van Heflin and Glenn Ford.

---
Posted by Douglas Meltzer (Member # 28) on October 04, 2007, 08:25 AM:

Paul,

I wholeheartedly agree with you. Russell Crowe is terrific and Christian Bale is just as good. It's also great to see Peter Fonda chew up the scenery as a bounty hunter with an obsession.

Doug

---
Posted by Graham Ritchie (Member # 559) on January 13, 2008, 08:35 PM:

Although, this film has not yet been released in the cinemas here I managed to watch an early preview, all I can say is that its great, real edge of the seat stuff, fantastic sound, and those bullets flying around
what a cast, best movie I have watched in a long time, dont miss this one.

Graham.
---
Posted by Paul Adsett (Member # 25) on January 13, 2008, 10:30 PM:

Now available on DVD in the USA. Definately one to have.

---
Posted by Graham Ritchie (Member # 559) on January 13, 2008, 11:44 PM:

Just checked "DVD Planet" that was a quick release onto DVD
and its not even on our screens yet,
although in saying that, a film like this will look good on a large cinema screen , without giving much away I liked what Russell Crowe did in the final seconds of the film "nice touch" here horsey
even the music reminded me of some of Clint Eastwood films a top notch movie.

Graham.
---
Posted by Mark Todd (Member # 96) on January 14, 2008, 08:24 AM:

Hi just read some reviews of this on play.com where it will be out UK wise on the 28th Jan, looks really good, Mr Crowe surprising us again like in Master and Commander and MR Bale as usual superb. Its 12.99 std dvd and 17.99 Blue Ray posted and I have to say thats tempting me though no HD TV or projector or even player!!!!
Best Mark.

---
Posted by Graham Ritchie (Member # 559) on February 16, 2008, 01:17 AM:

Well the movie will be released out here on the 20th March this year, it's been a long time coming
a few weeks ago I managed to get a new 35mm trl, for those that are into buying trailers this one is long and action packed, ideal in flat or scope format for Super8 release.

Graham.

---
Posted by Graham Ritchie (Member # 559) on November 21, 2015, 11:44 AM:

Well the 35mm print came and went long long ago, I still have the trl and movie poster. Watched the Blu-ray last night and the quality is "excellent" well worth getting. Its taken me a long time to get around to watching the Blu-ray, however one day, "hopefully" I will come across a 35mm print...now that would be nice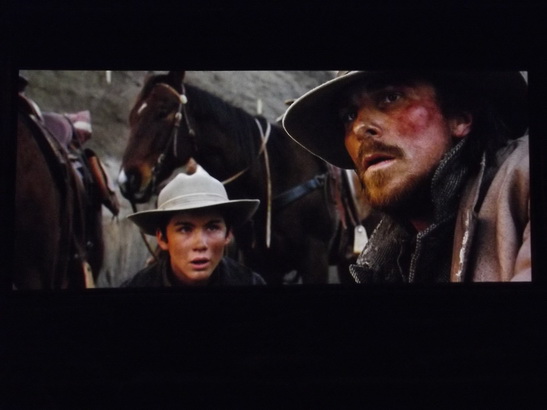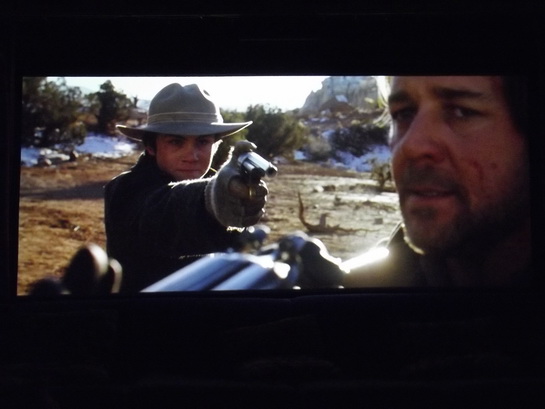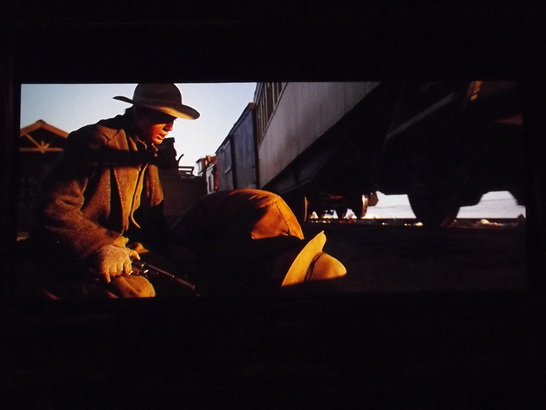 ---
Posted by Graham Ritchie (Member # 559) on October 26, 2019, 07:36 PM:

Well folks they say all good things come to people that wait, well at last I got my hands on the 35mm film print, and its much more fun than the Blu-ray. Paul if you are reading this, if you are ever out this way I can screen it on the now reel stuff.


Here is a short extract
https://youtu.be/Mj6EHnM69As
---
Posted by Paul Adsett (Member # 25) on October 27, 2019, 10:00 AM:

Graham, thank you for that kind invitation, if I ever do get to Christchurch some day I will certainly look you up. Your 35mm cinema is truly amazing and ought to be on the "10 Best Things To Do In Christchurch" tourist guide!
---
Posted by David Ollerearnshaw (Member # 3296) on October 27, 2019, 10:51 AM:

I wonder if the 3:10 To Yuma was The Last Train From Gun Hill?

---
Posted by Graham Ritchie (Member # 559) on October 27, 2019, 03:38 PM:

Your welcome Paul
---
Visit www.film-tech.com for free equipment manual downloads. Copyright 2003-2019 Film-Tech Cinema Systems LLC




UBB.classicTM 6.3.1.2