This is topic Any Poster Collectors? in forum General Yak at 8mm Forum.


To visit this topic, use this URL:
https://8mmforum.film-tech.com/cgi-bin/ubb/ultimatebb.cgi?ubb=get_topic;f=8;t=001585

---
Posted by Stewart John Boyle (Member # 1785) on January 25, 2010, 11:33 AM:

Hi all,
I have a large collection of original British quad style posters that i`m selling.I thought i would give the members first shout on any.If no interest, Movieposter dot com is willing to take the lot,posters include Pulp Fiction(Lucky Strike cig packet),Reservoir Dogs,Alien Directors cut,Empire Strikes Back Special Edition,Star Wars Special edition,attack of the clones,apocalypse now redux,..
full list can be posted
regards
Stewart

---
Posted by Bill Phelps (Member # 1431) on January 25, 2010, 12:35 PM:

Stewart...Could you explain what a quad style poster is? I'm not sure what those are.

Do you have any from director Brian Depalma?

How much are you asking for these...does it depend on the film?

Bill

---
Posted by Stewart John Boyle (Member # 1785) on January 25, 2010, 01:07 PM:

Sure,
British Quad Style posters are 40inches wide by 30inches tall.
here is a comparison in styles.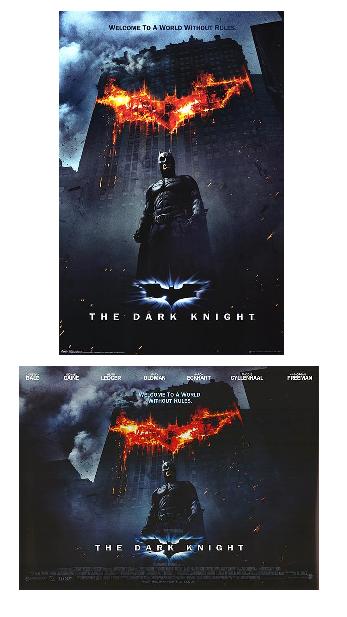 I`m wiiling to let them go as a bundle(30 approx) for £1100
Willing to seperate.
Sorry Bill no Depalma posters.
Regards
Stewart

---
Posted by Jean-Marc Toussaint (Member # 270) on January 25, 2010, 01:09 PM:

I have a rather large collection of posters, some dating back to the 1930s. A lot of Hitchcock, Argento, science fiction, horror and classics such as the original french release of GWTW.
I have a few Quadbods from the UK as they always feature interesting design adaptations. Good luck with the sale.

---
Posted by Stewart John Boyle (Member # 1785) on January 25, 2010, 01:14 PM:

Thanks Jean,
I prefer the wide aspect of Brit Quads,i feel its more pleasing on the eye.
Stew

---
Posted by Michael O'Regan (Member # 938) on January 25, 2010, 01:33 PM:

I also have quite a few of these from the late 70's early 80's - I tried to sell them a while back but had no luck Stewart. The market is pretty depressed at the moment it would appear.
Good luck though
---
Posted by Bill Phelps (Member # 1431) on January 25, 2010, 01:36 PM:

Yes, I like them too...framed more like the movie screen.

I have a small collection of posters...mostly Depalma stuff and films that I have 8mm or 16mm prints of...

...or if I just like the film or poster design.

Thanks for the pictures explaining that Christian!

Good luck on the sale!

Jean-Marc...I don't have any Hitch posters (yet) but would probably have to settle for reprints as I bet real ones would get quite expensive. How many Hitch posters do you have?

Bill

---
Posted by Stewart John Boyle (Member # 1785) on January 25, 2010, 01:50 PM:

Michael,
Try the website i posted in my first thread,i`m pretty sure they will take your collection if you still have them,On research i have found that the market is depressed in certain auction sectors, however there are alot of poster re sellers on line that would like the pick of the bunch..
Stewart

---
Posted by Michael O'Regan (Member # 938) on January 25, 2010, 02:05 PM:

Thanks Stewart,
I'll take a look.
To be honest I know little of the value of posters. If I was to email my list to you, would you be able to put a rough value on it??

---
Posted by Christian Bjorgen (Member # 1780) on January 25, 2010, 03:04 PM:

Hi, Stewart! Would you mind posting a full list with individual prices?


Regards, Christian

---
Posted by Osi Osgood (Member # 424) on January 25, 2010, 04:29 PM:

When I was high school, our media class received from the local movie theater, hundreds of 16MM and 35Mm trailers, (this was back in 1980) and along with all of that, one large movie poster.

... and I mean large! This wasn't your standard pull out of a magazine poster. It was the original theatrical poster for "The Land that Time Forgot". Its probably why I am so gung ho about this movie! I stated up at that old slightly tattered poster for hours, imagining the fantasy of it all.

My personal pick for my all-time favorite poster and the 1978 (or was it 79) re-issue of Star Wars poster. It was quite unique, in that it was painted as if it was on an old wood background, and the poster itself, in the poster, was old and tattered and the illustrative design of the actual poster, (within a poster) was of a 1930's "Buck Rogers styled" Image!

I fell in love with that poster, (it is also, ironically, George Lucas's favorite, probably because Lucas has always been in love with the 1930's serials). Couls someone perhaps put that poster up on this forum? I'm sure you folks will see why it is so cool!

Muchas Gracias to whoever can put it up!!

---
Posted by Gian Luca Mario Loncrini (Member # 1417) on January 25, 2010, 06:12 PM:

All posters I've had (I've collected them for longtime when I was younger) were sold on eBay last year, maybe two years ago.
Most of them were for 60's/70's/80's horrors.

There's just one I was really sad to sell. It was very hard to get it (and it was in such a perfect condition... WHY DID I DO IT???).

Argento's INFERNO.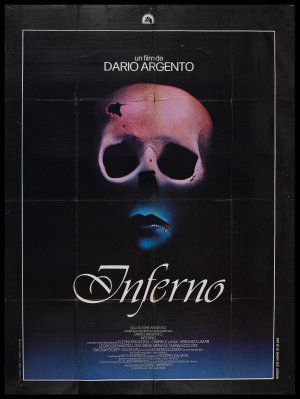 ---
Posted by Thomas Murin, Jr. (Member # 1745) on January 25, 2010, 07:07 PM:

Osi, I have that Star Wars poster! Alas, when my parents re-arranged the house 2 years ago all my posters (I have dozens) were put away and I haven't gotten around to sorting through them yet.

I'll try and find it for ya though!

I also have an original Empire Strikes Back from the 1981 re-release that was given to the first 100 customers.
---
Posted by Osi Osgood (Member # 424) on January 25, 2010, 10:05 PM:

Thomas!

Most awesome!

There's something truly memorable about that whole time for me, but when you think that from the period of 1977 to 1983, those six years I went from 11 or 12 years old to 18, so the whole of my teens years was made up of Star Wars and all other things sci-fi.

Magnificent memories.

---
Posted by Greg Marshall (Member # 1268) on January 25, 2010, 10:31 PM:

I remember that one-sheet, Osi.... The one with the slanted lettering, kinda gave the impression of the cover of a comic book, I thought. This was summer of 1979.... I think August. I was still running Star Wars well into the summer of 1978, from the '77 release. That print was well-used, but we managed to keep it, somewhat, scratch-free. We put the film cleaner device on every few weeks.

I collected one-sheets from the early/mid-70's, through the late '80's.... I had several hundred that I had stored. I sold them off in the mid to late '90's. Now I wish I had kept them, looking at the prices the same titles are going for. I had all originals, all majors.

---
Posted by Osi Osgood (Member # 424) on January 26, 2010, 08:47 AM:

Of course, its reality, but it doesn't seem like thirty years ago that those wonderful films came out. I hate saying it, but I tend to live more in the past than the present. So many lovely times back then. I know that's one of the reasons why I collect Super 8.

I love screening those two scope prints of the original STAR WARS that we grew up on, and Close Encounters. I've even made ther choice that if I was to ever sell off my collection, (that probably will never happen), I would still keep those two features, even if I kept them in a bloody backpack! That's what they mean to me.

The posters hold a special place in the history of Cinema, often portraying the promise of something spectacular, even if what they saw on the screen was far from great.

You even see the changes in art itself in the last hundred years.
Look at the early posters for the silents, for instance. There is very little difference from the vaudville posters that were diplayed about bare wood fences. The fifties and the minimalist explosion that happened in animation and art in general ect. ect.

---
Posted by Stewart John Boyle (Member # 1785) on January 27, 2010, 01:38 PM:

Michael,of course i can,just click my name for my e-mail,address,
Christian, heres the list.
Star Wars attack of the clones £55
Star Wars empire strikes back special edition. £55
Star Wars Special Edition £55
Alien Directors cut £50
Reservoir Dogs £350
Pulp Fiction (original lucky strike edition,withdrawn due to copyright issue,very rare.) £350
Natural Born Killers £50
Apocalypse now redux £50
Laissez-Passer £25
Donnie Darko £30 (corner Damage)
Solaris £35
Betrayed (tom Berenger) £7
Clear and present danger £10
Centre of the world £30
Apollo 13 x2 £50 each( american Vertical style)
Spirited Away £35
The Accused £25
A Perfect world £25
Shiri £20
Snake of june £20
Full Time Killer £35
Sympanthy for mr vengeance £35
El Bonarense x2 £20 each
The Hapiness Of the katakuris £35
Heaven and earth £30
Leon (plastic very large bus stop size) £70

For the serious collectors i also have 3 unique Walt Disney framed prints,these are 1 of a kind,1 very large Snow white and the seven Dwarfs promo,featuring reproduced hand drawn images,some black and white some colour, with some conceptual drawings ,also two framed prints of Walt Disney himself and the history of Disney studios,completely original and you will not find these in any Disney store in the world. £2000 for the three.,
regards
Stewart

[ January 27, 2010, 04:09 PM: Message edited by: Stewart John Boyle ]

---
Visit www.film-tech.com for free equipment manual downloads. Copyright 2003-2019 Film-Tech Cinema Systems LLC




UBB.classicTM 6.3.1.2