This is topic Snow-Job In The East in forum General Yak at 8mm Forum.


To visit this topic, use this URL:
https://8mmforum.film-tech.com/cgi-bin/ubb/ultimatebb.cgi?ubb=get_topic;f=8;t=004742

---
Posted by Joe Caruso (Member # 11) on March 08, 2018, 01:14 PM:

For those of us in the Metro-Area, please be safe, pray Spring will come through - Shorty

---
Posted by Steve Klare (Member # 12) on March 08, 2018, 01:55 PM:

Yessir!

The beginning of March came, the back yard melted down to just the mud and brown grass, and thoughts of Spring caught a middle-aged man's fancy!

-I thought I'd take the bikes out of the shed and put the snow blower away. I thought about waxing my car, maybe getting a set of roof racks for my wife's car too.

It seemed we were in the clear...

-but then yesterday happened: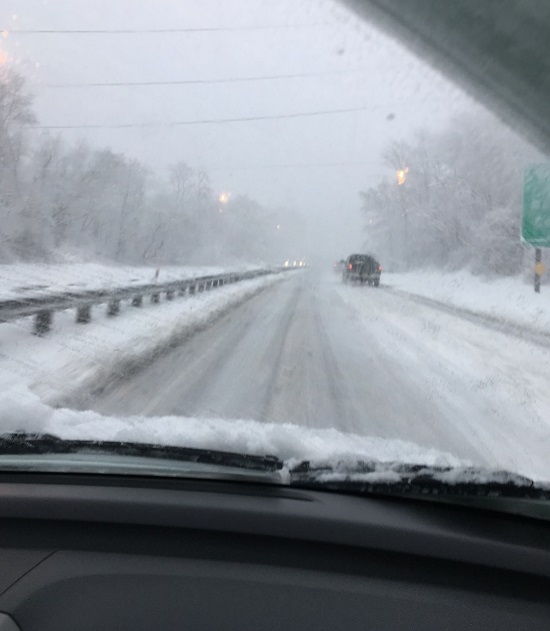 Long Island Expressway, Westbound, Roughly 4:30PM

It was a downright white-knuckle commute! (-you ever see a snowplow go into a skid?!!)

You've got to understand: this is a carpool situation, so I had no direct control. (-Just begging to be listed in the credits as a hapless victim!)

-so the bikes are still in the shed, and I had to use the snow blower this morning...still the same: March 20th is only 12 days away!

---
Posted by Joe Caruso (Member # 11) on March 08, 2018, 02:08 PM:

12 days?! - Thought this Saturday with the turn of the clocks ahead, we'd be introduced into the season of lovely lamb and choice weather - Oh well...no, never saw a snowplow jackknife or swirl about, but I'd stay away far-away - Love to you all, was hoping to see the smiling Mrs and the eager little Steve, have some films for him - God Bless - Shorty

---
Posted by Steve Klare (Member # 12) on March 08, 2018, 02:31 PM:

I count it as of the date of the Vernal Equinox: March 20th.

What was kind of stinky about yesterday was after a long day I might relax watching a few films, but with power lines falling all over the place there was no way I was plugging into that!

I just fixed a projector! (Let's not blow it up!)

The Mrs. and the Boy will return to Wildwood in October. The nice thing is with ME packing the luggage I won't need a forklift to unload the car!

---
Posted by Graham Ritchie (Member # 559) on March 09, 2018, 12:33 PM:

That looks very cold indeed, last week I was looking at the snow hitting Scotland it looked terrible. I wonder if this is down to climate change.

---
Posted by Steve Klare (Member # 12) on March 09, 2018, 12:53 PM:

Here this is pretty much business as usual. We have these storms that come up the Coast year round called Nor'easters that depending on the temperature you can get flooding rains or a foot of snow in a day.

(If it's below freezing and Thursday night, I'm all for it!)

If this was a choice vs. a hurricane, this is definitely where I'd go: nowhere nearly as violent.

March is a funny kind of month: one March 3rd when my wife and I were engaged, it was 75 and sunny and we went canoeing.

-not so much this year!

---
Visit www.film-tech.com for free equipment manual downloads. Copyright 2003-2019 Film-Tech Cinema Systems LLC




UBB.classicTM 6.3.1.2