This is topic 3D Glasses in forum General Yak at 8mm Forum.


To visit this topic, use this URL:
https://8mmforum.film-tech.com/cgi-bin/ubb/ultimatebb.cgi?ubb=get_topic;f=8;t=004944

---
Posted by Graham Ritchie (Member # 559) on August 12, 2018, 02:43 AM:

Can anyone recommend 3D glasses that can be used on Epson EH-TW5600 Video Projectors?

---
Posted by David Baker (Member # 3259) on August 12, 2018, 07:14 AM:

Graham try this link -

https://www.epson.eu/products/options/3d-glasses-active-rf-elpgs03-v12h548001

---
Posted by Steve Klare (Member # 12) on August 12, 2018, 07:50 AM:

Fairly stylish they are too!

---
Posted by Graham Ritchie (Member # 559) on August 12, 2018, 02:05 PM:

Thanks David
---
Posted by Graham Ritchie (Member # 559) on November 05, 2018, 02:54 PM:

By the way David I ordered them almost a month ago, they should be here soon, as there seems to be a shortage at the moment.

I have already lined up a few titles on 3D blu-ray for projection on the Epson once the glasses get here. I will let you know the results
---
Posted by David Baker (Member # 3259) on November 05, 2018, 03:37 PM:

Oh GREAT Graham !
If you get any of the STAR WARS films in 3-D , let us know how well they projected .

---
Posted by Graham Ritchie (Member # 559) on November 09, 2018, 02:38 AM:

Well David I don't have any Star Wars on 3D and to be honest the only one I might consider later on would be "Rogue One" as I enjoyed the 2D version of that one. The later Star Wars movies like Solo don't really impress me.

However the Epson glasses did arrive two days ago, and after charging I tried my first ever 3D Blu-disc "Jurassic World". The Blu-ray player is a Pioneer BDP-180 and can play all Region "B" Blu-ray discs. The big plus with this player and to my surprise, it is Region Free for all DVDs Pal/NTSC and will play anything DVD wise.

So the moment of truth...The Epson projector picked up the 3D signal automatically, and after a few seconds after switching on the glasses we went straight to 3D. I found there was no need for pressing the little button on the glasses for pairing with the projector, it was not required.

I did notice that the Epson projector cooling fan did increase with speed, also screen brightness increased automatically as well. The projector was doing its thing
The image really was amazing, great colors etc...

Today it was time to sit down and try "Terminator 2" on 3D. This was truly amazing to watch, once again the image, the color, the detail, how did they get it to look so good?


The glasses worked perfect as did the projector. I noticed during the night time scenes, if I slipped the glasses off for a second the screen looked very bright indeed, but when I put them back on, the night sky was a "perfect black" as it should be.

The calibration between the Epson glasses and the Epson projector is spot on in every way. Although the Epson glasses were expensive I am glad I went that road and not a cheaper alternative.

Its really amazing the value for money with this entry level Epson VP. Home entertainment has never been so good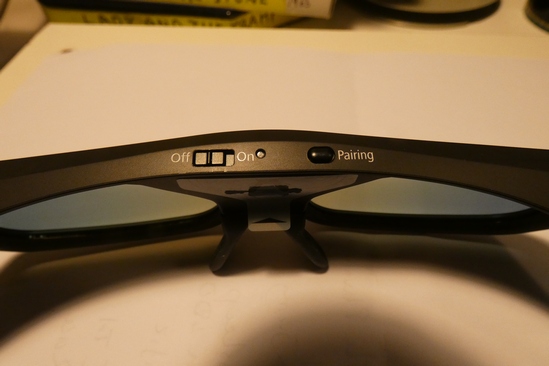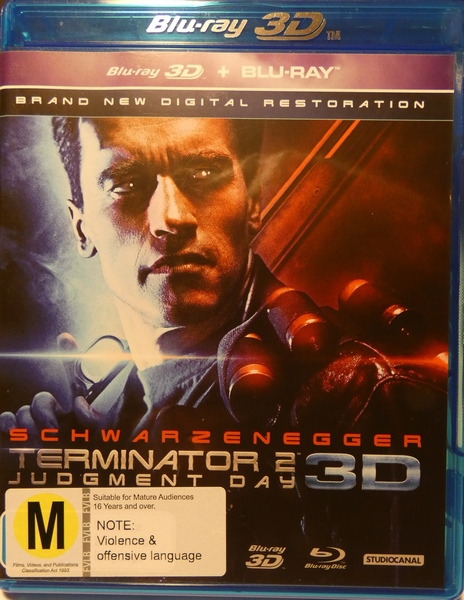 ---
Posted by David Baker (Member # 3259) on November 09, 2018, 07:10 PM:

WOW !! HOW AWESOME !

I'd LOVE to see T2 in 3-D .

They don't offer that one here in the states for our region players.

Looks like you got a real nice toy !!

---
Posted by Graham Ritchie (Member # 559) on November 10, 2018, 05:23 PM:

Thanks David

I am surprised T2 in 3D is not available in the US. That's a pity, as it is very good on Blu-ray. In the past I have been disappointed watching older films that were not made for 3D that were converted, such as the first "Jurassic Park" and the Disney animated 1991 "Beauty and the Beast" That one in particular had the look of flat carboard cut-outs moving around in front of the background.

After that I decided that unless the movie was indeed made for 3D and not converted I would not bother going to the cinema. Watching "T2" has shown me that with the technology as it is now. Its possible to get very good results in 3D out of films that were not made for it.

After watching "T2" I do hope James Cameron and his team will follow through with his 1986 "Aliens" as well, the potential is there for a good 3D version, that would be


Watching T2 in 3D the other night was like watching a completely different movie. The 3D added so much to the experience


Another one I have... and going to watch soon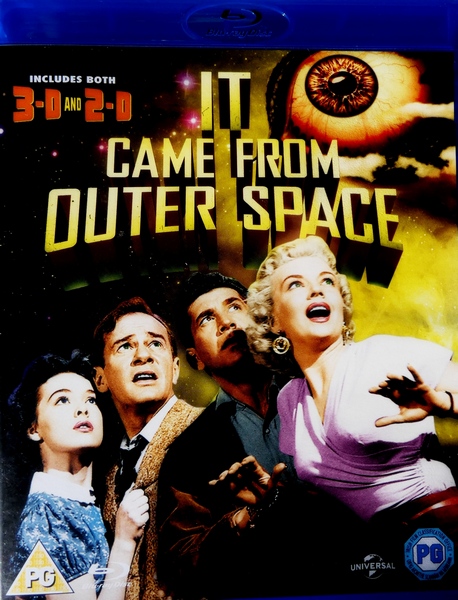 ---
Posted by Larry Arpin (Member # 744) on November 18, 2018, 01:16 AM:

IT CAME FROM OUTER SPACE in 3D is one of my favorite 3D movies. The Bubble, although not a great movie has a great scene of a tray of bear that literally comes out of the screen so far you can reach out and grab some. Amityville 3D has a scene where a pipe seems like it will poke your eye out but you have to buy all three movies. Wait to get Creatue and Revenge as they work out the rendering problem on the Revenge disc.

---
Posted by Winbert Hutahaean (Member # 58) on November 18, 2018, 10:22 AM:

I never be a fan of 3D movie. Any 3D method have been tried and I could sit for only a minute or two. It is not because of the movie looked bad but I got dizzy always.

I don't know with this new technology, will I be sitting longer or just the same.

O btw... I am a man with myopia eyes.

---
Posted by Graham Ritchie (Member # 559) on December 14, 2018, 03:14 AM:

Hi Winbert

I agree 3D is not for everyone, but if it does work, then its pretty impressive.

The Epson has been getting a bit of 3D use and it certainly draws you in. I was surprised how good "Jurassic Park" looked, considering it was never made in 3D. When I watched the 3D release at the cinema a few years back I was disappointed, but the Blu-ray 3D of this film was very well done.

Others which have worked out well and in particular was the 2016 movie "Passengers" but the one that surprised me the most, was the "The Wizard Of OZ" 1939. From the opening black and white scenes, right through the movie this 3D conversion really looked fantastic
I was at a total loss as to how they have managed to do it. It was not that long ago where home entertainment was a small B/W TV that needed a whack to make the thing go.


How times have changed...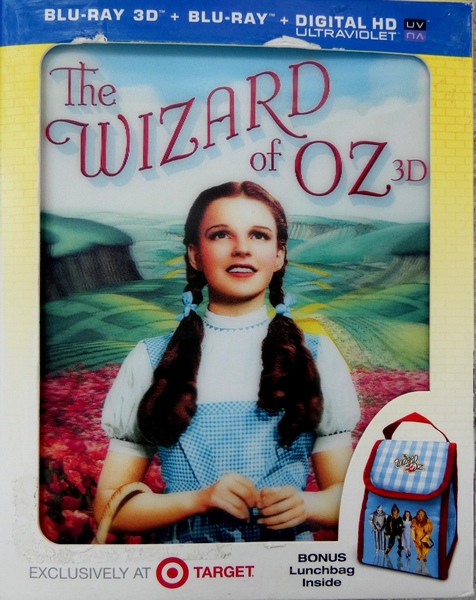 ---
Posted by Dave Groves (Member # 4685) on December 14, 2018, 04:46 AM:

Three years or so ago my daughter (living in Spain) got me free tickets to see 'Wizard of Oz' showing as part of the film festival in Sitges. It was almost the only title in English. Now I love 'Wizard' but in 3D? Wasn't expecting much. However, my wife and I were impressed. It was funny seeing children playing games in the aisle and even funnier going to the most antequated toilets in existence with the lights going out half way through. 'Hugo' is worth seeing, Graham, and Disney's 'Christmas Carol' is a must for this time of year. 3D well done is fantastic but a duff film in 3D is still duff and probably worse in 2D. I've got two discs coming for Christmas that I'm not supposed to know about but it's amazing what you come across when you're looking for something else!

---
Posted by Lee Mannering (Member # 728) on December 17, 2018, 04:18 AM:

Love 3D Here are my cut down bleach boxes then covered in artwork to store them all.


---
Posted by Steven J Kirk (Member # 1135) on December 17, 2018, 10:48 AM:

That big drawback with Blu Ray - they won't stand upright on a shelf!

---
Posted by Mark Silvester (Member # 929) on January 09, 2019, 04:22 AM:

Hi all

I've been totally into LCD projection for a lot of years now as many know - I used to love my 16mm.

I too have been extremely impressed with the 3D quality on my Epson LCD HD 3D projector.

The glasses system used - whilst not inexpensive, is absolutley stunning in effect...just watched Avengers Infinity Wars in 3D and it looked amazing 8 ft wide.

I agree also on the Wizard of Oz £D adaptation. I was also impressed with the conversion of James Cameron's "Titanic" very effective on the big/home screen in 3D.

Best to all.

Mark

---
Posted by Lee Mannering (Member # 728) on January 09, 2019, 04:48 AM:

Hello Mark.

Yes 3D has had its second coming or perhaps its 5th again which has been fabulous particularly with so many of the 1950's REEL 3D films getting the once over to Blu-Ray and another 4 on the way in 2019.
As far as the greatest 3D conversions I will have to go with T23D and Predator 3D both of which looked amazing at the local Odeon and later at home on the old 8ft screen. Although being a cine crank since the 60's real film will always come first here especially for the creative joy of Super 8 film making although I do enjoy shooting 3D with the digital camcorder.

Its all a labour of love tho but we still love projecting Terminator 2 on the old GS1200 steam box with its Laserdisc Stereo sound track I dubbed years ago from the old Pioneer.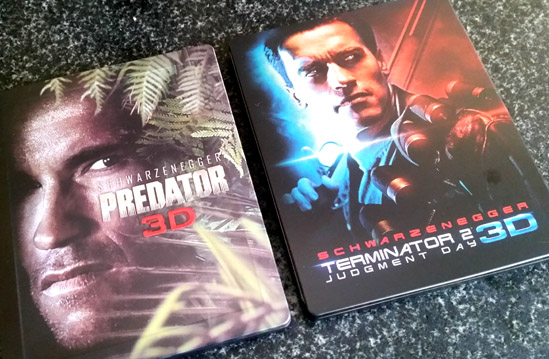 Keep well all.

---
Posted by Graham Ritchie (Member # 559) on January 18, 2019, 02:49 AM:

Watched "Hugo" on 3D tonight on the Epson...all I can say is that it looked absolutely stunning in 3D, certainly recommend it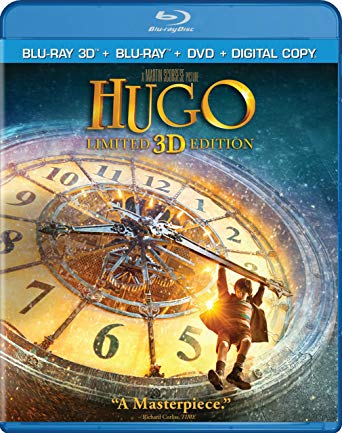 ---
Posted by Graham Ritchie (Member # 559) on January 29, 2019, 10:18 PM:

Last night I watched "Ghosts of the Abyss" and I must say looking at wreck of Titanic in 3D is very impressive and as such highly recommend it.

---
Posted by David Hardy (Member # 4628) on January 30, 2019, 10:33 AM:

I too totally dislike 3D images in and out of the cinemas.

To issue 'Wizard Of Oz' in 3D is sheer heresy and a disgrace to an already classic and wonderful looking Technicolor movie.

I am at the moment gathering piles of wood in order to burn those blasphemers at the stake if i ever catch them.


---
Posted by Graham Ritchie (Member # 559) on January 31, 2019, 06:29 PM:

David have you tried it?


I thought the same about Wizard of Oz, thinking it would be a mistake, however as soon as the movie started the depth of the 3D within the image was truly an amazing experience I never thought would be possible


I hope to see Aliens, Blade Runner, JAWS, given the same treatment
this is where digital wins out over film, both at the cinema and at home
---
Posted by Mark Silvester (Member # 929) on February 01, 2019, 06:04 AM:

Hi, Graham and alln

I shall certainly place "Ghosts of the Abyss" on my to buy list. I absolutely agree that some of these "conversions" have really impressed me - "Titanic" 8ft wide and in 3D is quite stunning. I do understand purists, etc but as most who know me are very much aware that is is all about "Big Screen" entertainment for me.
I have all the Marvel and DC superhero franchise on 3D (as well as the 2D counterpart) all are excellent and I find that most of the new releases use 3D in a much more subtle and less in your face way as was much the case years ago.
Graham, Avatar is stunning in 3D if you haven't seen it yet and I would absolutely love to see how Jaws would come out in a conversion.

And just to throw the cat among the pigeons I would love to see something like "Singing in the Rain" or another big screen musical being converted. Of course not to replace the original but to compliment it in terms of viewing experience.

Best to all and happy "big screen" viewings.

---
Posted by Lee Mannering (Member # 728) on February 01, 2019, 09:00 AM:

And just to make your day David here are a very small part of my own 3D collection
These have given us hours of pleasure and also visiting friends.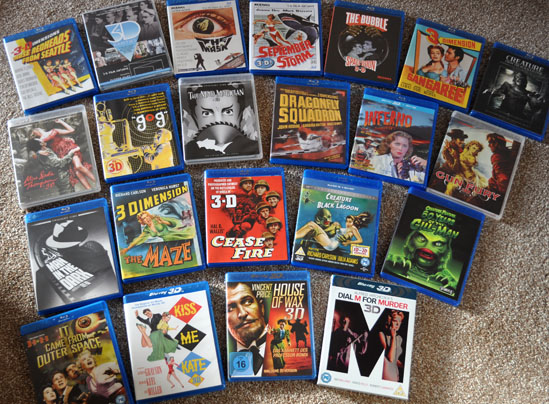 Following in my late fathers fascination with 3D I'm also a great enthusiast for it particularly as many of the 'golden era' films have been totally restored and available to watch again in real 3D. We still supplement our 3D BR shows with film as well so 8mm 16 and 9.5 are never far away.

The Gill Man doc is worth getting if you have never seen it. Not 3D.

All these golden era releases are thanks to the very hard work of the American enthusiasts and we owe them much.

More reading www.3dfilmarchive.com/

---
Posted by Graham Ritchie (Member # 559) on February 01, 2019, 03:17 PM:

Hi Mark

I have got "Avatar" is on my list to watch soon


Lee
That's an amazing line up what a great collection, I never new there were so many 3D movies out there
---
Posted by Bill Phelps (Member # 1431) on February 01, 2019, 03:59 PM:

I'd like to see the Hitchcock DIAL M FOR MURDER in 3D.
---
Posted by Lee Mannering (Member # 728) on February 02, 2019, 05:44 AM:

I would have never dreamt after wandering into Portland Films on Shaftesbury Avenue London so long ago to collect my Super 8 400ft 3D sound film of Mad Magician I would be watching a 3D hi-def resto of the full feature on my home cinema screen years later for sure.

So much of the golden era 50's 3D material is now available and of course these were the real 3D films for me, shot with film and by various systems sometime dragged out of moth balls to film with. Some films such as Cease Fire were filmed in 3D but never screened in the format and only available to see them now as they were intended to be watched. Pretty mind blowing..

We have great affection for A*P*E which is really a shocker but so bad its good. This Korean 1976 ape 3D film is worth having if only for being so unbelievable but it sure is fun.

*Ape defy Jaws
*Ape teeming city
*Ape demolish ocean liner
*Ape vanquish monster reptile

---
Posted by Rodney Bourke (Member # 1646) on February 19, 2019, 07:05 PM:

Talking about 3-D here is a 3-D Festival for Short Films in Super 8 or Digital here in the Land Down Under.

SUNDAY 31st March 2019
3-D Festival

3-D Super 8 Film Festival 2-3pm (Cinema One )
3-D Digital Festival 3-4pm ( Cinema Two )

3-D Entries & Show and Tell also Welcome. Glasses Provided on the day, or you can BYO Glasses.
Also a Discussion, on Different Types of 3-D in Film & Digital Cameras and Projectors.

Location : Giant Reel Private Home Cinema,
Craigieburn, Melbourne,VIC.
Contact: Mobile/SMS : 043 803 6718, Ph (03) 9306 1842 email: melb-mic@hotmail.com
Or if you would like to write or send in a 3-D Entry to: P.O. Box 92 Glenroy, Melbourne, VIC, 3046.

---
Posted by Graham Ritchie (Member # 559) on February 19, 2019, 08:47 PM:

Rodney

Could you get back here later after your event with some photos and information of the 3D presentation on both digital and Super 8...?
---
Posted by Rodney Bourke (Member # 1646) on February 19, 2019, 10:13 PM:

Hi Graham the 3-D Festival Event is organised by Edward Nicielnik of Melbourne,
I am about a 4 hour drive away but I am happy to Promote and Assist Ed's 3-D Event.

---
Posted by Graham Ritchie (Member # 559) on February 23, 2019, 12:47 PM:

Last night it was the turn of Jumanji "Welcome to the Jungle" in 3D, and its absolutely stunning.


A while ago we watched the 2D version and really enjoyed the movie, but the 3D takes it to a whole new level. The conversion to 3D is perfect from start to finish. The movie is a real fun ride. The casting is perfect and I understand all four actors are returning for another.

Watching the "making of" you can see how well the cast not only work together, but having fun doing it. Dwayne Johnson and other cast members including the stunt people were full of praise of Scottish actress Karen Gillan who not only did all her own stunts, but kicks butt doing it


On the front cover it states "hilarious and packs a punch" well that pretty sums up the movie.....brilliant stuff, highly recommend it especially in 3D.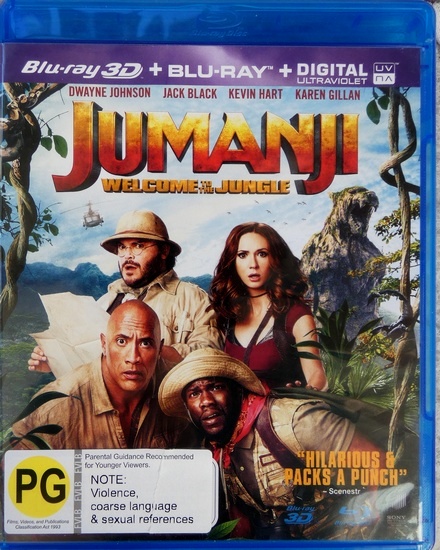 ---
Posted by Bob Furmanek (Member # 3734) on March 06, 2019, 04:35 PM:

Lee, you have very good taste!


Graham, welcome to the club. You might enjoy our website - www.3dflmarchive.com

Our latest release is JIVARO, which was seen flat only in 1954!

---
Posted by Graham Ritchie (Member # 559) on March 06, 2019, 07:04 PM:

Thanks Bob


However Internet Explorer cant find it.

I did watch "Life Of PI" over the weekend. I first watched it at the cinema in 3D when it came out, so it was great to re-visit it again using the Epson VP, which so far the 3D has worked out really well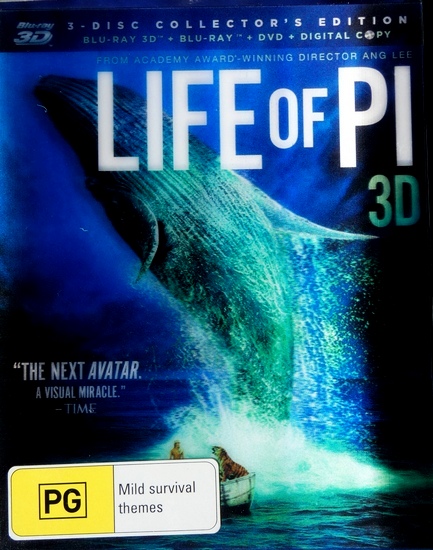 ---
Posted by Bob Furmanek (Member # 3734) on March 07, 2019, 11:10 AM:

I just pulled the site up on Internet Explorer. Here you go:

http://www.3dfilmarchive.com/

---
Posted by Graham Ritchie (Member # 559) on March 07, 2019, 12:33 PM:

Thank you Bob that's brilliant

What a fantastic web-site


Graham
---
Posted by Bob Furmanek (Member # 3734) on March 07, 2019, 01:53 PM:

Thank you very much.

I highly recommend our 3-D RARITIES release through Flicker Alley. It's region free too!

---
Posted by Lee Mannering (Member # 728) on March 08, 2019, 05:01 AM:

Hi Bob I'm one of your biggest fans on the other 3D forum :-)
The very best to you and the team.

---
Posted by Bob Furmanek (Member # 3734) on March 08, 2019, 10:31 AM:

You're very kind, thank you!

JIVARO is our latest release: http://www.3dfilmarchive.com/jivaro

---
Posted by Graham Ritchie (Member # 559) on March 09, 2019, 01:27 AM:

Hi Bob

I checked out your trl for "3D Rarities" and it looks great, I hope to buy a copy soon, on condition my financial advisor "the wife" gives me the OK.
---
Posted by Graham Ritchie (Member # 559) on March 21, 2019, 02:43 AM:

Anyone want to go to Mars?...well if you can't afford the trip, watching the 3D Blu-ray is the next best thing. Unlike many movies these days, this one takes its time, giving one the chance to view the Martian surface in 3D, which I should add looks great.

"The Martian" is a good story of survival, so if you enjoy watching 3D at a slower pace, then I would add this one to my list.....its really good.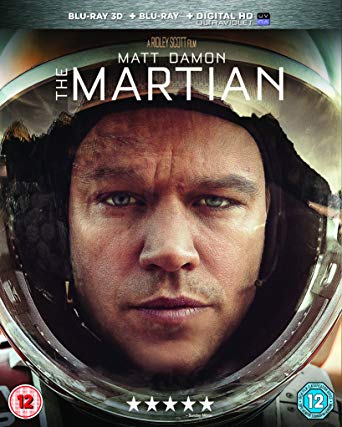 ---
Visit www.film-tech.com for free equipment manual downloads. Copyright 2003-2019 Film-Tech Cinema Systems LLC




UBB.classicTM 6.3.1.2