This is topic School Daze ... in forum General Yak at 8mm Forum.


To visit this topic, use this URL:
https://8mmforum.film-tech.com/cgi-bin/ubb/ultimatebb.cgi?ubb=get_topic;f=8;t=005269

---
Posted by Osi Osgood (Member # 424) on August 06, 2019, 11:33 AM:

OK, this has NOTHING to do with film ....

I just registered my little girl for school yesterday, and instead of doing the good ole paper or "hard copy" (as it's called today), style applications for the school lunch program, NOW we have to go on the damned internet to fill them out ...

but wait, you need a student ID number! Hey, wait a minute, my kids hasn't been given an ID number? Well, gee, I'm s**t outta luck in getting her a lunch number as you can't have a lunch number without a student number and the school district hasn't gotten off they're collective ASSES to give my little girl an ID number ...

I march over to the school ...

"The online lunch program won't let me register."
"You need a lunch room number in order to eat lunch"

(must maintain calm ... must go to happy place)

"I know I need a lunchroom number. I can't get a lunchroom number because I don't have a child ID number'
"Well, you need a student ID number"

(temperature rising)

"Yes ... I know I need a student ID number."
"You need to go online to find out you're students ID number"
"I have done that, nowhere on the website does it give my childs ID number ..."
"...student"
" ... STUDENT ID number."

(moronic school clerk goes on website as I obviously must not know what I am doing."

"you're child does not have a student ID number."
"Thank you Sherlock! (yes I said that ... I don't think she likes me, but that's better than the colorful metaphors i was really thinking), is there any time in the fore-seeable future when the STUDENT will have an ID number?"

(no kidding, this was her response)

"You need a student ID number in order to get a lunch room ID number"

(I now know why the school receptionist is behind a glass window with a very small "portal" in-between us ... so we can't lunge over and strangle something!)

So, I have to wait for her to have a number assigned ... and I HATE to WAIT. my middle name should be "Efficiency" and life in general, is anything but BLOODY EFFICIENT!!!


just needed to vent!
---
Posted by Ken Finch (Member # 2768) on August 12, 2019, 02:18 PM:

Artificial intelligence has taken over||||| This sort of thing is happening everywhere. It will get worse until the internet crashes and common sense returns.!! Ken Finch.
---
Posted by Steve Klare (Member # 12) on August 12, 2019, 05:07 PM:

I was at work about one job ago:

I came in in the morning and went to boot up my PC: there was a brief whirring of fans, then absolutely...nothing!

So I went to the department secretary's desk:

"Good morning: my PC won't boot up. What should I do?"

"You need a repair ticket from I.T."

"Sure, how do I get one?"

"You have to send them an E-mail"

"Hmmmm...Can you do that for me?"

"...........Why?"

(Return to beginning, repeat as necessary.)

---
Posted by Douglas Meltzer (Member # 28) on August 12, 2019, 05:26 PM:

I was having an online chat with a television manufacturer's tech support department in an attempt to solve a problem. I was told to reset the unit in question.

From the chat transcription: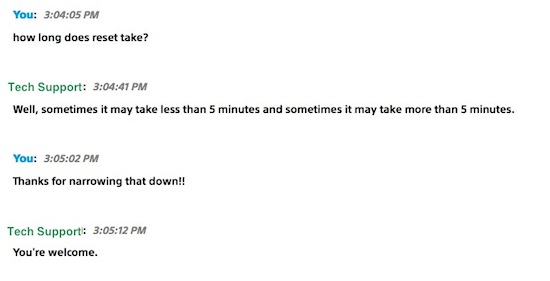 Doug

---
Posted by Graham Ritchie (Member # 559) on August 13, 2019, 05:58 PM:

That's funny
I guess its a world wide thing as it happens out here as well, its just the world we live in now. My daughter phoned up one day to ask what time a particular supermarket closed. Yvonne my better half replied its 24 hours, my daughter came back and said...so what time does it close


It was nice reading this topic as being of Scottish decent I often have trouble understanding the New Zealand accent. Last week I went in to the public hospital at 7am for surgery. After checking in, the surgeon paid me a visit to discuss the 2hr operation. He was South African but I did get, you are first on the morning list and I will see you up there at 8.30am. Thankfully he introduced his anaesthetist, who turned out to be Scottish, brilliant I thought someone I can understand we speak the same
not only that, but like me came from Glasgow and had the same first name.

Anyway up in the theatre I remember a nurse saying something along the lines anything you don't like, the next thing was the the face of the anaesthetist looking down on me with a smile replying to the nurse for me.... THE ENGLISH...just as the mask went on and I went of to ga ga land

Its a funny old world and you never no what you will come across next.

---
Visit www.film-tech.com for free equipment manual downloads. Copyright 2003-2019 Film-Tech Cinema Systems LLC




UBB.classicTM 6.3.1.2