This is topic What's the best choice? in forum General Yak at 8mm Forum.


To visit this topic, use this URL:
https://8mmforum.film-tech.com/cgi-bin/ubb/ultimatebb.cgi?ubb=get_topic;f=8;t=005285

---
Posted by Leon Norris (Member # 3151) on August 25, 2019, 10:08 AM:

This is between two eumigs? The models S938 or the S940! Which one is best to have! I would like to know!

---
Posted by Paul Adsett (Member # 25) on August 25, 2019, 12:00 PM:

Hi Leon,
The 938 and the 940 are mechanically identical except:
The 940 has an electronic digital frame counter, plus a central microprocessor that controls all recording and playback functions, and a better quality f1.2 lens (which does not have the vertical lens shift capability on the 938) . The 938 has two beautiful analog recording meters, whereas the 940 has two rows of green recording light buttons. Both projectors have the same 150 watt lamp and 800ft spool capacity.
Here is the control panel of the S938 (same as 926GL):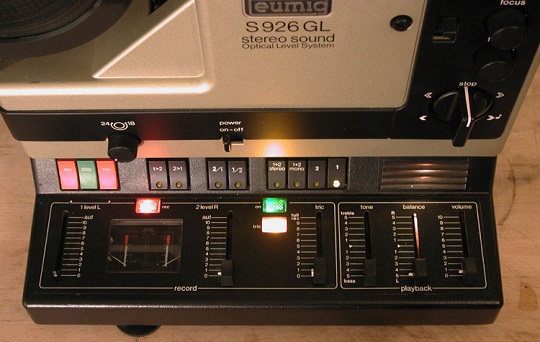 Here is the stunning control panel of the S940: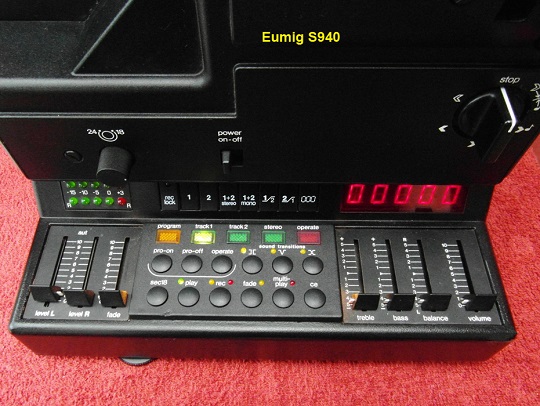 I have read that the 940 microprocessor can fail, not available anymore, leaving you with a useless projector. No such processor on the 938, which is therefore probably more reliable.
As you can see, both projectors are stunningly beautiful, with amazing quality stereo sound capability.

[ August 25, 2019, 02:49 PM: Message edited by: Paul Adsett ]

---
Posted by Maurice Leakey (Member # 916) on August 25, 2019, 02:37 PM:

In view of possible troubles with the electronics of the S940, as Paul says, the S938 is a better bet.
The lens is rather unusual as it also controls the height of the picture, thus alleviating a tilt knob.
http://super8wiki.com/index.php/Eumig_S_938_Stereo_Projector

---
Posted by Paul Adsett (Member # 25) on August 25, 2019, 02:45 PM:

I like that vertical lens shift feature on the 938 Maurice, it's very handy for setting up a show. Eumig were ahead of their time here, but today many digital projectors have adopted this feature known as "lens shift". But I do think it softens the picture a liitle bit, as well as soaking up some light, so I prefer a traditional projection lens design.

---
Posted by Leon Norris (Member # 3151) on August 26, 2019, 09:06 AM:

Paul, The S940 is one nice looking machine! That would be my choice! But we will see?

---
Posted by Bruno Heughebaert (Member # 2756) on August 26, 2019, 11:42 AM:

I have both projectors
The 938 is working fine
The 940's processor failed, The sound playback and recording facilities were therefore useless but not the mechanism and the light.
L'atelier de cÚlestin in Paris worked on it and bypassed all the electronics connecting the sound heads directly to a mini pre-amp made by Celestin and installed in the projector.
The pre-amp was linked to two cables ended with rca sockets on the rear panel of the device.
I can now enjoy it again using and external amplifier.

---
Posted by Paul Adsett (Member # 25) on August 26, 2019, 12:38 PM:

Yes Leon, the 940 is such a great looking machine that I might be tempted to buy one if it was working,
Bruno, that's a very interesting work around for a failed 940 processor, Great that you can still enjoy playback on this amazing machine,

---
Posted by Dominique De Bast (Member # 3798) on August 26, 2019, 12:51 PM:

If anyone is interested :

L'Atelier de CÚlestin
4 rue Sadi Carnot
92120 Montrouge
France

http://beaucitron.com.pagesperso-orange.fr/l27atelier-de-celestin.htm

---
Posted by Douglas Meltzer (Member # 28) on August 26, 2019, 05:04 PM:

Thank you Dominique!

Doug

---
Posted by Leon Norris (Member # 3151) on August 27, 2019, 10:54 AM:

Paul, thanks for the info!

---
Posted by Osi Osgood (Member # 424) on August 28, 2019, 11:15 AM:

I like the tilt knob! Very handy.

I actually don't like that digital readout. LOVE the look (and feel .... ahhh, the feel ... ehem!!), of the 926/938!

---
Posted by Paul Adsett (Member # 25) on August 28, 2019, 02:13 PM:

I correct my statement above about the lens shift. I said that the shift lens would soak up additional light, but now I do not think that is the case, because that outside lens is actually the large zoom lens objective lens, which would be there anyway. The shift feature just moves this objective lens up and down ( actually in a curved path to keep constant center distance from the other lenses). So I don't think it soaks up any extra light. Does it soften the picture? Maybe, maybe not. It could just be that this lens is just not as good quality as some of the other Eumig large aperture lenses.
Osi, if I ever decide to let go of my 938 you are at the top of the list.

---
Visit www.film-tech.com for free equipment manual downloads. Copyright 2003-2019 Film-Tech Cinema Systems LLC




UBB.classicTM 6.3.1.2