This is topic Ternat Filmfair in forum General Yak at 8mm Forum.


To visit this topic, use this URL:
https://8mmforum.film-tech.com/cgi-bin/ubb/ultimatebb.cgi?ubb=get_topic;f=8;t=005294

---
Posted by Dominique De Bast (Member # 3798) on September 08, 2019, 08:28 AM:

Today was held the first Belgian film fair of the season. Ternat is located close to Brussels. This event attracts people from all Belgium and from France.




One of the two rooms.




Forum member Jean-Christophe De Block, one of the two organizators. He had a lot of intersting things to sell.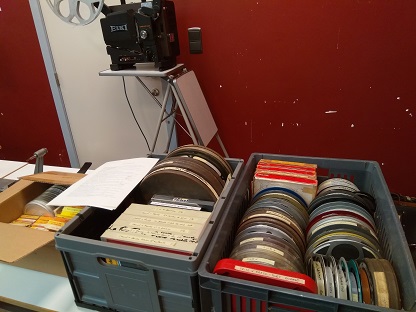 Good selection of films this year. Most of them are in French but there was quiete an amount in German, some titles in Dutch and in Italian and of course, in English.




Forum member Nick Vermeirsch (in red) for his first appearance as a seller.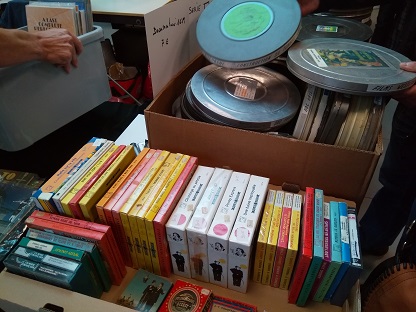 All gauges were represented !

---
Posted by Bill Phelps (Member # 1431) on September 08, 2019, 10:19 AM:

Looks great!

---
Posted by Dominique De Bast (Member # 3798) on September 08, 2019, 11:25 AM:

I Always enjoy going there, Bill.




The second organizator, Benoît Denis.




A 9.5 sound projector. The seller brought it to let the people try the films he had for sale. I bought two titles (I already have the other ones) at a good price.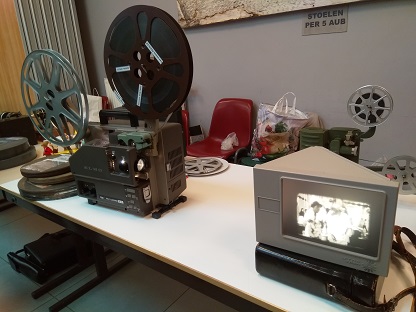 There have been several projectors running. Films were projected on the Walls, on a small table screen or on a glass screen (I'm not sure that's the correct name) like on this picture.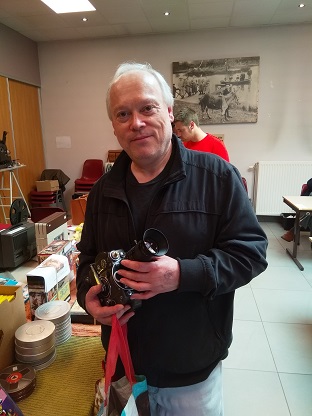 Last picture : forum member Bruno Heughebaert who is another good supporter of Belgian cine fairs.

[ September 08, 2019, 12:55 PM: Message edited by: Dominique De Bast ]

---
Posted by Oliver F. R. Feld (Member # 1911) on September 08, 2019, 02:05 PM:

Amazing pictures
Thank You for all the great infos, Dominique
I wished I had been there

---
Posted by Leon Norris (Member # 3151) on September 09, 2019, 10:21 AM:

Nice pictures! Looks like a lot of film!

---
Visit www.film-tech.com for free equipment manual downloads. Copyright 2003-2019 Film-Tech Cinema Systems LLC




UBB.classicTM 6.3.1.2