This is topic What is it? in forum General Yak at 8mm Forum.


To visit this topic, use this URL:
https://8mmforum.film-tech.com/cgi-bin/ubb/ultimatebb.cgi?ubb=get_topic;f=8;t=005296

---
Posted by Ed Gordon (Member # 6952) on September 10, 2019, 11:17 AM: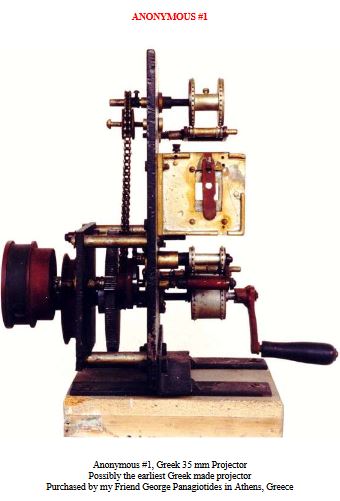 This is from the book "Cinematic Machinery Collection of Soterios Gardiakos" which is available at: http://bioscope.biz/cinematic-machinery-collection-of-soterios-gardiakos


quote:

---

Soterios Gardiakos started collecting projectors in 1999 and has amassed a collection with many unique pieces. The collection is divided in 7 sections: I: 35 MM FILM FORMAT PROJECTORS and other 35 mm related items II: OTHER FILM FORMAT PROJECTORS III: MOVIE CAMERAS IV: MAGIC LANTERNS V: OTHER EQUIPMENT VI: FILMS & GLASS SLIDES VII: PAPER VIII: FACILITIES IX: BIBLIOGRAPHY

---
A great resource for anyone interest in collecting projectors, cameras, et cetera.

---
Posted by Evan Samaras (Member # 5070) on September 10, 2019, 06:13 PM:

Thank you for sharing this Ed. This is especially interesting to me since my background and a lot of my family are in Greece.

---
Visit www.film-tech.com for free equipment manual downloads. Copyright 2003-2019 Film-Tech Cinema Systems LLC




UBB.classicTM 6.3.1.2