This is topic My Narrated Tour in forum General Yak at 8mm Forum.


To visit this topic, use this URL:
https://8mmforum.film-tech.com/cgi-bin/ubb/ultimatebb.cgi?ubb=get_topic;f=8;t=005332

---
Posted by Graham Ritchie (Member # 559) on November 10, 2019, 07:09 PM:

But be "WARNED"...this video could be really boring
...Anyway this is my we tour with no extra screen shots included, Steve wanted me to do a talk, so here it is with just a projector and platter. Excuse the shaky camera work, as its hard to thread up things with one hand and record with the other
https://youtu.be/Pq-1CDtS-nI
---
Posted by Bill Phelps (Member # 1431) on November 10, 2019, 08:00 PM:

Nice video Graham! How long does the leader need to be on this set-up? It looks like a long way to the projector.
---
Posted by Steve Klare (Member # 12) on November 10, 2019, 08:30 PM:

This is really great work, Graham! It shows your theater as if the viewer is there free to run around and explore.

I've never appreciated the ins and outs of operating a system like this! (It puts my manually threading 16mm in a whole new light!)

Accent? You do your vowels a little differently, but I had no problems with it. Somebody five states away can be just as accented in my ear.

-Thanks!

---
Posted by Bill Phelps (Member # 1431) on November 10, 2019, 10:12 PM:

I also liked the point of view camera as it give you a sense of being there. Hanging out at your cinema would be great Graham.
---
Posted by Paul Adsett (Member # 25) on November 10, 2019, 11:18 PM:

Very nice Graham, the next best thing to a personal tour of your 35mm Ernmann set up. Just amazing!
How about a video of your home cinema showing the seating area and other areas of interest. Looks like you have a huge amount of space there for your total cinema.

---
Posted by Graham Ritchie (Member # 559) on November 11, 2019, 01:17 AM:

Thanks folks...


Paul.....I will see what I can put together later on.

Years ago we used to have a number retirement homes visit for a short film and better still Yvonne home made tea and scones. The way "health and safety" work these days I don't think we could do that again. Certainly those visits worked great for quite a few years, back then I had old aircraft seats that still had the folding tray on the back. After the 2011 earthquake, I came across some seats that were for sale on trade-me. I think there were 16 all up, from one of the cinemas being demolished. It turned out that the X cinema manager was selling them, so I put a bid in of around $60 for the lot, to my surprise I got them, so in they went.

The room was built at the back of the garage as a spare room, not a cinema...well not straight away
over the years its been a lot of fun.

Bill The leader is not that long as you thread on the Academy numbers which are directly in front the film you are showing. I just use some scrap film joined on front of the numbers to go the length from the projector to the platter.

When I worked at the cinema we made our own leaders the same way. Quite often when new trls or ads arrived they had the good Academy numbers that I wanted so with that, it was just a matter of making them up. We had a box full made up at work.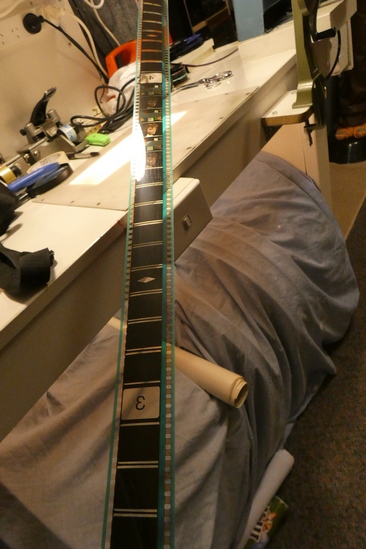 This is from the leader shown in the video..

Shown below came of "The Phantom Menace" tonight, the leader is on top of an old movie trailer to give an idea its size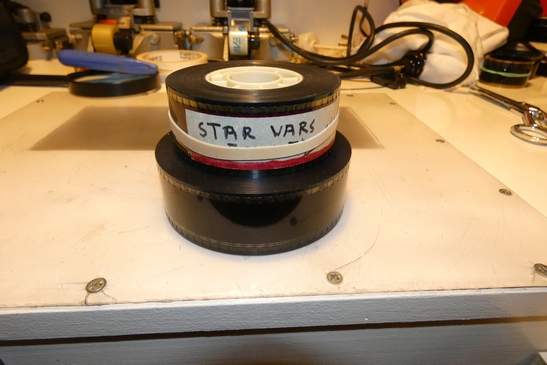 This photo below is a old one, we had a box full of leaders that length that you would splice straight onto the start of any film you are making up for the platters.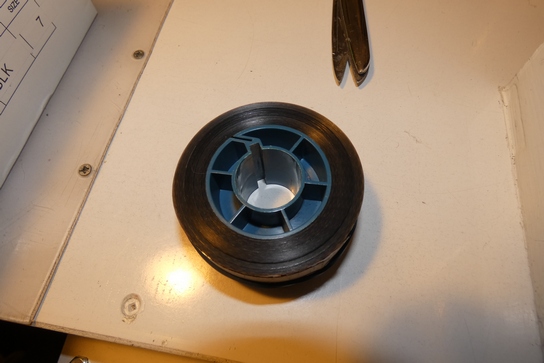 When we had spare time we could make all this stuff up, as when you are busy later on you don't have the time to muck around.

PS...Bill or anyone else visiting out here you are more than welcome to get in touch.


PSS...With Christmas just a few weeks away, does time fly in I think "The Polar Express" is due for another screening.

https://youtu.be/7iVcp1xipV4

[ November 11, 2019, 04:03 AM: Message edited by: Graham Ritchie ]

---
Posted by Rob Young. (Member # 131) on November 11, 2019, 01:04 PM:

Boring? Not a chance. Absolutely fascinating, Graham. Thanks so much for posting this. Just great!

And I get annoyed when my super 8 machine rejects film at the top sprocket.

More please.
---
Posted by Graham Ritchie (Member # 559) on November 11, 2019, 05:01 PM:

Thanks Rob
---
Posted by Greg Perry (Member # 5177) on November 11, 2019, 08:25 PM:

Really interesting to watch--thanks for sharing this! I would also like to see the connections between the audio components--amp, sound processor, pre-amp, speakers etc. and the projector, should you feel like making another video at some point.

---
Posted by Graham Ritchie (Member # 559) on November 12, 2019, 08:29 PM:

Thanks Greg

I will make a tour of the sound side later on, but remember the expert here on cinema sound systems is "Brad" not me.
---
Posted by Daniel Macarone (Member # 5102) on November 17, 2019, 10:20 AM:

Graham, Your 35mm set up is great and your collection of prints is always amazing. That's a collector's dream, but I've often wondered if the set-up time would discourage me from wanting to build a film onto a platter.
I'm curious, how much longer would it take to build a 35mm film onto the platter than for a 16mm film onto one large capacity reel?

---
Posted by Maurice Leakey (Member # 916) on November 17, 2019, 10:36 AM:

For a 35mm programme the feature would probably comprise some 7 to 10 separate 2000ft rolls, plus the ads and various trailers. So, from my own experience of working with 35mm platters and 16mm long-play units it would take about three times as long to load the 35mm platter.

---
Posted by Graham Ritchie (Member # 559) on November 17, 2019, 11:41 AM:

Hi Daniel

Maurice is right about the amount of time involved. However many of my 35mm films are already made up and stored on 6000ft reels, so loading a particular film onto a platter is straight forward.

I never had any intention of getting or using a platter at home but rather than see them of to the scrap I brought two of them home with the thought that I might find a use for them later on.

If I was starting of Daniel, I would most likely look for a portable 35mm projector, and they are around which can take up to 6000ft reels and have already been fitted with a IR reverse scanning sound head.

The portable projectors I have seen are not much bigger than some 16mm machines and can take reels from a single 20 minute 2000ft reel to the larger 6000ft ones.

Without a doubt the picture/sound quality of 35mm film is a lot better than 16mm, most likely a "lot" cheaper to buy and in better condition than much of 16mm I have seen.

Anyway there are good and bad points with all film formats from Super 8 to 70mm, I would do a bit of research on google etc and see what you come up with.
---
Posted by Daniel Macarone (Member # 5102) on November 17, 2019, 02:15 PM:

Thank you, Graham and Maurice. Don't know if I'll ever have the storage space or money, but I'm glad to know in advance what I'd be getting myself into. I'll always dream.

By the way, Graham, have you ever posted a list of your 35mm prints? Not for selling, but just to admire the collection.

---
Posted by Graham Ritchie (Member # 559) on November 17, 2019, 03:35 PM:

Never posted a list Daniel, without sounding paranoid
and this being an internet site its best to be careful
---
Visit www.film-tech.com for free equipment manual downloads. Copyright 2003-2019 Film-Tech Cinema Systems LLC




UBB.classicTM 6.3.1.2