This is topic Halogen conversion of Pathe Ace in forum 9.5mm Forum at 8mm Forum.


To visit this topic, use this URL:
https://8mmforum.film-tech.com/cgi-bin/ubb/ultimatebb.cgi?ubb=get_topic;f=9;t=000191

---
Posted by Paul Adsett (Member # 25) on January 15, 2013, 04:50 PM:

Here is an extremely simple way to convert the Pathe Ace to the much better(and available) 12 volt 10 watt halogen bulb.
First remove the old lamp socket from the black plastic lampholder tube, and the insert a new round low voltage ceramic socket , with flying leads, and bond in place with epoxy resin, making sure that the ceramic holder is perfectly centered on the plastic tube, so that it can be inserted thru the hole on the back side of the projector. Then when you know all is well, pot the whole inside of the plastic tube, thru which the lead wires pass, with silicone adhesive. Finally, connect the leads to an external 12 volt transformer.
Real simple, and it works like a charm.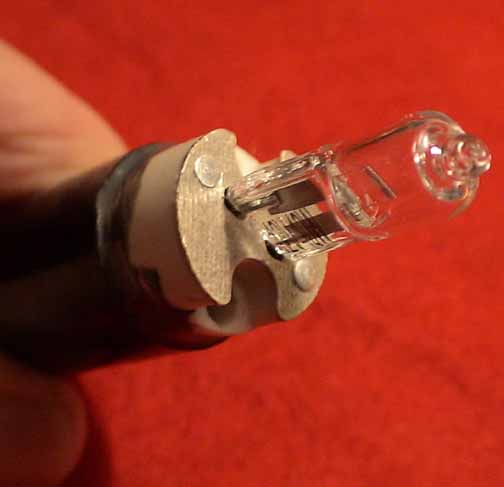 [ January 15, 2013, 09:03 PM: Message edited by: Paul Adsett ]

---
Posted by Dino Everette (Member # 1378) on January 16, 2013, 12:35 AM:

another great tip paul, you are the man!
---
Posted by Ken Finch (Member # 2768) on January 16, 2013, 12:35 PM:

Hi Paul, Great minds think alike etc!! Thats just what I have suggested, more or less. See Pathe Baby update posts. Ken Finch.
---
Visit www.film-tech.com for free equipment manual downloads. Copyright 2003-2019 Film-Tech Cinema Systems LLC




UBB.classicTM 6.3.1.2