This is topic Steve Osborne in forum 8mm Forum at 8mm Forum.


To visit this topic, use this URL:
http://8mmforum.film-tech.com/cgi-bin/ubb/ultimatebb.cgi?ubb=get_topic;f=1;t=012409

---
Posted by Paul Adsett (Member # 25) on July 23, 2018, 03:27 PM:

Over the years many members of this forum have sung the praises of Steve Osborne of The Reel Image . We all know him as a kind, friendly, and scrupulously honest businessman, and a true friend of film collectors everywhere. The term 'bad deal' does not exist when dealing with Steve, he unfailing supplies 100% customer satisfaction, and more often than not 150%.
So here is my latest example of Steve's thoughtful and kind support of his customers. Last week I posted on this forum that I was looking for the box cover graphic of the WDHM print of The Band Concert. Thomas Knappstein kindly sent me a jpg file that I was going to use to dress up the very tatty box in my possession of this film. Fast forward to todays US postal delivery. There in my mail box is a package from Steve containing a very nice box of The Band Concert!
Steve had apparently read my forum post and thrown this in the mail.
Well thanks so much to Steve once again!

---
Posted by Steve Klare (Member # 12) on July 23, 2018, 03:55 PM:

Yes,

Steve O. is kind of our "silent member": he has done similar things for me many times.

Some years ago he replied to a couple of my own Forum posts by postcard! It was a nice surprise among the bills and the junk mail.

I haven't missed very many Cineseas (Yes: "CineSea" has a plural!) I did miss CineSea 5, the one where Steve Osborne was the special guest.

-I've always regretted that!

(My son won the Science Fair that year, and the county-wide Science Fair was held where I work that weekend: I couldn't go to Wildwood and expect much of a Father's Day too! -As ye sow, so shall ye reap!)

I really wish he'd attend another one!

(That's right, Steve! We're talking about YOU!)

[ July 23, 2018, 07:56 PM: Message edited by: Steve Klare ]

---
Posted by Joe Caruso (Member # 11) on July 23, 2018, 04:07 PM:

I could talk for hours about this gentleman. His kindness to the collector, patience for endless and repeated questions, service/delivery and knowledge. Known him for years, he's a true brother - God Bless you - Shorty

---
Posted by Douglas Meltzer (Member # 28) on July 23, 2018, 05:06 PM:

Steve is a wonderful person whose kindness and faith in others has occasionally been taken advantage of. Shipping a print out after accepting partial payment and then never seeing the balance paid off has unfortunately happened more than once. If those involved should happen upon this thread, it really would be in their best interests to settle up.

Doug

---
Posted by Richard C Patchett (Member # 974) on July 23, 2018, 05:21 PM:

Greetings
Theses so much Good in Steve to say, That he is well known for his devoted Customer service and being a friend It would take many comments of the good person he is that would tie up this forum for many hours
Theses Nothing Bad about him
Thank you Steve for being there for all of us
RC

---
Posted by Bill Phelps (Member # 1431) on July 23, 2018, 06:56 PM:

Steve is a great guy and great friend. I am fortunate to live close (3 hours away) so I attend his annual film shows and they are always a blast! Always has great deals on films and equipment. I am always happy to see a package from The Reel Image on my front porch!
---
Posted by Guy Taylor, Jr. (Member # 786) on July 23, 2018, 07:45 PM:

Steve is a true gentleman. I have had the privilege of meeting with him on two or three occasions in Ohio. Really enjoy his print magazine.

---
Posted by Jim Schrader (Member # 9) on July 23, 2018, 08:24 PM:

Never had a bad dealing with steve he's a gentleman and a scholar. He even reminded me that I needed to pay for a film I had bought from him.

---
Posted by Osi Osgood (Member # 424) on July 24, 2018, 11:33 AM:

All that has been stated about one Steve Osbourne is absolutely true and accurate! Steve is a truly decent fellow. I'm sad to hear that some folks have NOT been as decent to him at times.
---
Posted by Brian Stearns (Member # 3792) on July 26, 2018, 03:36 AM:

Steve is an amazing person
Its was a reel treat to meet him (with David Baker) at his home and watch movies in his theater.Such a great guy who loves the hobby and passes the love onto others.Makes everyone feel special. I always look forward to receiving films and his mailings.

PS his pulled pork was delicious

---
Posted by Burton Sundquist (Member # 5813) on July 31, 2018, 01:14 AM:

...Steve Osborne. Even when misspelled,
We recognize and appreciate all your efforts and help and contributions that keep our eyes wide open...
I am A Hitchcock fan and Steve has really been amazing getting these prints for me.
More to come too!

[ August 06, 2018, 12:28 AM: Message edited by: Burton Sundquist ]

---
Posted by David Baker (Member # 3259) on July 31, 2018, 07:27 AM:

Recognition for Steve has been long overdo on this forum !
Probably THE most charitable collector in our field , Steve believes in the preservation of the film hobby and strives to keep it alive . Just take a look at a copy of his REEL IMAGE magazine and you'll see why . Go to : thereelimage.jimdo.com , get on his mailing list !
Thanks to him , my Super 8mm film collection has grown by 100% , just in the past year .
Currently my company ( Ohio Film Collector Exchange ) is working with Steve on a couple of film projects and coordinating with him for a special Fall out - door film presentation this September .
You can check back on this Forum OR Steve's website mentioned above , when it's time to announce it . HANG IN THERE FILM FANS !
Thanks to all of you Forum members that have taken the time to show appreciation to a true " film preservationist " , one that is so needed in this digital age .

---
Posted by Joe Taffis (Member # 4) on July 31, 2018, 08:43 AM:

I'll chime in
We are very fortunate to have Steve and his Daughter Natalie doing what they do for the hobby...
David, I have to say that Steve has been recognized for his efforts many, many times over the years on this forum, not just now
---
Posted by Gary P Cohen (Member # 4417) on July 31, 2018, 08:44 AM:

Thought I'd chime to applaud Steve's wonderful sense of humor. His website is full of the greatest puns and hilarious animations. Plus, while never expected, it's always a delight to find a little extra surprise in his orders! And lastly, I share his adoration for Peter O'Toole!

It's sad that some people take advantage- name another vendor - in ANY hobby - that doesn't demand payment upfront!

---
Posted by Douglas Warren (Member # 1047) on August 01, 2018, 07:23 PM:

I can echo all the sentiments regarding Steve Osborne. If anyone one person was to be picked as the true voice of this hobby, it would be him.

---
Posted by Martin Dew (Member # 5748) on August 14, 2018, 05:18 PM:

Totally agree with all comments too, and thanks for starting the thread, Paul. Amazing generosity, kindness and trust from Steve. He's found me films that I never thought I'd come by, and he always does something beyond the call every time I deal with him.

---
Posted by Nantawat Kittiwarakul (Member # 6050) on August 14, 2018, 08:58 PM:

Placed an order for a bottle of FILMGUARD for my fellow collector here.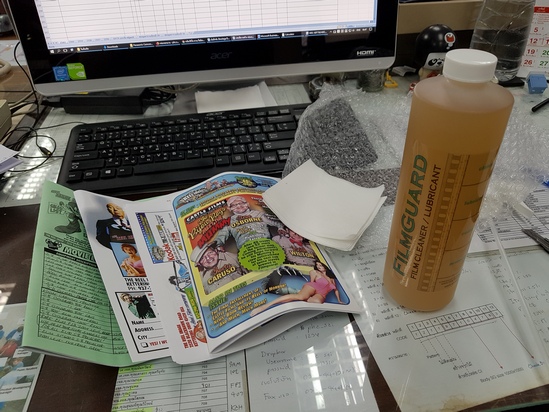 Although quite pricey with the shipping. But the item arrived within LESS THAN A WEEK! A really insanely fast shipping
considering it had to travel half the globe to its destination. Moreover,the item came with some freebies included! Extremely satisfied with this purchase
---
Posted by Winbert Hutahaean (Member # 58) on August 15, 2018, 01:07 AM:


quote:

---

But the item arrived within LESS THAN A WEEK!

---
I was told that liquid cannot be sent via air mail now...so how can you get that?
---
Posted by Luigi Castellitto (Member # 3759) on August 15, 2018, 09:16 AM:

Winbert, I've also got Filmguard from Steve shop, I'm waiting for the package.
Perhaps, it's a cleaner with particular (more safer) mixture that can be sent despite the more restrictive laws of today.
Go easy, there's no problem with Steve shop!

I remember that a cleaner in Europe could no longer be shipped beyond the country of residence, but I don't remember what it was.

Nantawat, it's a large bottle? I bought 16 oz version.

---
Posted by Martin Dew (Member # 5748) on August 15, 2018, 12:38 PM:

Steve sent FilmGuard to me in the UK. Only took about a week.

---
Posted by Nantawat Kittiwarakul (Member # 6050) on August 15, 2018, 08:22 PM:

Yes,it's the 16oz size.


I'd love to order from the official Film Tech's Amazon store,but since it's undeliverable to my region while Steve somehow managed to ship this overseas. So this is no-brainer for overseas collectors,of course.
---
Posted by Luigi Castellitto (Member # 3759) on August 16, 2018, 04:21 PM:

Ah, 16oz, I thought 32. It looks big in picture!

---
Posted by Brian Stearns (Member # 3792) on September 23, 2018, 11:55 PM:

Praise for Steve again coming through with a nice 1 inch lens for my Elmo 12000 HD projector. Steve is such a blessing. It sad to hear people not paying him. If they know whats good they should settle up with him. What goes around comes around

---
Posted by Matthieu van der Sluis (Member # 6040) on September 26, 2018, 01:54 AM:

It has to do with the kind of chemicals.
Film Renew can not, Filmguard can.

And yes, only had my fist order and chat with him , and Steve was very friendly indeed.

[ September 26, 2018, 11:40 AM: Message edited by: Matthieu van der Sluis ]

---
Posted by Vidar Olavesen (Member # 3354) on September 26, 2018, 07:01 AM:

No one is close to Steve Osborne, absolute gem and if all was like him, there would be no more war ;-)

If I had ten thumbs, they all would be up for Osborne.

---
Posted by Terry Sills (Member # 3309) on September 26, 2018, 10:46 AM:

Never had the pleasure of dealing with Steve, but how nice to hear such wonderful tributes to an obviously amazing man. Brings a tear to the eye and restores ones faith in humanity.

---
Visit www.film-tech.com for free equipment manual downloads. Copyright 2003-2019 Film-Tech Cinema Systems LLC




UBB.classicTM 6.3.1.2