This is topic Elmo GS1200 or Elmo 1200HD in forum 8mm Forum at 8mm Forum.


To visit this topic, use this URL:
http://8mmforum.film-tech.com/cgi-bin/ubb/ultimatebb.cgi?ubb=get_topic;f=1;t=012648

---
Posted by David Manning (Member # 4418) on December 09, 2018, 02:15 PM:

Hi there,
I'm looking for some sensible advice please.
I'm looking for a GS1200 to replace one that I sold about 10 years ago.The last 8 years I've been totally 16mm and I now want to splash into 8mm again.
In my collecting life I've had an Elmo 1200HD M and O and two GS1200. I'm not technically minded but appreciate top quality super 8.
I have been bidding on a Elmo GS1200 currently on E-Bay at £795. The projector has had a lot of new parts put in it and been serviced. It has a slight crack in the back.
I've already offered £700 and it's been rejected. I can't afford any more as I'm already £100 over my limit.
Am I potentially buying a load of trouble.
The guy seems 100% genuine but I'm quite fussy and I had an Elmo 1.0 lens last time. As these machines get older they start breaking down like an old car especially if they've had a hard life. Would I be better sticking to getting a nice ST1200HD. I need twin track because I've a lot of sound home movies with music on balance track.
Comments please.

---
Posted by Joe Taffis (Member # 4) on December 09, 2018, 02:40 PM:

"Am I potentially buying a load of trouble"

In my opinion, yes!

---
Posted by Alan Gouger (Member # 31) on December 09, 2018, 02:46 PM:

Hi David, nice to see you joining the S8mm camp again. The GS is a top contender for sure, I can understand you wanting one. Most I have seen for sale sold for 800 and up, they draw a premium. I think your budget is close enough that if you miss out on this one you come across the perfect deal down the road. Sometimes missing out on a sale is meant to be.
The HD on the other hand is a very good machine, a work horse and plenty around for a good price. You can purchase a few of these in top condition so you have back up for the same money as one GS. Other than the shorter reel arms with limited reel capacity I often thought this model should get more consideration.
There are still a few good trusted techs around with most parts in stock in case you need service but these machines are getting old as you say and delicate. I would not worry if you miss this sale the right projector for your budget will come along. Best of luck.

---
Posted by Maurice Leakey (Member # 916) on December 09, 2018, 02:47 PM:

I agree with Joe.
Go for the ST-1200HD, a much better bet.

---
Posted by Paul Browning (Member # 2715) on December 09, 2018, 03:05 PM:

Hi David, if you intend to do lots of re- records on your films into stereo or sync up to a dvd external source then yes consider the gs 1200, but if you just want to watch existing movies then its the st1200 with plenty of money saved, but they all can go wrong at some point, and if your not technically minded the gs 1200 will be a handful, but I love the gs 1200 and wouldn't swop it for any other machine, with sound heads that appear not to wear as much as the other high end machines....

---
Posted by Mark Todd (Member # 96) on December 09, 2018, 05:11 PM:

Hi David I`ve seen the machine and with the Crack I think £700 was a very fair and good offer myself.

Martyn is good chap cine wise, and does ask slightly higher end prices, but not right top end ones.

He does know his stuff though.

I think if going from 16mm you do right to go for a higher spec 8mm machine.

A good ST is usually a less maintainance machine, but not quite as nice as the GS as you know.

I once was offered an absolutely mint spare machine GS, never as such used for £700 around the time dealers were getting well over £1200 etc.

I was going for it as only one child at the time but the ex overheard me on the phone, so that was well and truly the end of that sadly.

Best wishes and good luck, Mark.

---
Posted by Graham Ritchie (Member # 559) on December 09, 2018, 08:19 PM:

I think if you own a GS1200 you really need to be able to do a certain amount of fixing yourself. Has the projector that's for sale had the green guides, that are well known for scratching due to wear, been modified or replaced? Also the GS1200 all came with a Elmo 1.1 lens when they were sold new, has it got that lens?

The GS1200 is a good projector, but the ST1200 might be the better choice if you are not into fixing them
---
Posted by Mark Todd (Member # 96) on December 10, 2018, 03:51 AM:

Hi Graham here it is.

h ttps://www.ebay.co.uk/itm/Elmo-GS-1200-Super-8mm-Stereo-Sound-Movie-Projector-with-f-1-1-lens/233038647334?epid=1423205287&hash=item36422f9026:g:dnAAAOSw899bedDP:rk:12:pf:0

It doesn`t look like its had either white riller done on the top Shue or Inlet shute, though you can do them or get them from Van Eck`s place. Its not had the retro fit rubber tension roller from an ST1200 either which is also a good upgrade.

Best Mark.

Hope you are ok with me linking it David ?

I have an absolutely lovely later model ST1200D still with its tag on etc I may be selling for £160 but not fully decided yet.

It depends on another project.

---
Posted by Graham Ritchie (Member # 559) on December 10, 2018, 11:26 AM:

Thanks Mark for that link to the photos...zooming in it certainly needs a clean
well David its up to you, but without those guides etc being modified at its present age, you stand a very good chance of scratching your prints.

---
Posted by David Manning (Member # 4418) on December 10, 2018, 01:31 PM:

Thank you for all your comments.
It's a great feeling to know that I'm not alone as I was feeling a bit 'out of touch' as time has moved on in the last 10 years and I also hope that I can help others in the future.
I've decided not to go for that Elmo GS on E-bay an in any event my £700 generous(I thought)offer was rejected and instead I think I'll look for a good ST1200HD MO or similar as it's a lot more in my price range.
I'm also mainly a diehard 16mm collector and prefer to concentrate on that format and tinker with the 8mm.
Thanks again guys...

---
Posted by Maurice Leakey (Member # 916) on December 10, 2018, 01:42 PM:

Good for you, David.
Most Elmo GS-1200 projectors have had a hard working life and may require considerable work on them if purchased due to their complex mechanics, electronics and motors.
Unless you are a mechanical marvel yourself it is now very difficult to find someone in the UK who will service them.

---
Posted by Tom Photiou (Member # 130) on December 10, 2018, 03:27 PM:

my thoughts too, the HD1200 has great sound output and also very well built with a lot less to go wrong. I know the GS is a great machine but you definatly need to be able to do some maintenance yourself, especially for the electronics
---
Posted by Leon Norris (Member # 3151) on December 11, 2018, 12:13 PM:

David, If Interested I have a customer who is selling one of his GS1200 projector. In mint condition! With a two blade shutter. He is asking 850.00 plus shipping! Me I love this machine! I have two of my own. Fully modified! And a big plus there is still plenty of parts! The ST1200 is a nice machine. But it can't compare with the GS1200! And parts for the ST1200 are very LOW! But they do pop up for sale a lot! Elmo made a lot of them!
Leon Norris.

---
Posted by Rob Young. (Member # 131) on December 12, 2018, 04:37 AM:

I'm with Tom on this too. I've owned both and still have my ST1200HD, which tells you everything.

Most of the major old age failings on the ST are well documented and generally fixable with a moderate degree of patience and care.

Of course, like all older machines, things do go wrong and sadly we are running out of professional repair people.

Don't dismiss the Beaulieu 708el range either. They can be "faffy", but personally I love this projector.

One bug-bear I have with the Elmos is that they can be prone to soundtrack "wow" due to the design. The Beaulieu has no such problems in this regard as the capstan design is totally different and driven by a separate motor. And most come with the exceptional Schneider f1.1 lens.

---
Posted by Mathew James (Member # 4581) on December 12, 2018, 07:07 AM:

I have personally oogled the GS1200 myself but bypassed due to the threads of constant fixing and issues. They seemed solvable but seemed more time consuming and expensive than I wanted to get into.

I have had the ST1200HD for a few years now and have had very very little to fix on it since initial fixing.
You get to the point on the ST1200 that once you get it going good, you start looking for little problems, like squeeks and such, just to have something to do


I find all my elmos have very little to do on them than 'maintenance'. The only elmo that gives me continuous grief is the k100sm. I find its path to be too short to get a smooth ride and issues on it, but all the other elmos have run very smooth for me...

ps: I am not sure that MO is necessary or will add some trouble? I just have the M and it has enough titles!

---
Posted by Steve Klare (Member # 12) on December 12, 2018, 08:42 AM:

I look at the GS1200 like a Ferrari or a Maserati: the capabilities are spectacular, but they come at the price of complexity and a tendency towards being tempermental.

It's just like a lot of high performance gear of many kinds, if you really need that level of performance there is no substitute, but if you can get away with something simpler your life will be easier.

My friend has this awesome Nissan sports car: when he twists the key the whole neighborhood says "What's that?!!". This car can do 350 MPH in "Park"! (-or so they say...)

-that's Saturday and Sunday. Sunday night the garage door gets rolled down and until next weekend he goes back to the Honda Civic with the dent in the door.

My ST-1200HD has become an old friend by now. The only fly in the ointment is that idiotic speed-select setup. Unless I really need 1200 ft and twin track sound, I often go to one of my ST-800s with their nice, simple DC motor and all belt drive.

If I take along only one machine, that's the way I go.

---
Posted by Graham Ritchie (Member # 559) on December 13, 2018, 01:23 PM:

David

Although I am going of topic you might want to consider this...anyway.

Just a thought, all about a Bell and Howell DCT its a twin track playback projector. I picked one up last year and have been impressed with it. It has a 800ft capacity, a pre-heat 150watt lamp, its easy to thread, a nice sharp 1.2 lens, it projects a steady picture and the sound quality is very good indeed. The more I use it the more I like it


It might be worth thinking about, as I don't think they are very expensive. I don't know if they have any failings as I have had mine only a year, but so far...very nice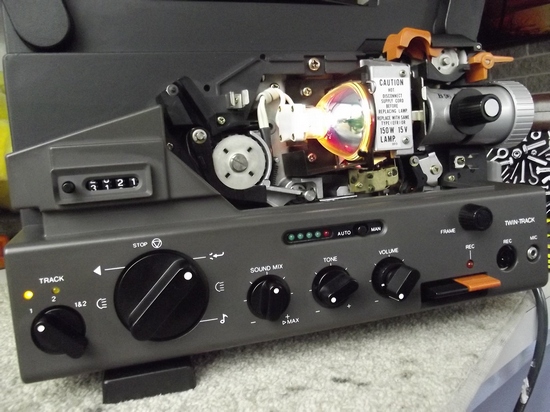 Also compared with the Elmo it has a much wider range of speed control when either its selected on 18 or 24fps.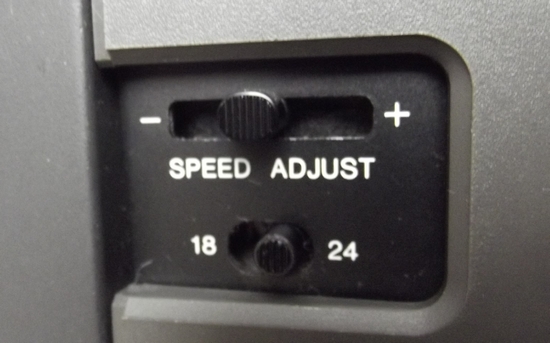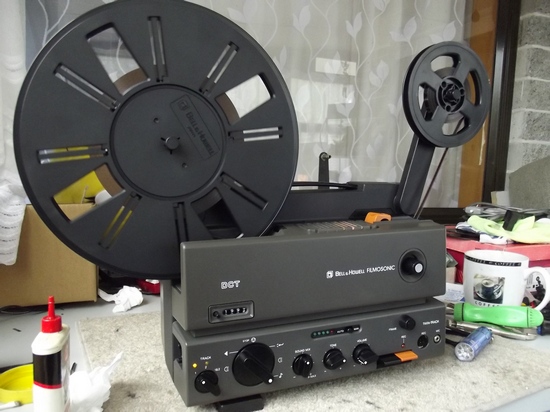 ---
Posted by Maurice Leakey (Member # 916) on December 13, 2018, 02:51 PM:

I have a DCT and it's a great projector, and of course, it's only badged as a Bell & Howell.
Actually it's made in Japan by Sankyo.

---
Posted by Tom Photiou (Member # 130) on December 13, 2018, 04:28 PM:

Maurice, i didn't know that. i like the look of the sankyo's, especially the 800 stereo.

---
Posted by Leon Norris (Member # 3151) on December 13, 2018, 04:33 PM:

This Bell and Howell looks like a nice machine! I never came across one. Were any sold here in the USA? I had a lot of super 8 sound projectors. But not one of these! Again a nice machine!
Leon Norris.

---
Posted by Maurice Leakey (Member # 916) on December 14, 2018, 03:21 AM:

I have all three of the badged Bell & Howell models by Sankyo. DCM, DCR, DCT.
They were 110-240 volts and 50/60 Hz, so they might have been available in the USA.

---
Visit www.film-tech.com for free equipment manual downloads. Copyright 2003-2019 Film-Tech Cinema Systems LLC




UBB.classicTM 6.3.1.2