This is topic Cinema Of Our Time in forum 8mm Print Reviews at 8mm Forum.


To visit this topic, use this URL:
http://8mmforum.film-tech.com/cgi-bin/ubb/ultimatebb.cgi?ubb=get_topic;f=4;t=000781

---
Posted by Lee Mannering (Member # 728) on February 09, 2019, 03:44 AM:

Cinema of our time 1989
Produced by Lee Mannering
200ft Mono and Stereo.

I started filming this project during 1989 having been in contact with Warner Cinema and secured permission to film in and outside what was to be the first 12 screen WB multiplex in the UK and so formed a small group of film makers to help as I went along with the project.

Being so keen about film itself it was fascinating to enter the large screen world of cinema, walking behind the screen looking at the ranks of speakers and up in the two projection rooms which housed 6 projectors each including both 35mm and 70mm.

From the outset I wanted to make a record of my experience in the building the like I had never seen before equipped with the latest technology and massive screens in some auditoriums. Eventually Batman was due for release in 70mm and I had a phone call they were loading it up the next day rushing over to film it on the platter. If you have the film you will see that very shot as the projectionist carefully put his hand on the film so that I could film the Batman name going past as it rotated. A bit risky but we got the shot!

After a few months of filming it was in the bag but I did get another call saying Yahoo Serious was calling in his white limousine to sign autographs so back I went again. He was telling me about how he started film making with 8mm which only enthused me even more you will guess.

By this time editing was underway carefully cutting it all together then recording a stereo multitrack to finally dub back to magnetic stripe. The finished film was entered into a few film festivals being shown to large audiences which was a nice experience to see something you have created appreciated by others.

Word eventually got to some of the 8mm distributors and I started getting phone calls looking at a possible 8mm release. The first to call was Perrys so I went with them as I had purchased many films from them over the years and enjoyed a guided tour around the lab in London also watching dear Arthur make the negative of my film.

Prints of the film were made available by Perrys within a few weeks and a little later Derann also pick my film up as well although the Derann version is a little harder to find these days. Perrys started getting requests for Stereo prints and I undertook to dub them all which was done on the Elmo GS800 also for Derann.

This year is the films 30th anniversary since filming started and I do hope those of you who have a copy have enjoyed it as much as I did producing it. Film is a magical thing but sadly the magic does not last forever. A few years ago the cinema closed after a brief spell being owned by The Vue chain. The building was ransacked and then demolished which we made a few journeys to film once again on film. Gaining a brief access inside the once glorious cinema it was infested with pigeons, the roof was leaking badly and that same 70mm projector was soaking wet and rusting a very sad sight indeed.

That Multiplex was a glories place in its heyday and great memories watching Batman and Jurassic Park in a very full cinema on a massive screen.

Well here we are 30 years on and I still get 8mm prints to record into stereo for lovers of the film which is a nice thing.

My next film production would be Cinema in Miniature but that's another story....

The end.

---
Posted by Bill Phelps (Member # 1431) on February 09, 2019, 07:34 AM:

Nice review Lee. Iím happy to say I finally tracked down a 8mm print. It is good to hear some stories surrounding the making of the film. I really enjoy it. It is sad to know that the Mutiplex is gone...it didnít last too long. Do you remember what year it closed down? Was it because of not making the transition to digital projection?

---
Posted by Dave Groves (Member # 4685) on February 09, 2019, 08:52 AM:

Lee, is there any chance of putting this on line as Iím more likely to become a ballet dancer than have an opportunity to see your film?

---
Posted by Lee Mannering (Member # 728) on February 09, 2019, 09:00 AM:

Yes Bill 2007 The Vue closed it down and moved into town to a 10 screen much smaller, it certainly doesn't have the glitz Warner had. Dave I distribute 4 of my efforts on disc if you would like details please PM me.

Director Danny Boyle was a regular at the WB and you could meet many a film maker on a visit.
Thank you for the comments.

---
Posted by Steve Klare (Member # 12) on February 09, 2019, 01:57 PM:

Great Review, Lee!

I would love to have a print of this. I enjoy Cinema in Miniature and always wished there were more like it: films about film.

Have you ever considered a new release of this film?

---
Posted by Alan Gouger (Member # 31) on February 11, 2019, 08:43 AM:

What a little gem this would be to own on film. I am with Steve and wonder if there is any possibility if we can generate enough interest for another run. Thank you.

---
Posted by Greg Perry (Member # 5177) on February 11, 2019, 09:27 PM:

Excellent suggestion! I have "Cinema in Miniature", but have never seen the other ones which Lee did. I would be up for a print of the others as well. In the meantime, I will be ordering a DVD of these from Lee.

Lee, any chance that you still have the negatives for any of these?

---
Posted by Leon Norris (Member # 3151) on February 13, 2019, 04:54 PM:

This is a great and fun reel! I have two used copy's in mint shape! I brought from Derran. Both are mono! A must have for the collection!

---
Posted by Graham Ritchie (Member # 559) on February 13, 2019, 08:43 PM:

Also available through Derann on VHS tape, not sure if it was available on NTSC.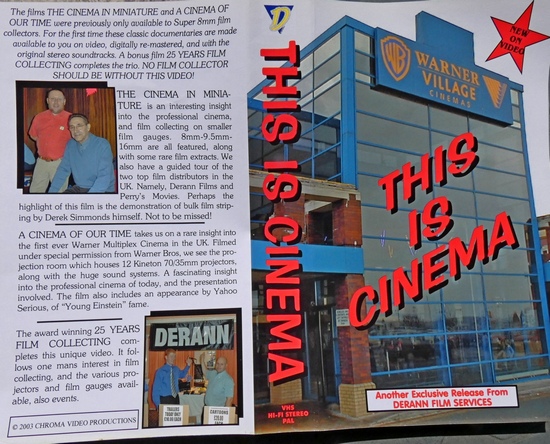 ---
Posted by Brian Fretwell (Member # 4302) on February 16, 2019, 10:49 AM:

There seems to be a Super 8 copy on ebay at present.
https:/ /www.ebay.co.uk/itm/CINEMA-OF-OUR-TIME-Super-8-film-STEREO-Derann-Films-Warner-Cinema-documentary/273698314222?hash=item3fb9b0d7ee:g:1xAAAOSwTGNcYoM9:rk:23:pf:0
"Signed by the film maker"

---
Posted by Lee Mannering (Member # 728) on February 16, 2019, 01:21 PM:

I think the high points for me were when I watched Derek project that master print and when it was projected at Bradford. Regretfully the negative went to the tip. But nothing stopping anyone making me a offer to reprint it 😎

---
Posted by Steve Klare (Member # 12) on February 16, 2019, 04:52 PM:

I'll compromise, Lee: if you need to sell 10 prints to make a go of it, then I'll make you a tenth of an offer!

---
Visit www.film-tech.com for free equipment manual downloads. Copyright 2003-2010 Film-Tech Cinema Systems LLC




UBB.classicTM 6.3.1.2