Stuart Finkelstein
Film Handler

Posts: 62
From: Boston, MA, USA
Registered: Dec 2010



posted November 06, 2019 08:07 PM



---
Just in! A collection of the popular Columbia Classics Home Movie Digest Prints. They are searching for a new home, and are being offered here to the fine film folk that occupy these web pages.

All of these prints have checked out. In some cases,the original boxes may show signs of wear through age, or display some additional decorations and/or writing or labeling. I can answer questions on a one-by-one basis, if necessary.

Shipping costs are extra, and I usually use media mail. International buyers are welcome, and in most cases, I can ship up to four pounds via First Class International Package Service from the USPO. Additional shipping services are available upon request.

ALL THE KING'S MEN – Broderick Crawford $25.
BORN YESTERDAY – Judy Holiday, Broderick Crawford $20.
BRIDGE OVER THE RIVER KWAI – color $20.
BUCHANAN RIDES ALONE – Randolph Scott, Craig Stevens $20.
BYE BYE BIRDIE – color $25.
CAINE MUTINY $20. SOLD
DON'T RAISE THE BRIDGE, LOWER THE RIVER – color $20.
FULLER BRUSH MAN – Red Skelton $20.
HEAT'S ON – Mae West $25.
HELL OF FRISCO BAY – color $20.
HOLIDAY – Katherine Hepburn, Cary Grant $20. SOLD
LAWRENCE OF ARABIA – color $20.
MAN FROM LARAMIE – James Stewart $20.
MYSTERIOUS ISLAND – color $25.
ONLY ANGELS HAVE WINGS - $20.
SANTA FE – (color) $20.
THE JOLSON STORY – color $25.
THE LAST HURRAH – Spencer Tracy $20.
THE PROFESSIONALS – Lee Marvin $20.
TIGER MAKES OUT – color- Eli Wallach $20.
TWENTIETH CENTURY – John Barrymore, Carole Lombard $25.

I have many more super 8 sound films for sale. All varieties: Castle, Universal 8, Columbia, Niles, Blackhawk, and more. If some of these titles sell here, I'll be back with more.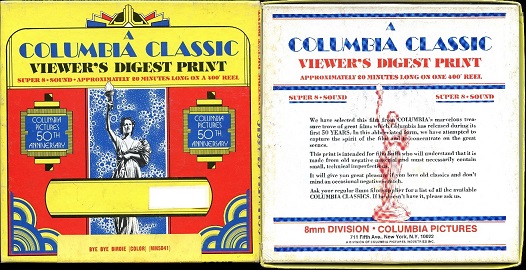 [ November 06, 2019, 10:00 PM: Message edited by: Stuart Finkelstein ]


| IP: Logged