This is topic The Solution to Taylor reels and Beaulieu Hubs in forum 8mm Forum at 8mm Forum.


To visit this topic, use this URL:
https://8mmforum.film-tech.com/cgi-bin/ubb/ultimatebb.cgi?ubb=get_topic;f=1;t=010626

---
Posted by Andrew Woodcock (Member # 3260) on April 11, 2016, 10:59 AM:

As You know, I will not place ill fitting reels like the Taylor 1600ft one shown here onto the Beaulieu spindle hubs.
But if like me, you find these reels handy for storing 5x 600ft features as they will fit nicely into a double 1200ft box set with my artwork on them, then here is a solution using just a single leg from a long play unit. It worked earlier today for me to great effect when watching this latest feature of mine.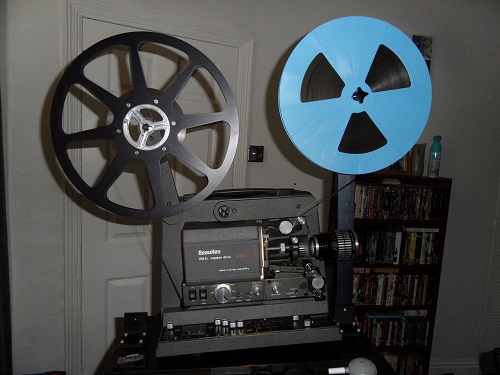 ---
Posted by Steven J Kirk (Member # 1135) on April 14, 2016, 05:56 AM:

Clever!

---
Posted by Andrew Woodcock (Member # 3260) on April 14, 2016, 06:10 AM:

It's a simple solution Steven, but works really well!

And most importantly, keeps those awful cheap and nasty spools away from those hubs, while still providing the best storage and spooling solution for a 5 or 6x 600ft feature.


Obviously you have to then refit the rear leg at the end of screening for rewinding purposes, but this is no big deal in reality.

Another advantage, is the normally all too familiar reel screech associated with spools of this kind, is cut to an absolute minimum by virtue of the extra distance gained between film being released from the spool to being straightened again at the input guide of the machine.

Ordinarily, due to the short distance on a projector between these larger spools and the projectors input guide, these type of spools run so "untrue" the screech can be unbearable at times and be totally distracting while viewing the film.

Not the case when using method.
---
Visit www.film-tech.com for free equipment manual downloads. Copyright 2003-2019 Film-Tech Cinema Systems LLC




UBB.classicTM 6.3.1.2