This is topic Third party or custom Anamorphic lens holder for Eumig Mark S810? in forum 8mm Forum at 8mm Forum.


To visit this topic, use this URL:
https://8mmforum.film-tech.com/cgi-bin/ubb/ultimatebb.cgi?ubb=get_topic;f=1;t=012452

---
Posted by Can Sanalan (Member # 5988) on August 21, 2018, 04:18 PM:

I'm wondering is there any third party or custom built holders for anamorphic lenses for the Eumig Mark S810?
I have a film that is scope and an anamorphic lens however I don't have any means of attaching the lens to my projector.

Has anyone made a holder for such a lens or is there one available?

Cheers

---
Posted by Winbert Hutahaean (Member # 58) on August 21, 2018, 08:30 PM:

What is your anamorphic lens?, because it is important to know the rear diameter of the lens to suit the bracket.

---
Posted by Douglas Meltzer (Member # 28) on August 21, 2018, 09:55 PM:

Can,

I'm not sure if there is a holder made specifically for the Eumig, however I know there are free standing scope lens holders that would work well.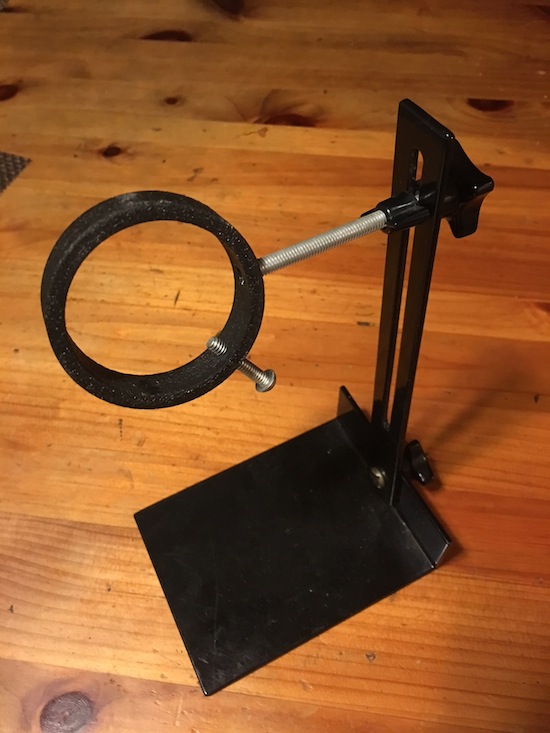 I picked this one up a while ago. Perhaps one of our members knows who might have a similar one for sale.

Doug

---
Posted by Burton Sundquist (Member # 5813) on August 21, 2018, 11:26 PM:

...I got mine from Steve Osborne @ The Reel Image. His is a Universal free standing bracket and offers a choice of two size collars, 43 or 52mm. see it here:

https://thereelimage.jimdo.com/our-web-showroom/

---
Posted by Maurice Leakey (Member # 916) on August 22, 2018, 04:10 AM:

Providing your lens will fit it, the free-standing 'scope lens holder is ideal as it can be used with any projector.

---
Posted by Can Sanalan (Member # 5988) on August 22, 2018, 04:24 AM:

Doug that looks perfect. Simple. Would be great if I can find something along like that.
Height adjustable and tilt adjustable to for when the projector is raised upwards.

Burton, just had a look and noticed in the photo the stand has a base
that says "Magnetic Base" with a dial saying "On" and "Off".
What's the purpose of that magnet? To stick firmly onto a metal surface?
Would a magnet that strong be risky to have near the magnetic sound strip on the film?

My anamorphic lens, if I remember correctly (I'm away at the moment so I can't check it), is a Kowa Prominar Anamorphic 16-D. Works great for my 16mm scope films and I held it up against the lens on my Eumig and it seems to work great too but I just need a holder for it.

Douglas that stand looks ideal. Something like that would be perfect.

Burton thanks for the link. I'll check it out.

Thank you all.

[ August 22, 2018, 08:49 AM: Message edited by: Can Sanalan ]

---
Posted by Steve Klare (Member # 12) on August 23, 2018, 10:26 AM:

I project 'scope with a Eumig 800 series and a Sankor 16-F. I built this really awful looking platform out of scrap wood which holds the lens at the right height and I use the elevation adjustment of the projector to fine tune the lens/projector alignment.

The lens bracket was something I got with a completely useless anamorphic lens I bought off E-bay. (Sometimes you luck out. My favorite camera case came when I accidentally bought a dead camera, for example.)

How I adjust the height of the image on screen is to tilt the platform (with aligned projector and lens) until everything is the right height.

I've been hoping to toss this thing in the fireplace for a couple of years now: build a really nice one with a commercially made height adjustment foot, one that doesn't look like a dog chewed it!

(Make my shop teachers proud!)

-unfortunately it works pretty well and is always a low priority!

---
Posted by Dominique De Bast (Member # 3798) on August 23, 2018, 12:07 PM:

Hello Can. I believe that FFR in Germany have those Universal scope holders but I'm not sure and since their site is closes for holidays, it is not possible to check at the moment. Shouldn't be cheap, though.

---
Posted by Larry Arpin (Member # 744) on August 23, 2018, 12:43 PM:

I bought mine from Van Eck. I'm very pleased with it and use it mainly for my 16mm films. I already have an attachment for super 8mm to my GS.

https://shop.van-eck.net/film-projector-parts/anamorphic-lens-holders/p-1a/PP-0146.html

Here is a pic of the back end:



Here is a projected screen cap: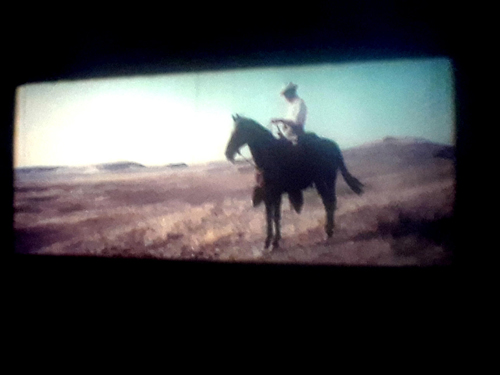 Can anyone guess what film this is from? Just for fun.

---
Posted by Ken Finch (Member # 2768) on August 23, 2018, 03:46 PM:

It is not very difficult to make your own. Most of the bits and pieces required can be found at a D.I.Y.store. You just have to improvise a little. Plastic drainpipe fittings are a good source for the lens holder !!!. ken Finch.
---
Visit www.film-tech.com for free equipment manual downloads. Copyright 2003-2019 Film-Tech Cinema Systems LLC




UBB.classicTM 6.3.1.2