This is topic Elmo GS1200 Scratch parts in forum 8mm equipment for sale/trade at 8mm Forum.


To visit this topic, use this URL:
https://8mmforum.film-tech.com/cgi-bin/ubb/ultimatebb.cgi?ubb=get_topic;f=3;t=003379

---
Posted by Leon Norris (Member # 3151) on September 26, 2018, 01:38 PM:

1. Film Slots part# p412675
2. Sprocket Shoe part# 4p20646& 4p20646b
3. Thread Button part# 4p31926
4. Sound Head press assembly#4p8gs0027
5. Mid Tension Assembly part#p413598
6. Sound Head part #4E31043
7. Head Film Guild part #p412822

These are the main parts that will scratch film when worn.

Prices:
1. 39.95 Each
2. 54.95 Each
3. 39.95 Each
4. 54.95 Each
5. 39.95 Each
6. 185.00 Each
7. 38.95 Each

I have plenty of parts available for the GS1200 all parts are brand new and in stock.

Thank You
Leon Norris

[ September 29, 2018, 10:02 AM: Message edited by: Leon Norris ]

---
Posted by Bill Brandenstein (Member # 892) on September 27, 2018, 09:54 PM:

Leon, is there any way you can put some good photos up of these culprits? Thanks!

---
Posted by Paul Browning (Member # 2715) on September 28, 2018, 01:06 AM:

My thinking too Bill, I know some of the parts, but photo's speak a thousand words, and will help sales, projectors I have spares not so ....

---
Posted by Tom Photiou (Member # 130) on September 30, 2018, 03:08 PM:

Leon, pm sent please

---
Posted by Zachary Greenberg (Member # 6151) on September 30, 2018, 03:29 PM:

Leon- I am interested in getting your spare Elmo Sound Head, but I seem to not able to PM you...

---
Posted by Burton Sundquist (Member # 5813) on September 30, 2018, 06:29 PM:

From the service manual: the numbers on the GS-1200 photo correspond to the part numbers provided by Leon.




[ October 01, 2018, 12:35 AM: Message edited by: Burton Sundquist ]

---
Posted by Douglas Meltzer (Member # 28) on September 30, 2018, 09:11 PM:

Burton,

Thank you! That makes it very clear.

Doug

---
Posted by Burton Sundquist (Member # 5813) on October 01, 2018, 12:44 AM:

Thanks Douglas. I should add that my part No.1 is actually the replacement offered by Van Eck. The smaller screw on the guide holds a small feed roller, providing smoother and quieter feed action. It was good to see Leon's post. Praise to all our parts providers.

[ October 01, 2018, 04:26 PM: Message edited by: Burton Sundquist ]

---
Posted by Bill Brandenstein (Member # 892) on October 02, 2018, 07:28 PM:

Well done, Burton. VERY well done! Thanks much.

---
Posted by Zachary Greenberg (Member # 6151) on October 02, 2018, 10:12 PM:

Leon- still having trouble sending private messages. Regardless, can you reserve the Elmo sound head itself (not the assembly, just the mag stripe stereo head) for me?

---
Posted by Leon Norris (Member # 3151) on October 09, 2018, 10:13 AM:

Just to let everyone know that all parts are selling fast so all you GS1200 owners better get on the ball because once these parts are gone they are gone they are not being made anymore so please reply

Thank You
Leon Norris

---
Posted by Burton Sundquist (Member # 5813) on October 30, 2018, 12:45 AM:

Hi Leon,
Just to inform you,
I got the parts. We are fortunate to have you on board . Thanks,
Burton.

---
Posted by Leon Norris (Member # 3151) on November 01, 2018, 11:31 AM:

I want to thank all the Interest in these parts that can scratch film! I was really surprised by the response! These GS1200 parts are selling very well! I still have all film path parts! In stock! So Remember All Parts are Brand NEW! I still have arms, legs handles, circuit boards, knobs, pressure plates, Aperture plates, sound heads, rollers,relays,solenoids, Amp I C,s ,ESS Assy. Governor circuit boards, switches, micro switches, and more! Contact me if you need anything! Also I will take trades on films super 8 sound only! Or part trade part cash! Leon Norris

---
Posted by Evan Samaras (Member # 5070) on November 12, 2018, 11:21 AM:

I recently bought some items from Leon and thought it would be helpful to include some pictures of the "NEW" parts to protect my prints from scratches. These were meant to be fitted to my GS-1200.

Oh Yeah, it would probably be helpful to mention that Leon DOES NOT accept returns. He offered to inspect and possibly replace with another part. However, even though these items are advertised as new, he stated that he does not accept returns since they are used items (kind of confused me, maybe miscommunication. But Leon stands by the fact that they are new. My eyes feel otherwise).

I hope members of this forum find this information helpful. Thank you.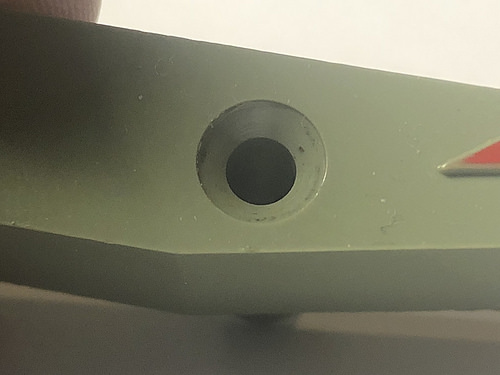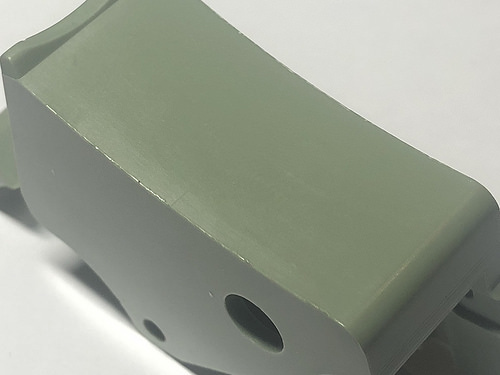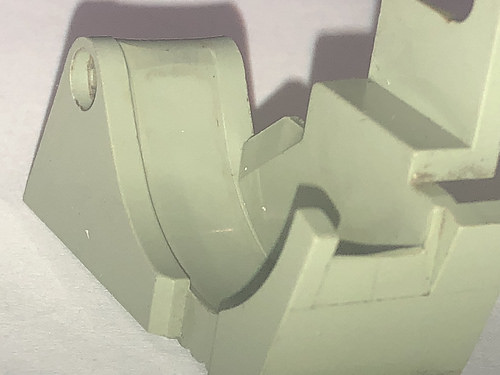 ---
Posted by Leon Norris (Member # 3151) on November 12, 2018, 11:45 AM:

As you were told Evan the parts were in a big plastic bag! Thatsthe Elmo sent them to me. I told to send them back. And I would replace them! I have plenty of those parts in stock!And I told you anything that is used is sold as is! No refunds! And that's that! Leon Norris

---
Posted by Evan Samaras (Member # 5070) on November 12, 2018, 11:56 AM:

Actually Leon, they were in one single ziplock bag, all together but loose. One did actually have a terribly mauled plastic bag closed by a single staple. I will give you that.

You said anything used is sold as is... however, this thread is for BRAND NEW parts, and even the invoice you sent me stated NEW under PART, so which is it Leon, are they new, or used?

You are free to stand by your word that these parts are new. Individuals of this forum can use the pictures provided to understand what BRAND NEW SCRATCH FREE PARTS from Leon Norris look like. And that's that on my end! Thanks! Evan Samaras.

*Edited to include the following receipt accompanying the purchase. Note the Parts marked as NEW
The film related circle on the bottom is for a topic in a different subsection.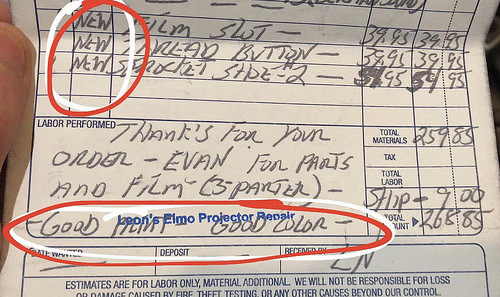 [ November 12, 2018, 01:42 PM: Message edited by: Evan Samaras ]

---
Posted by Leon Norris (Member # 3151) on November 12, 2018, 02:14 PM:

Hey Evan I told before the parts all came in one big bag from Elmo! I take the parts out of bag and put in zip lock bags. Because they fit just right for parts. You got it! I'm not going to keep repeating my self! You understand English! Leon Norris

---
Posted by Bill Phelps (Member # 1431) on November 12, 2018, 04:57 PM:

Those parts don't look new ...they look used and worn in the film path.
---
Posted by Graham Ritchie (Member # 559) on November 12, 2018, 11:08 PM:

Hi Evan

If the pictures are anything to go by they look to me as "used" not new. Since you were charged for new, and if the mistake was genuine then it would be right if Leon just send you the new parts that you ordered and paid for in the first place.

Evan.. I will enclose some old photos of guides that I replaced for wear a while ago, as this is really the reason for replacing them in the first place, could you post some photos of those parts you just received, exactly as shown in the area below. That will show us how much wear they might already have...

Note.. that flat area of wear...that's the bottom guide held on with one screw. If you can show us a photo of that same spot that would be great.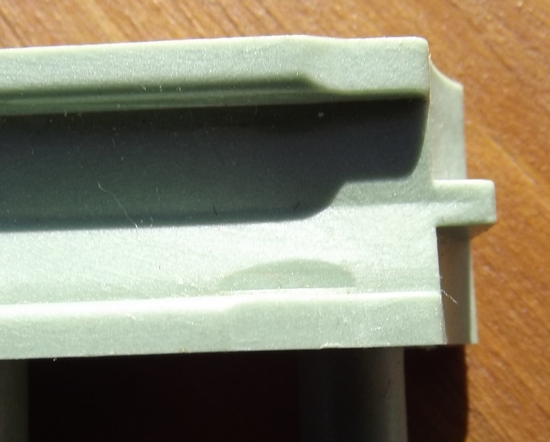 This is what you should be looking for...this is a close up..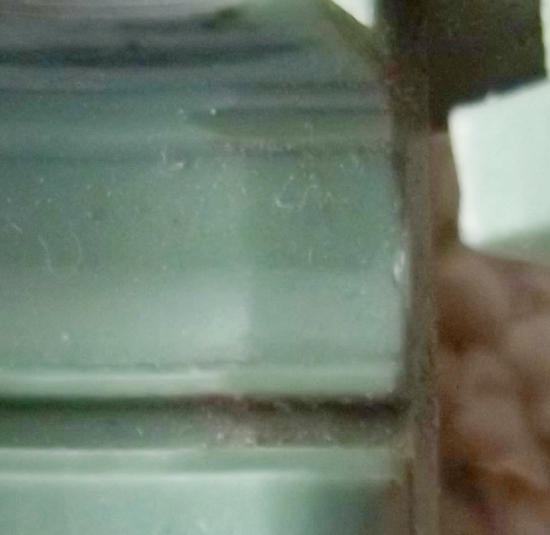 Its the same part as the last photo just brought the camera back to a different position. If those parts shown have wear anything like this they cant be used unless modified.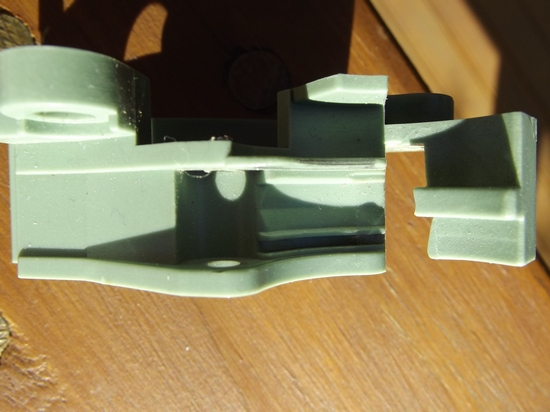 ---
Posted by Leon Norris (Member # 3151) on November 13, 2018, 09:50 AM:

To Whom it my concern, I told Evan to return the parts. And I would replace them. All film path parts are new! Elmo had all these parts in one big bag! I had these parts sense 1999. I got all there parts back then! So I gave Evan an option! So he knows!
I have not heard from yet! Leon Norris

---
Posted by Evan Samaras (Member # 5070) on November 13, 2018, 11:50 AM:

First, I'd like to thank everyone for their support. Whether it has been public or through private messages. It is because of this community that I am gaining a better understanding of what to look for.

Graham, thank you for the details. I did my best to capture similar pictures. I can say for sure that two pieces are used and worn, without a doubt! One piece may actually be in good condition, but maybe you can offer your opinion on the matter.

1. NEW Film Slot
In the images you can clearly see the wear of the film against the side wall in the first picture.
The additional picture shows other wear and grime!



2. NEW Thread Button.
Earlier post shows the grime between the ridges! These pictures shows a bit more of the warp and grime.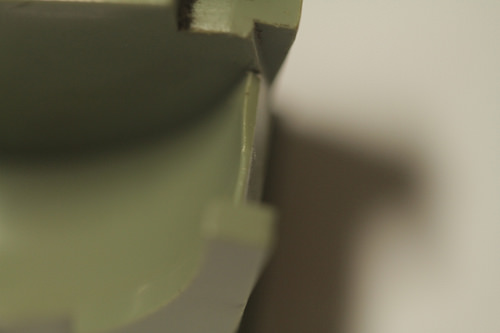 3. NEW Sprocket Side #2
I have to say, this appears to be the cleanest piece. There is some wear on the exterior in the form of scratch and dirt, but the film path looks almost very clean. This is the piece that actually came in the mauled plastic bag closed by a single staple. Opinions?



In response to Leon, yes there was an offer to exchange the parts. HOWEVER, if you are standing by your word that these are ALL NEW PARTS, EVEN AFTER THESE PICTURES, THAT CLEARLY SHOW USE, then I would rather save my money than spend it on shipping for items that will be in the same condition! I will just be throwing away even more money on shipping! I think this will make sense to others as well. You said No refunds on used items. However, according to you, these are NEW items, so then refund could be an option. I again offered to cover shipping in both directions, which I thought was MORE than fair considering items were not as described.

I have a direct question for you Leon. Based on these pictures. Are you still firm on the idea that ALL of these parts that you sent me were New and Unused as advertised?

Also, Leon, if you haven't seen the Exorcist thread, maybe you should hop on over and see the screen shots of the "good color" print, instead of pushing me to re-record it and sell it. I did not join this hobby to work at re-recording films for sale. I want to collect films I enjoy projecting! Maybe you have an actual good color print of the Exorcist to exchange as well?
I'm not sure what your excuse on the print is, but you have only been ignoring addressing it.

Thank you again everyone. I hope this thread has been helpful.

---
Posted by Leon Norris (Member # 3151) on November 13, 2018, 04:37 PM:

Hey Evan ,I have not been Ignoring you! You can put up all the photos you want. If you think your hurting me . then you must have lost your mind! Because I'm tough as nails! I told you what to do with the parts. If you don't want to send them back for exchange than that's on you! Also the part that was sealed called Sprocket shoe #2. That is new! Look and you'll see! All sprocket shoes are sealed by Elmo! All other film parts . like film path parts came in a big plastic bag!As for the film it did have.
Color .It was not Red like that! I use a Modified GS1200 with two blade shutter! I would have noticed it! As You were told SOLD AS IS! Anything that is USED! Is sold as is!Anything NEW like parts can be exchange for new parts! That sums it up! Leon Norris

---
Posted by Jason Smith (Member # 5055) on November 13, 2018, 06:40 PM:

Hi Leon,

I am interested in buying some of the parts such as the sound head part and sound head press assembly but I have not because I am not sure how to tell if my assembly needs replacing.

However, after seeing how this situation has been handled, I am not sure if I would purchase the parts.

On the first picture that Evan uploaded, it shows a scratch on the wall of that front guide. That is obviously a used part that came from a GS-1200. For those of you who may not know, that is one of the spots where the film rubs into the guide and leave that distinct scratch on the side of the wall.




It says in your original post that all parts are new but that obviously was not the case as far as this front guide. Add on top of that the fact that some of the parts were received dirty, I would not want an exchange. I would want a full refund.

Furthermore, there is the exorcist print that you says has good color but is obviously red that you sold him.

If there was only one item that had a problem, I think Evan would be more understanding and ready to just do an exchange.
eBay has a policy that items not as described can be returned for a full refund and I would expect nothing less on this forum.

---
Posted by Dave Ruth (Member # 4596) on November 13, 2018, 07:16 PM:

Well said Jason. This is a small community. Leon is hurting his own sales, future sales, reputation and integrity. We've all had unhappy buyers, and been unhappy buyers. Just admit it was an error, do the right thing and accept the return.

---
Posted by Graham Ritchie (Member # 559) on November 13, 2018, 08:13 PM:

Hi Evan

Thanks for posting those photos.

I had a look at my new part I have had for a few years now, that's Item 2 Shoe 4p20646. What Leon sent you is indeed a new part which these days is well worth keeping.

However Item 1 film slot and the Threading button Item 3 both show signs of film wear I don't believe are new, but used parts from another GS1200.

If Leon could swap items one and three with new ones, as that's what you did pay for shown in your receipt that would be great.

---
Posted by Leon Norris (Member # 3151) on November 14, 2018, 08:29 AM:

To all who are on Evan side. Let's get it straight! I told Evan to send back ! For Exchange! That's the film slot and thread button! And I'll stand by wy word all parts are new! And I have not lost any business at all! I have been around a long time . A way Lot longer than Evan! To ALL the ones on Evans side . I'll Tell you only once! I DON'T need YOU! And that's the TRUTH! I have a Huge bit of Parts! My Elmo's will Run forever! Not YOURS!So Just keep on CRYING on Evans shoulder! Leon Norris

---
Posted by Leon Norris (Member # 3151) on December 13, 2018, 03:28 PM:

Parts #1 and Parts #3 are all sold! They sold fast!
Thanks, Leon Norris.

---
Posted by Bill Brandenstein (Member # 892) on December 13, 2018, 06:05 PM:

I don't have a horse in this race except an ever-aging GS-1200, so this has nothing to do with "taking sides."

Seriously, Leon, your attitude of defensiveness and dismissal just really seems uncalled for. I don't care WHAT Elmo told you when you bought those part in 1999, some of those pieces are used, as proven by the dirt and wear marks on those photos. I would've said the same. YOU are an expert in Elmo's worn parts scratching, and should admit as much that a mistake was made, even if Elmo needs to take the blame.

Thank you for standing by your purchaser and offering an exchange. However, your credibility and honesty is on the line as well for asserting repeatedly that these obviously used parts are new.

Leon, I'm glad you've provided good service to me in the past, but I'd like to hope that might be the case in the future as well.

---
Posted by Leon Norris (Member # 3151) on December 14, 2018, 09:34 AM:

Bill, The parts were sent back to me and I exchanged them! For your Information! Also with some extras. Like I said Elmo sent me all the green plastic parts in a BIG plastic bag! Things happen! Leon Norris.

---
Posted by Leon Norris (Member # 3151) on December 15, 2018, 08:32 AM:

Parts#1-3-6 All are now Sold! Thanks Leon. Elmo scratch parts.

---
Posted by Evan Samaras (Member # 5070) on January 09, 2019, 03:11 PM:

The parts were indeed replaced, and Leon did put in a couple of other parts. However, the parts replaced seem to be in similar condition with a similar wear pattern along the film path. I have been unable to take and post pictures with the holidays, but I will try to prioritize it for the week. Thank you again for the support everyone. Happy Holidays and a New Year to all!

---
Posted by Leon Norris (Member # 3151) on January 10, 2019, 06:37 AM:

Evan, Those parts are new! I even GAVE you some extras . I see your not satisfied! So let me see what more Doctored up pictures you want to show!

---
Posted by Evan Samaras (Member # 5070) on January 10, 2019, 08:57 AM:

My word is only as good as yours to those who do not know us Leon. While I appreciate what I feel may have been your effort to make things right by sending extra parts, it does not change the fact that the items I originally ordered are not in the condition described, which was/is "NEW"

I only want to show what I received so others can judge if they want the items at the price point and condition at which you provided.

[ January 14, 2019, 08:46 PM: Message edited by: Evan Samaras ]

---
Posted by Evan Samaras (Member # 5070) on January 14, 2019, 08:44 PM:


---
Posted by Del Phillipson (Member # 513) on January 15, 2019, 03:03 AM:

shocking, quite shocking
---
Posted by Winbert Hutahaean (Member # 58) on January 15, 2019, 03:39 AM:

They are probably new and unused but taken from the reject basket during their production.

They should be destroyed but some reject items succeded to escape because of bad employees and this might be the case.

My 2 cents though!

---
Posted by Mark Todd (Member # 96) on January 15, 2019, 05:06 AM:

My cousin works in a plastics car parts factory on a line and its so intense and pressured, and even then they keep reducing manning further.

They used to have 1 huge industrial skip for rejects that filled up in no time at all, but now need 4.

Some parts are £600 each, but any scuffs etc they are rejected. I can`t see the logic used by the managment there at all.

Best Mark.

---
Posted by Tom Photiou (Member # 130) on January 15, 2019, 06:32 AM:

surely these would cause scratching? Is that why there called scratch parts?
(only jokin!!!)

---
Posted by Lee Mannering (Member # 728) on January 16, 2019, 05:34 AM:

Oh you are awful but we love you


As were are all showing our GS1200 guides here is the top entry guide for my old work horse. I'm probably wrong but I have a theory that my annual treatment of projector guides with a wipe of Silicone does help prevent film scratching and prolong the life of plastic guides.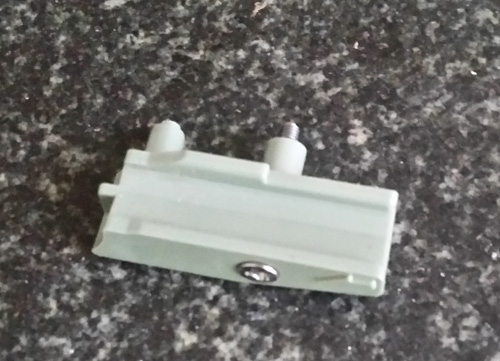 Had this particular GS a good few decades now and its been kind to film. Looking back to when the GS was introduced in 78 most seem to have survived if they have been loved and cared for and even my first little Eumig sound projector purchased in 1973 is just about good as new pretty amazing really.

---
Posted by Paul Adsett (Member # 25) on January 16, 2019, 09:56 AM:

Lee, do you wipe your sound heads with silicone? It might help reduce wear on both the head and the mag stripe.

---
Posted by Phil Murat (Member # 5148) on January 16, 2019, 11:47 AM:

Hello GS1200 fans,

From my side, this machine is "the machine" to get when a sound transfer has to be done.....
But I don't take the chance to oten play costy features considering green guides melt like "butter under the sun".....
Mines GS shows guide in pretty good condition at this time, but even as new, spurious rubbings are still there.
I prefer to avoid using silicon at this time.

So.... I had not planned to bring work on these machines as I more involved on Beaulieu 708 mainly, but now , I have started to draw something for a future sketch :
- No more "passive" guides to intake film (3 Green guides deleted).
- All Replaced by a single support plate showing 3 or 4 rollers (Brass or Stainless Steel with ball bearings*). Only return spring will be kept.
*Brass could be prefered to Stainless steel in case Stainless steel material is not compatible with magnetic strips vicinity.

- In a first time, "full autoload" function will be sacrified untill primary tests for the new configuration are satisfactory.
- Main plate can be "black anodized" for better appearance.
- Once new plate assembly is operating, a new secondary guide could be designed to restore "full autoload" function.

Film Path Guides , Steel Parts:
These parts on Beaulieu 708 , normaly last a long.
In the aim to reduce cams and claw wears, there is a possibility to apply a coating treatment called DLC (Diamond Like Carbon).
Unfortunately this treatment is very expensive 350 Euros for 4 guides.
But friction will be dramaticaly reduced as friction rate is 0,1 maximum for this coating. No more silicon to use and pull down spring strenght can be lowered to increase cams life.

Of course this treatment could be done on Elmo's steel guides as well....

---
Posted by Barry Fritz (Member # 1865) on January 16, 2019, 12:18 PM:

I don't have an Elmo, but it amazes me that film collectors who highly value their films, would own and use a projector that has so many parts that could scratch their precious films.

---
Posted by Tom Photiou (Member # 130) on January 16, 2019, 12:59 PM:

You have to remember that many of these machines are 40 plus years old now and at that age wear will take its toll. I know There are projectors that are kinder to films than others but after 40 years of Elmo,(as well as Eumig), projectors i do stand by them. Any projector will scratch films if they are not looked after,serviced and worn parts replaced

I wont forget the B & H filmosound we had that put a green line right up the centre of a brand new 40ft film i bought from Derann. It wasn't spotted until the second viewing.

---
Posted by Robert Crewdson (Member # 3790) on January 16, 2019, 02:16 PM:

My thoughts are exactly the same as Barry's, and that goes for the Elmo 16mm models as well.

---
Posted by Kevin Clark (Member # 211) on January 16, 2019, 02:30 PM:

Once these guides are modified with rollers they no longer wear or scratch - the worst culprit being the first feed guide which is available new from Van Eck and takes two minutes to fit.

The only folly I can see in using an Elmo GS1200 is by still using unmodified guides when all the fixes (use search you will find the threads going back years here) are there, tried and tested.

I also use 16mm Elmos (two 16CL's, two 16AL's and a 16AA) none of which have scratched films or had premature guide wear.
I bet that tale came from a Bell & Howell or Fumeo user.

Everyone to their own of course and as Tom rightly said a poorly maintained machine running worn parts of any brand will damage films not just Elmos.

Kevin

---
Posted by Paul Browning (Member # 2715) on January 16, 2019, 02:55 PM:

This sound interesting Phil, do you have photos of these new guides, as for your film claw coating, I would use cubic zirconia, which is artificial diamonds, very very hard wearing, you can machine this in intricate shapes, these could glued in place of the old claw, weighs very little, harder than any material your likely to spray on or find.

---
Posted by Robert Crewdson (Member # 3790) on January 16, 2019, 03:03 PM:

Kevin, my thoughts on Elmo 16mm came after reading this thread; your comments on this. http://8mmforum.film-tech.com/cgi-bin/ubb/ultimatebb.cgi?ubb=get_topic;f=5;t=001922

---
Posted by Barry Fritz (Member # 1865) on January 16, 2019, 06:25 PM:

Tom, all S8 projectors are 40 years or so old now. I have never heard of any that have as many parts that can scratch as the Elmo does. Leon's list has seven parts whose total cost is about $400.00! Yikes. Whatcha gonna do when those parts are gone? Is Van Eck making all of them? Further, I don't think those parts scratching are a maintenance issue. I think it is a design or cheap parts issue.

---
Posted by Kevin Clark (Member # 211) on January 16, 2019, 06:32 PM:

Although they are Mark's observations from his experiences with 16CLs they do not match mine. If a 16CL is properly serviced, which would of course ensure all the rollers are running freely, roller rubbers are sound and not tacky, guides / gates in good condition and other film path adjustments are all correct, then the projector will not scratch films.

On my current 16CLs (and on others I've owned before) I replaced the old rubber roller surfaces (using silicon tubing that costs pennies) re-soldered the dry joints on the larger amplifier board connector (causes low or no sound) and fitted the take up clutch mod (supplied by the superb services of Richard Patchett) along with removing/ cleaning and lubing the rollers and sprocket guide shoes Mark mentions as you would when servicing any make of projector, I have had no problems ever with film marking, loop sizes, or poor running at all.

One concern I have is with the hard plastic film transport rollers that have appeared for sale for the 16CL which I feel could slip on the film and possibly also cause loop size issues as a result - those rollers provide a pinch / braking effect on the film by design and this will only work if the rollers have a rubber (or replacement silicon tubing) surface.

Barry - I can understand your concerns but honestly worldwide there are so many of us that happily use the GS1200 and once modified find there are no scratching problems that it is a non issue these days.

All the groundwork has been done - even if some of the roller / guide mods do need to be carried out by the user rather than purchased off the shelf that is surely part of the challenge and enjoyment of this hobby isn't it? The satisfaction of repairing something ourselves and making it better than the manufacturer ever did? And at a fraction of the cost you mention too.

Kevin.

---
Posted by Mark Todd (Member # 96) on January 16, 2019, 07:19 PM:

I agree Kevin, as long as everything is freely rolling thats the key.

I`ve over the years had 2 Cl`s that had at some point been serviced I suspect and all the various rollers/ shafts greased up, and the grease/oil then dried and sort of locked them up a little.

I`m not sure why they don`t clear the film path though anyway as it would make more sense.

Still a superb 16mm machine, though not without its foibles.

Best Mark.

---
Posted by Lee Mannering (Member # 728) on January 17, 2019, 04:17 AM:

Raised a smile Paul. Isopropanol on cotton bud for sound heads, capstan roller and rubber pinch rollers. You can also still get the leather ended sticks instead of using buds as well.

Its interesting to read everyone's experiences of various projectors. We don't need to run a feature to see if a machine has scratch issues just buy some new clear film, make up a continuous loop, thread it up and let it run 20 times or so. Any scratches made will soon be visible on the projected white image soon enough.

Same thing with sound testing. I use Super 8 fullcoat to carry out stereo test recordings not relying on a striped film where it may been worn or poorly striped. All about maintaining our machines in the end isn't it. Happy days.

---
Posted by Phil Murat (Member # 5148) on January 17, 2019, 10:26 AM:

Hello Paul,

Immediately, I have not any very good drawing to show concerning the Upper Guides modification/conversion.

At this time, I am looking for a drawing software simple and easy to use and which can offer 3D features as well.
When I learned Engineering at school (40 years ago), drawings were hand-made using "Rotrings" with black (or red) ink.

Concerning DLC Anti-friction coating claw itself is not included in the project as claw wearing only depends on the way it works. If general film pull down load can be decreased upon treatment , all the chain claw plus cams will get an increased life :
- Claw plus Cams ==> Increased life*
- Main motor ==> A bit more power available for extras
- Film ==> less wears evidences, less stress for notches
- Main Film frame guides ==> increased life
- Increased smoothness operation

* According to Beaulieu 708 Service guide, the Pull-down spring is rated to 500 gr (This is a lot).
I assume the pull-down spring can be derated up to 250Gr.
Important : Beaulieu Cams are Nylon material and need to be properly lubricated (claw bearing too !!)

Guides to be coated :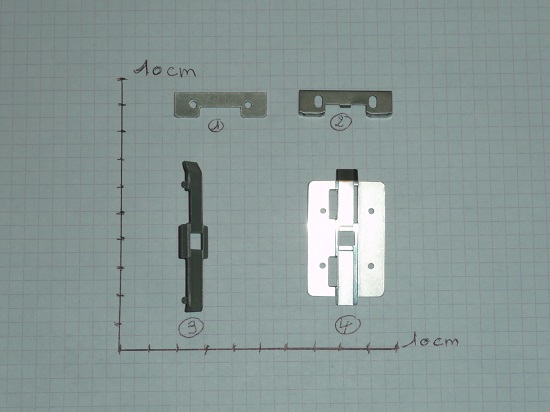 NB

Paul, do you have any link(s) about Cubic Zirconia coating ?

---
Posted by Paul Browning (Member # 2715) on January 17, 2019, 11:23 AM:

Hi Phil, this not a coating, its a material fired like a ceramic pot at very high temperatures. It can be machined but you need a machining centre or cnc machine to do this because of the high spindle speed needed for the tungsten carbide cutting burrs. It would be ideal for a fit and forget part, certainly no film medium would wear it out, and you can get a diamond sparkle finish, so les resistance to wear, and its resistant to all liquids that you would use on film. Its main use is sushi kichen knives, I think the Japanese chefs discovered its ideal for this as it does not loose its edge, and I can vouch for that sharpness on a few occasions. Its incredibly stable in high temp situations, so again ideal for a film gate /aperture, where intense heat would affect normal ferrous materials.

---
Posted by Phil Murat (Member # 5148) on January 22, 2019, 09:56 AM:

Hi Paul,

Thanks for these informations. This is something we call also "ceramic" from our side, often used in modern water taps valves too.
If you can take the opportunity to check, there is a high probability Head assembly output film guide (white one) is made of an equivalent material on Elmo GS1200.

Do you think so ?

---
Posted by Paul Browning (Member # 2715) on January 22, 2019, 10:59 AM:

I have purchased some new one's from Leon, and they are plastic, but I have all the dimensions now from the new part, and yes it would be a part you could make from zirconia, and would not look out of place as its the same colour, is it on the list of scratch parts that people miss. I saw a metal version off a scrap gs800 and that was completely warn out, so would have scratched a few films, not mine thankfully. The scrap machines give you quite an insight into what wears out, all good knowledge Phil.......

---
Posted by Phil Murat (Member # 5148) on January 22, 2019, 12:04 PM:

Ah, this is an other chalenge Paul,


Everything around Mag Heads has to be made of neutral material (Non Magnetic). So classical steel is not recommended.
A brass part coated with Hard Chrome, showing a polished finish, could be a good alternative solution.
If there is room enough, introducing a tiny roller could be an other alternative too for this part.

At this time, I am waiting for a PTFE sample band to see how I can use this material for static guides. PTFE is offering the best coefficient of friction under a dry operating condition at this time.

To follow

---
Posted by Paul Browning (Member # 2715) on January 22, 2019, 02:09 PM:

Yes Phil, a roller would be good alternative idea there, these guides look like they "steer" the film and keep it locked in the channel, a roller would need maybe a undercut 8mm wide to do the same thing, like on the beaulieu 708, perhaps make one out of zirconia and put some heat shrink over that, this would simply follow the profile, and it would be easy to replace too .....

---
Visit www.film-tech.com for free equipment manual downloads. Copyright 2003-2019 Film-Tech Cinema Systems LLC




UBB.classicTM 6.3.1.2