This is topic 16mm Bell and Howell 2585 in forum 16mm Forum at 8mm Forum.


To visit this topic, use this URL:
https://8mmforum.film-tech.com/cgi-bin/ubb/ultimatebb.cgi?ubb=get_topic;f=5;t=001253

---
Posted by Bill Kind (Member # 4757) on March 20, 2015, 04:55 PM:

Hi all, new to the forum and new to using film projectors. I recently was given the task of converting old 16mm films. I have a Bell and Howell 2585 projector that seems to be working fine, but when I project the film, I am unable to get an image that can be made out. It almost seems that the speed is too fast, but I don't see any speed adjustment on the 2585 model. Also, how far away from the wall/screen should I set up the projector? Sorry for the questions, but I'm a novice and looking forward to dusting off these old film reels. Thanks in advance.

---
Posted by Janice Glesser (Member # 2758) on March 20, 2015, 05:05 PM:

Without a variable speed projector you will see flicker on your video. I'm not familiar with the specs on the 2585...but if it can run at 24fps and if your camcorder can record and 24fps...you will have better results. If not then you will need another projector to do telecine transfers.

Here are a couple alternative setups I've used with good results.

Keystone Variable Speed 16mm Projector Model 160 projected to a mirror and ground glass telecine unit.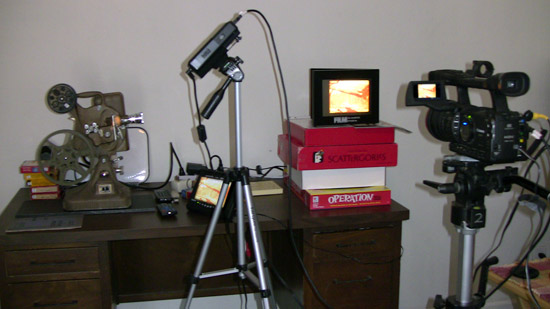 This method is more like you are doing. I'm using a Elmo 16CL running at 24fps and recording with a Canon HV40 using the 24f setting.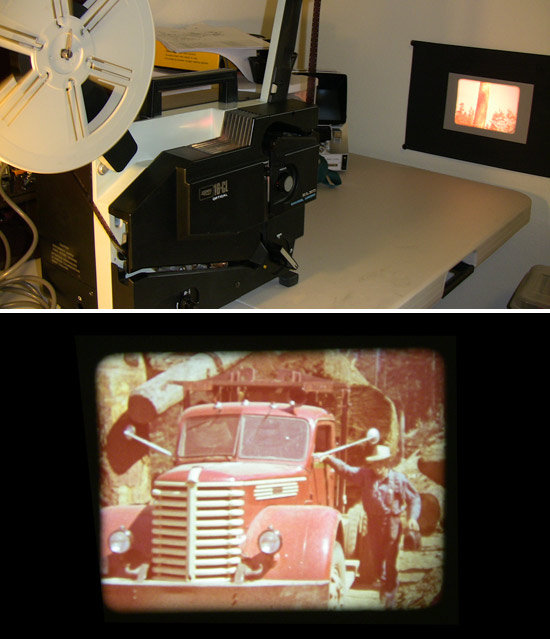 [ March 20, 2015, 06:09 PM: Message edited by: Janice Glesser ]

---
Posted by Bill Kind (Member # 4757) on March 20, 2015, 06:12 PM:

I actually just got one reel to project nicely, great clarity. Now the 2nd reel is once again flickering and make a flickering noise.

---
Posted by Bill Shenette (Member # 4561) on March 20, 2015, 06:13 PM:

Welcome to The Hobby

I have a 16mm B&H model 535. I also just purchased for a very reasonable amount a Singer 16mm projector.
I love your set up Turly nice and there's a Great Picture really Nice truck.

---
Posted by Maurice Leakey (Member # 916) on March 21, 2015, 03:01 AM:

Referring to Bill Kind's comment, are you releasing the auto-thread mechanism after you have had the film run through the projector at the start?
In auto-thread mode all guides and rollers are open to allow the film to run through. After it has threaded correctly, it is necessary to release the auto thread to allow normal projection.
Stop the projector when the film has got enough to fit on the take-up spool, then give a gentle dug on the film. This will release all the guides.
With the standard 2" lens you will get a picture 4' wide at 21', and pro-rata.

---
Posted by Bill Kind (Member # 4757) on March 21, 2015, 08:30 PM:

That's what it was Maurice, thank you!

---
Posted by Maurice Leakey (Member # 916) on March 22, 2015, 03:55 AM:

Unless you have the Instruction Book the release is not always clear to a new owner.
The auto-thread lever is quite obvious, but the release action is not.
You can also do it manually by pushing, to the left, the roller after the sprocket, this is where the pull of the film activates the release.

---
Posted by Paul Mason (Member # 4015) on March 23, 2015, 04:12 AM:

There is a similar requirement to tug the film to release the auto-threading guides on the Elf(Eiki) ST/M and RT projectors and no doubt others.

---
Visit www.film-tech.com for free equipment manual downloads. Copyright 2003-2019 Film-Tech Cinema Systems LLC




UBB.classicTM 6.3.1.2